The two sexes, male and female, both have different reproductive systems. A male reproductive system and a female's are very different in form and function. Although that may be the case, they both basically perform the same function and that is to produce sex cells which are the sperm in males and egg cells in females, to nourish the whole system, to produce sex hormones and other functions relating to reproduction.
Male Reproductive System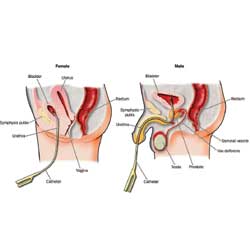 The male reproductive system of humans is composed of organs that are localized around the male's pelvic region. There are parts that specialize in sperm production and storage, some for producing the ejaculatory fluid, and others function in the transport of the male sex cell into the vagina.
External Structures
Testes – these are small oval organs that lie in the scrotum and produce sperm and the male hormone, testosterone.
Scrotum – sac of skin that contains the testes; an external organ found behind and below the penis.
Penis – this is a cylindrical organ that contains chambers and sponge like tissues, it is that is filled with blood during an erection.
Internal Structures
Epididymis – a tube inside the scrotum that transports stored sperm to the vas deferens during contractions.
Urethra – the tube that transports urine from the bladder or semen during ejaculation to the external environment.
Vas Deferens – is a muscular tube that transports sperm from the epididymis to urethra.
Cowper's gland – produces a slippery fluid that goes into the urethra and serves as lubrication and also functions to neutralize acidity from urine.
Seminal Vesicles – sac like pouches that make up most of the ejaculatory fluid, which is a fructose-rich fluid that gives energy to the sperms to help them move.
Prostate gland – the structure that produces additional fluid to the ejaculate.
Female Reproductive System
The female reproductive system is primarily inside the body, within the pelvic regions. These parts are designed for the production of the female sex cell, for maintaining and nourishing the reproductive system. Some parts are designed for conception, the fertilization of an egg by a sperm that will later be implanted into the uterine walls which sets off the initial stage of pregnancy.
Internal Structures
Vagina – this part is a canal that adjoins the cervix to the outside of the body.
Uterus – a hollow organ that holds the developing uterus during pregnancy.
Ovaries – these are located on both sides of the uterus with the fallopian tube connecting both parts; it produces eggs and female hormones.
External Structures
Labia Majora – "large lips" that covers others external organs of the female reproductive system.
Labia Minora – "small lips" that surrounds the vaginal opening and lie inside the labia majora.
Bartholin's Gland – glands that are located around the vaginal opening and secretes a mucus.
Clitoris – a small protrusion where the two labias meet and a very sensitive organ.