Ropex Overview
The Swedish-developed product Ropex is made to enhance the 'ropes', which is where intense and prolonged orgasmic contractions are experienced during sexual climax. The Ropex brand is featured on the website of the manufacturer, New Generation Labs, who claim that the product was first developed in the 1960's.
The site features useful information about the product itself and how it works in the body. In addition to creating the 'ropes' Ropex can also improve erectile dysfunction, support vitality and semen volume, relieve prostate conditions and give faster recover times between orgasms. Several customer testimonials are provided as is a doctor's endorsement of the brand.
Ropex is purchased through the website using a secure and discreet process and costs $39.95 per one month supply. Deals are offered for larger orders such as a 'buy 2 get 1 free' package for a cost of $79.90, and the auto-shipping program is optional.
Ropex Product Details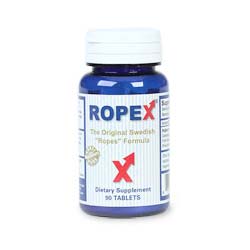 Unfortunately there is limited information available about the Ropex formula which consists of micronutrients and a patented formula called Pollexil. Some ingredients included in the product are Secalecereale Phleumpratence and Zeamays Pollen grains, and while these are both not likely to be familiar to many consumers, no further details are provided as to exactly what they are.
Ropex should not cause unpleasant side effects and all ingredients have been tested for safety and quality.
Good About Ropex
The product has a 30-day money back guarantee
FAQ's are provided
Customer testimonials are shown
The product has a cumulative effect
Discounts are given for larger orders
The product is professionally endorsed
Bad About Ropex
Ingredient information is limited
No clinical study results for Ropex are provided
No free sample is offered
Ropex The Bottom Line
Ropex appears to have many benefits apart from giving the 'ropes' sensation, but it would be helpful if the manufacturer provided actual scientific proof. Although the customer testimonials are said to be genuine and unsolicited, they cannot always be relied on as the most unbiased reviews and unfortunately there is no free sample offered for the potential customer to try before purchaseing