Solaray Prostate Defense
Men over the age of 40 are at a high risk of having symptoms that would be attributed to an enlarged prostate.
The most common symptoms of an enlarged prostate include the poor bladder support as well as increased urinary incontinency where a man goes to the bathroom multiple times and when they get there, they only void a very little volume of urine.
This is a classic example of a man with a prostate problem. When the prostate enlarges in a man's later years, pressure is exerted on the bladder and hence poor bladder function is seen as a result.
To help men get control over the issue, the use of supplements come to mind. These are natural based products that men can make use of to get the best results. One product that stands out is Solaray Prostate Defense.
About Solaray Prostate Defense
Solaray Prostate Defense is a male enhancement product that is formulated to help men get better support in their prostate function.
The manufacturer of this product goes by the name Solaray, a manufacturer who claims to have had experience in prostate function in the body.
Claims and Features – What You Need To Know
The main claims that the product manufacturer makes are that this product helps boost prostate function in men as they age.
It also claims to help provide better prostate support for men as they age. The manufacturer also claims to help give a well-deserved boost in men using all natural ingredients from the product.
What Are The Ingredients In Solaray Prostate Defense?
The main ingredients that are used in the formulation of this product includes:
Soy: This is an ingredient whose main purpose is to provide isaflavones to the body. This ingredient help boost the health of the prostate as well as prevent free radicals in the body from enlarging the prostate.
Nettle root extract: This is an ingredient that is used at a dosage of 100mg. It helps in strengthening the walls of the bladder thus men can be able to hold out longer before going for a bathroom break.
Saw Palmetto: The berry extract of this plant is used. It contains fatty acids as well as plant sterols that help in promoting the health of the prostate. This ingredient also helps strengthen the walls of the bladder and prevent urinary tract infections from occurring.
Indole-3-Carbinol: This is an ingredient that prevents further conversion of testosterone which in effect triggers the enlargement of the prostate.
Green Tea: Also known as Camellia sinensis, the leaf extract of this plant is highly sought after because it comes with powerful antioxidant activity. It also helps in mopping up of free radicals in the prostate that may trigger the enlargement of the gland.
Other ingredients that are used in the blend include Ellagic Acid at a dosage of 4 mg, Licorice also known as Glycyrrhiza glabra which is a root extract at a dosage of 50mg, Pumpkin seed extract known scientifically as Curcurbita pepo which comes at a dosage of 50 mg and zinc amino acid chelate at a dosage of 20 mg.
Solaray Prostate Defense Benefits
The main benefits linked to the use of this ingredient includes the following:
It boosts prostate function in men
It gives men better sleep patterns as one need not wake up because of urinary urgency
It boosts user's sexual function
It reduces urinary frequency more so at night
Solaray Prostate Defense Drawbacks
The main demerits linked to the product includes the following
This product is recommended for people that desire a boost in sexual function
How Should You Take Solaray Prostate Defense?
The manufacturer recommends that three tablets be taken on a daily basis for good results to be seen y prostate function.
The capsules should be taken two in the morning immediately after breakfast and one in the evening after taking dinner.
What Are The Possible Side Effects Of Solaray Prostate Defense?
Never worry about any kind of side effects which Prostate Defense can bring with itself. Why? Because it doesn't have any side effects at all; unless you are allergic to any of its ingredient or you are taking it in combination with some other drugs which can give rise to some allergic skin reaction or GIT upsets.
The Bottom Line
An unhealthy prostate can cause various challenges in the body. Using a supplement is the only way to go to get the best boost in function.
Solaray Prostate Defense can help to overcome & may help to boost in functions. As we always say don't get lured by the manufacturer's claims. Make your own research find out the associated health conditions if any and then only commence the purchase the product.
Prostate health is of great concern for men today. Preventative measures may reduce the risk of developing prostate cancer and improve overall prostate health and function. A quality, premium prostate supplement may shrink the prostate, minimize frequent urination, promote sexual function and contain quality ingredients.
Below you'll find some of the most effective prostate supplements on the market today, in our opinion.
Our Top Prostate Products
Ability to Shrink Enlarged Prostate
Ability to Eliminate Frequent All-Night Urinations & Weak Flow
Ability to Restore Normal Sexual Function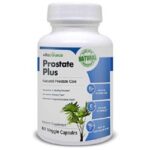 Ability to Shrink Enlarged Prostate
Ability to Eliminate Frequent All-Night Urinations & Weak Flow
Ability to Restore Normal Sexual Function
Ability to Shrink Enlarged Prostate
Ability to Eliminate Frequent All-Night Urinations & Weak Flow
Ability to Restore Normal Sexual Function

Ability to Shrink Enlarged Prostate
Ability to Eliminate Frequent All-Night Urinations & Weak Flow
Ability to Restore Normal Sexual Function