A common misconception about erectile dysfunction is that tight pants affect a man's ability to maintain an erection. Many believe that wearing loose-fitting sweat pants or beach pants for men will reduce a man's risk of experiencing ED. This is not true at all. Tight pants can, however, affect a man's sperm count. If you are hoping to conceive a child and you frequently wear tight pants, making a few wardrobe switches can improve your chances of conceiving. This is because sperm count is affected by temperature. Sperm also need to live in a healthy environment and be mobile. Tight pants increase body temperature near the genitals and constrict blood flow, creating an unhealthy environment for sperm.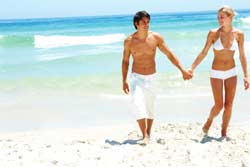 There are a number of myths associated with sexual dysfunction. This is why it is so important to speak with your doctor if you are experiencing a problem. Many men suffer in silence because they are embarrassed to speak with their doctor. If they have a partner, they do what they can to hide their problem from their significant other, but this can lead to a number of relationship problems. Intimacy is a very important part of a relationship. Neglecting to deal with your problems can cause your relationship to deteriorate, so do your best to overcome the discomfort of sharing information with your doctor.
A lot of men think using a single remedy to help with sexual dysfunction is the answer. Unfortunately, there is a great deal of marketing information that goes into spreading the word about ED medications. Men believe that popping a pill is the best to solution for their ED. In many cases, this is the case. Prescription drugs have saved many men from years of sexual misery. There are those who have no choice but to treat their Erectile Dysfunction with prescription medication.
Prescription medication is not the only option, though. There are a variety of natural treatments that can be just as effective when it comes to dealing with ED. Though many doctors are reluctant to prescribe herbal remedies for treating diseases, you can work with a practitioner of Traditional Chinese Medicine if you prefer to treat your ED with herbs. Your doctor might be willing to discuss natural remedies that are not herb-based. Sometimes exercise and diet changes are enough to reduce a person's risk for ED. Blood circulation is frequently the cause of the problem, so anything you can do to improve circulation is likely to help.