Spedra Avanafil Overview
This is a new prescription drug in the market that is specifically meant for erectile dysfunction. The rate at which it acts is pretty fast. Spedra Avanafil is categorized under medications known as PDE5 inhibitors. Some of the drugs under this category which are similar to Spedra Avanafil include; Levitra, Cialis, and Viagra.
Erectile dysfunction does not mean that a man's health is deteriorating. Actually, most men with this condition are in reasonable health. But still, it should not be ignored because it might be a bell ringer for circulatory and lifestyle problems. Spedra can treat this condition when used under a doctor's instruction.
Claims and Features – What You Need To Know?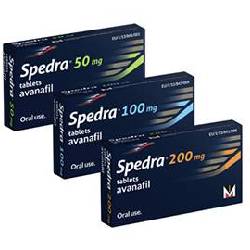 Under exclusive license, Spedra is marketed by Menarini which is a Pharmaceutical Company. It is a relatively new medication in the market. It is claimed to increase blood flow to the penis during sexual stimulation. It is claimed to act fast if taken on an empty stomach.
You may only need to wait for 15 minutes for it to start working. If the tablets are however taken on a full stomach, it will take around 1.5 hours for absorption to take place. Once in the system, it can remain in circulation for at least 6 hours. This applies to most men.
Spedra Avanafil comes in three strengths; Spedra 50mg (This is a low strength dose meant for men who require adjusting downwards from 100mg response), Spedra 100mg (for starters), and Spedra 200mg (This is a high strength dose meant for men who are not satisfied with 100mg response).
What Are The Ingredients In Spedra Avanafil?
The only active ingredient in Spedra is known as Avanafil. What do we need to know about Avanafil?
It is a drug known as PDE5 inhibitor.
It's efficient in increasing blood flow to the penis.
Other ingredients whose direct effects on erectile dysfunction have not been indicated include; Mannitol, Fumaric Acid, Hydroxypropyl, Calcium carbonate, and magnesium Stearate.
Spedra Avanafil Review – How Does It Work?
During sexual stimulation, Spedra works by increasing blood flow to the penis. These tablets can only work if there is stimulation. Stimulation is therefore required for the tablets to remain active. Without stimulation, all the active ingredients will be eliminated from the body system within a day or so.
The elimination process will however be harmless. The main ingredient Avanafil, activate chemical messengers which are responsible for erection production. Once these chemical messengers are present, it is guaranteed that it will work.
What's Good About Spedra Avanafil?
It can be efficient in treating erectile dysfunction.
Works fast compared to other PDE5 inhibitors.
Widens blood vessels while improving blood flow to the penis.
It may help to maintain an erection.
What's Bad About Spedra Avanafil?
It cannot be used by women.
Its Usage might cause dizziness and visual disturbances.
How To Use Spedra Avanafil?
The dosage will vary with respect to response of any of the three strengths (50mg, 100mg, 200mg) it contains. The dosage can be lowered to 50mg or increased to 200mg depending on how you respond. Your doctor will advise you on this. It can be taken 30 minutes to sexual activity.
An erection will occur 20-40 minutes when taken during sexual stimulation. The tablet is to be swallowed whole accompanied with a full glass of water. Care should be taken to avoid grapefruit juice 24 hours before taking these tablets. This is because it can increase the concentration of this medicine in your blood which will increase the risk of side effects. Lastly, do not take Spedra more than once within 24 hours.
What Are The Possible Side Effects Of Spedra Avanafil?
Several side effects are there but it does not mean that everyone using Spedra Avanafil will experience these side effects. Different people also react to different medicines in different ways. The most common side effects include; Nasal congestion, headache, and flushing.
There are also uncommon side effects which include; Indigestion, back pain, blurred vision, muscle tightness, muscle congestion, abnormal heart rhythm, and dizziness. The rarest include; Gout, high blood pressure, weight gain, insomnia, and premature ejaculation. The side effects mentioned above are just but a few that have been reported by the manufacturer. People who have experienced these are also very few-almost negligible.
Spedra Avanafil Review – The Bottom Line
Erectile dysfunctions can be a nuisance because it disrupts sexual activities which are the key thing in most men's lives. Because Spedra Avanafil is here, it won't be a nuisance anymore. It only needs to be taken rightly as recommended by the doctor to treat this condition.
There will be improved blood flow to the penis during sexual stimulation. This will also maintain your erection. The experience is sure to be pleasant. Side effects might however occur and if this happens your doctor should be the first person to be consulted.
Even though Spedra is available on prescription, it can only be prescribed on NHS for men who got erectile dysfunction because of other medical conditions. With a non-NHS prescription, you will be required to pay more-the full cost of the tablet.
With countless male enhancement supplements available on the market today it seems impossible to find "the right one." Sexual performance declines naturally as men age, which may contribute to feelings of inadequacy or embarrassment. Male enhancement supplements should be based on four key factors: active ingredients, ability to support sexual stamina, enhance arousal, improved* sexual desire and backed by clinical studies.
Below you'll find some of the most effective male enhancement supplements on the market today, in our opinion.

Our Top Male Enhancement Supplements