Sta-Hard Overview
Sta-Hard is a cream that is designed to desensitize the penis to prevent premature ejaculation. Available in tubes of various sizes, it is manufactured by Nasstoys Novelties. This company has been producing adult toys and sexual aids for decades, and its website currently features everything from vibrators to male performance supplements. While this is reassuring, the lack of information provided about Sta-Hard is not. It is identified only as a desensitizing lubricant and a top seller for over 20 years.
Sta-Hard is not available directly from the manufacturer, but can be purchased from many retail sites. At the time this review was written, a one-ounce tube could be purchased for roughly seven dollars, making Sta-Hard an extremely affordable option.
Sta-Hard Product Details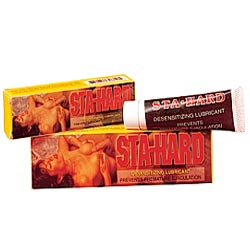 Ingredients are not revealed by the manufacturer, but several reviews identified benzocaine as the key substance in Sta-Hard. It has a numbing effect and is found in products such as Anbesol. Sta-Hard is applied before intercourse, and the ideal amount will vary from user to user.
Good About Sta-Hard
Sta-Hard is very affordable
The cream is available from a number of retailers
The manufacturer has experience producing toys, supplements, and topical creams to help couples enhance their sex lives
Sta-Hard can help men who have problems with premature ejaculation
Bad About Sta-Hard
Sta-Hard may make sex less pleasurable since it has a numbing effect
The key ingredient in Sta-Hard is a chemical compound
The manufacturer provides next to no information about the product
Sta-Hard is only a temporary fix for premature ejaculation
Sta-Hard The Bottom Line
Sta-Hard may indeed prolong sexual intercourse by numbing the penis. However, this may also reduce pleasure and sensation for the man, which is probably not something either partner wants.
Below you'll find the most effective male enhancement products on the market, we determine these products based on 4 key factors : Active ingredients, ability to support sexual stamina, enhance arousal & improved sexual desire, backed by clinical studies. Ultimately, we determined the bottom-line value of each product.