Staminil Overview
Staminil is an all-natural herbal supplement that's dedicated to heightening sexual energy, strength and stamina while improving genital function in order to produce better, harder, and longer lasting erections. It is a daily dietary supplement that supports overall sexual health.
Staminil is readily available through a website called HerbalLoveShop, a retail website that carries various brands and products that cater to sexual enhancement. The page dedicated to Staminil there identifies Roonies, LLC as the product's manufacturer.
Staminil Product Details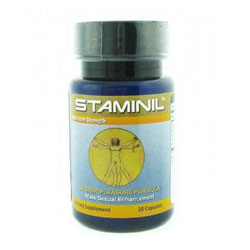 The manufacturers of Staminil do not have an official website, but some retail websites have listed all-natural ingredients contained in the product's priorietary formula. Bombyx Mori extract and Korean Ginseng heighten strength, endurance and performance levels. Ginger extract, Oyster extract, Corynanthe, Yohimbe, Cordyceps, and Rehmannia root all provide a significant support in sexual energy and enhance libido function. Horny Goat Weed and Niacin facilitate better blood flow into the genital area and helps maintain a hard erection. Finally, there are two berry extracts that round up the list of Staminil ingredients, Wolfberry that's been known to treat impotence, and Schisandra that provides lasting power and fights against premature ejaculation.
A bottle of Staminil contains 20 capsules and costs $19.99. As a daily dietary supplement, a dosage of 2 capsules daily for the first 3 days and 1 capsule a day on succeeding days is recommended.
Good About Staminil
Made from all-natural ingredients
Price is affordable
Sample trial size packs are available
Packaging is discreet
Bad About Staminil
There are no customer testimonials available
Contains ingredients that have female dominant chemicals properties
May not be suitable for people with high blood pressure, heart ailments or allergies to shellfish
Waiting time for expecting results is not clear
Clinical studies are not available for review
Staminil The Bottom Line
The manufacturer of Staminil does not even have a website dedicated to the product, which makes it harder to learn more about the formula, the benefits, and other pertinent information that will help users decide for or against it. The fact that ingredients like Schisandra and Wolfberry found in the formula may have female dominant chemicals effects is also something weird, considering this is a product dedicated to enhancing sexual performance in males. In the end, there are just too many disadvantages linked to this product to be able to consider Staminil a contender for best all-natural sexual enhancement supplement.