For many men, premature ejaculation is a sudden issue that occurs and then quickly goes away, occurring rarely and never really causing a serious problem in the long term. But for others, it's an issue that can be extremely difficult to deal with and may be long lasting and problematic. Depending on the definition, premature ejaculation is generally considered to be present when ejaculation occurs within 90 to 120 seconds after penetration. It's one of the most frequent issue men want to cure with male enhancement options, and it can occur at any age and has many potential causes ranging from physical issues to psychological factors. But no matter the cause, taking a look at hard numbers can help you determine more about this issue.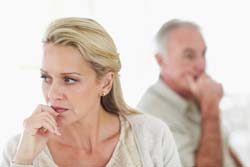 Here are a few figures worth thinking about.
As many as 30 percent of men will experience this problem at some point in their life.
About 15 to 18 percent of men suffering the issue report suffering from lifelong premature ejaculation problems.
An incredible 69.5 percent of men don't seek medical help for their problem.
Of those who do seek help, just under 70 percent of them do so through the internet.
Over half of men with PE believe it's psychological in nature.
Nearly 43 percent of men name stress as the main cause of their PE.
These figures are surprising in that they suggest the overall incidence of premature ejaculation is higher than some assume though this particular study is based on the reports of men instead of physicians. It's also interesting to see just how many men choose not to even try to overcome this problem, and that the vast majority of those who did try to overcome the issue do so through the anonymity of the internet, whether reading up on the issue or ordering male enhancement products to try to help overcome the issue.
There is also another interesting figure to note 13.8 percent of men report that they're not satisfied with their treatment results. In other words, the chances are that trying multiple steps to overcome the problem are high. With so many different options ranging from exercises to mental techniques to natural supplements, there could be a way to overcome the problem naturally and enjoy everything that sex should be about again. Instead of dealing with frustration and nervousness brought on by premature ejaculation, finding a solution is a better idea and one that does exist.