Steel Libido Overview
Manufactured by Irwin Naturals, makers of a wide range of health supplements, Steel Libido is a male enhancement product that claims to be the first to address both erectile dysfunction and sex drive (although there are actually many products on the market that make the same claim). It is available on several online retail sites, most of which provide a reasonable amount of information about the brand. On sites with customer feedback, Steel Libido has received good reviews and it is available at an affordable cost of $17.02, which should last approximately 18 days depending on use.
Steel Libido has been tested for quality of ingredients but not as a formula. However, some of the individual ingredients have been scientifically tested for use in erectile dysfunction conditions.
Steel Libido Product Details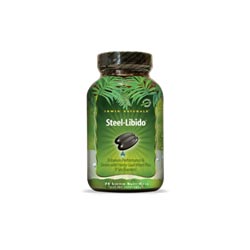 The Steel Libido formula contains some standard male enhancement ingredients, most of which are designed to help support the production of Nitric Oxide, deleting blood vessels and supporting the flow of blood to the penis. L-Arginine is the main active ingredient, while Tribulus helps support testosterone levels, Horny Goat Weed stimulates the libido, Maca enhances vitality and Choline supports levels of Dopamine, a mood enhancer and relaxant. One important addition to the formula is Bioperine, which aids in the absorption of the ingredients, making them function at optimum levels.
The manufacturer recommends that Steel Libido is taken at intervals throughout the day with extra doses before sexual activity.
Good About Steel Libido
Steel Libido is affordable
No Drug is required
All ingredients are listed
The formula is tested for purity and quality
Steel Libido contains L-Arginine and Bioperine
The gel caps are easy to swallow
Some ingredients have been clinically tested
Bad About Steel Libido
No money back guarantee is provided
No FAQ section is featured
There is no official product website
No special offers or free samples are available
No clinical research is shown for the formula
Steel Libido is only available online
Steel Libido The Bottom Line
The fact that Steel Libido contains Bioperine is a definite plus as this ingredient has been shown to greatly enhance absorption of other substances. However, Steel Libido is certainly not the only product to contain this, nor is it the first to help with both erectile dysfunction and lack of sex drive. It is more affordable than other brands, although at a dose of 4 capsules a day a bottle of the product would last only 18 days.
Below you'll find the most effective male enhancement products on the market, we determine these products based on 4 key factors : Active ingredients, ability to support sexual stamina, enhance arousal & improved sexual desire, backed by clinical studies. Ultimately, we determined the bottom-line value of each product.