Stimulex Overview
Stimulex is a homeopathic form of male enhancement product that is administered in drops rather than capsules. It is manufactured by Savi Drug, an Indian-based company, and sold through a number of retail sites online. While most of these sites contain information about the brand, it is mostly limited and the consumer must contact the retailer directly for pricing information.
Savi Drug appears to be a well-known company in India and has a professional website which, again, only contains limited details regarding Stimulex. No customer testimonials are available, no FAQ section is shown and no mention is made of any satisfaction guarantees etc. However, all contact information is provided for the company which states that it uses only ingredients of the highest quality.
Stimulex Product Details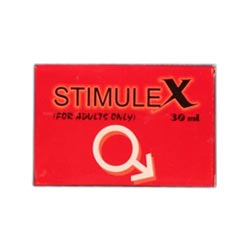 Most retail sites show a list of ingredients for Stimulex but it is unclear whether this is all the ingredients or only those that are active in the sexual performance enhancement. The formula, for which no amounts are shown, consists of Damiana, an aphrodisiac, Ginseng to fight fatigue and energize, Avena Sativa, a stimulant and erection enhancer, Lycopodium, to relieve anxiety, Selenium, to support anti-oxidants and the libido-supporter, Yohimbinium.
Stimulex should be taken at a dose of 20 drops in water, three times daily. No indication is given as to how immediate results can be expected.
Good About Stimulex
Stimulex contains well-known aphrodisiacs and stimulants
The key ingredients are shown
The product is easy to take
It is sold through independent retailers
Bad About Stimulex
No clinical studies are cited
Information for Stimulex is very limited
No pricing is provided
There is no money back guarantee
It does not contain L-Arginine to enhance Nitric Oxide production
No customer testimonials are provided
Stimulex The Bottom Line
There is little proof available that homeopathic remedies work any faster or more effectively than traditional capsule medications and there is certainly no proof given with Stimulex that this is the case. Even if the cost of the product was known, there is really no reason why any North American consumer would be willing to take a chance on this brand.