Super Vigor A+ Overview
Super Vigor A+ is said to utilize herbal ingredients to work with the body's natural physiological response to support sexual stamina. Super Vigor A+ is manufactured by a company called Marlyn Nurtraceuticals and distributed by another company named Natural Defense Tech, Inc., based in California.
Super Vigor A+ Product Details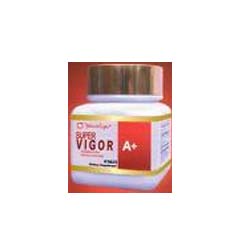 Calling itself a safe alternative to Drug
male enhancement medications, Super Vigor A+ claims to combat erectile dysfunction by promoting circulation and improving vascular health. According to the seemingly poor English translation on the Natural Defense Tech website, the company has been around since 1983. The Marlyn website is far more professional and informative. According to the information listed, their Arizona facilities meet both Current Good Manufacturing Practices and guidelines established by the United States Pharmacopoeia (USP). Super Vigor A+ purports to achieve results through the addition of a patented ingredient called Citrulline. This compound is said to assist in the production of Nitric Oxide, a key trigger for healthy erections. No mention is made of the other ingredients in the formula. However, Citrulline is actually a naturally occurring substance found in watermelon rinds.
There are two testimonials on the Super Vigor A+, one in English and one in Vietnamese, both from men with the same last name as the trademark holders. A bottle of 60 tablets costs $45. There are no dosage instructions, so it is unclear how long this supply will last.
Good About Super Vigor A+
Manufactured by a seemingly reputable company
Manufacturer meets safety standards
Bad About Super Vigor A+
Lack of information, including complete ingredients and dosage
Super Vigor A+, The Bottom Line
While Super Vigor A+ seems to be manufactured by a reliable company and might work as claimed, there is simply not enough information available on the product. Too many questions are left unanswered by the confusing presentation on the website. With so many competing products in the male enhancement market, consumers have a lot of choices, so it behooves companies to supply the most in-depth information possible on their products.
Below you'll find the most effective male enhancement products on the market, we determine these products based on 4 key factors : Active ingredients, ability to support sexual stamina, enhance arousal & improved sexual desire, backed by clinical studies. Ultimately, we determined the bottom-line value of each product.