What is TestroDyne L3?
TestroDyne L3 is presented as being an extremely effective "testosterone-boosting" supplement. Although very little detailed information about it is actually featured on the official product website, this website does state that TestroDyne L3 is capable of causing a 42% increase in serum testosterone in under two weeks; this statement is said to be garnered from clinical studies.
TestroDyne L3 can be purchased through this official product website for about $50 per bottle of pills, but this cost can be reduced if a bulk order is placed. TestroDyne L3 is a product manufactured by Generix Labs.
TestroDyne L3 Claims & Features – What You Need To Know?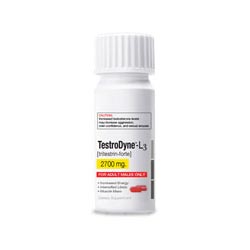 A full list of ingredients for TestroDyne L3 is not featured on this official product website, and this website lacks user testimonials as well.
The results of the previously mentioned clinical study are stated, however, and this bit of information appears to provide the most detailed description of this product.
TestroDyne L3 manufacturers warn that while this supplement can be purchased without the need for a physician's prescription, it should not be used unless an individual has consulted with his physician first.
The reason for this is said to be the supplement's potent capabilities; TestroDyne L3 should only be used as directed, and it is a product that should only be used by males who are insignificant need of boosting their testosterone levels.
Details regarding how often this product should be taken are not provided online. The potential side effects of using TestroDyne L3 are said to include dizziness, headaches, nervousness, sleeplessness, and tremors. Additionally, a list of possible contraindications is also provided on the official TestroDyne L3 product website.
What are the Benefits of TestroDyne L3?
The product has been tested in clinical studies, the results of which are listed online.
Information about who should avoid the use of this product is provided on the TestroDyne product website.
A 30-day money-back guarantee appears to back purchases of TestroDyne L3.
What are the Drawbacks of TestroDyne L3?
This product should only be used under a physician's guidance.
No list of ingredients is provided online.
The product associated with a number of potential health risks.
No user reviews are featured online.
TestroDyne L3 Review – The Bottom Line
Overall, it is not an ideal male performance enhancement supplement. Clinical studies may have been conducted on this supplement to verify its claimed effectiveness, but the safety of the use of this supplement does not appear to have been confirmed during these tests.
As a whole, the potential risks associated with it, appear to outweigh the potential benefits.
With countless male enhancement supplements available on the market today it seems impossible to find "the right one." Sexual performance declines naturally as men age, which may contribute to feelings of inadequacy or embarrassment. Male enhancement supplements should be based on four key factors: active ingredients, ability to support sexual stamina, enhance arousal, improved* sexual desire and backed by clinical studies.
Below you'll find some of the most effective male enhancement supplements on the market today, in our opinion.
Our Top Male Enhancement Supplements
Virectin
Ability to Support Harder and Firm Erections
Ability to Support Sexual Stamina and Energy
Ability to Enhance Arousal and Improved Sexual Desire
Overall Quality of Ingredients
VigRX Plus
Ability to Support Harder and Firm Erections
Ability to Support Sexual Stamina and Energy
Ability to Enhance Arousal and Improved Sexual Desire
Overall Quality of Ingredients
Barbarian XL
Ability to Support Harder and Firm Erections
Ability to Support Sexual Stamina and Energy
Ability to Enhance Arousal and Improved Sexual Desire
Overall Quality of Ingredients
Extenze
Ability to Support Harder and Firm Erections
Ability to Support Sexual Stamina and Energy
Ability to Enhance Arousal and Improved Sexual Desire
Overall Quality of Ingredients