Orgasms are sought after in most people's sex lives. But, when the male partner reaches orgasm too early and quickly, the female counterpart will be left unsatisfied. This circumstance can eventually ruin the relationship especially if it is ignored and untreated.
Premature ejaculation, a sexual condition wherein men ejaculate too soon than his partner wishes, is an event that can be frustrating for the couple. The man may feel inadequate, while the woman will be left hanging. That being said, it is only normal for men to seek help and determine all the premature ejaculation treatments they can explore that will best suit their individual needs.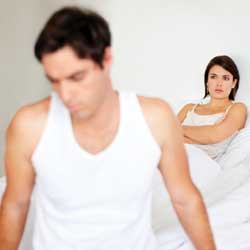 Mild or occasional premature ejaculation may go away on its own and may not necessarily require treatment. But if the problem is severe and affects the person and his relationships on a much deeper level, then treatment is best administered.
Stop-Start Technique
The stop-start technique is a form of a sexual therapy that requires the presence of the female partner. The female partner starts by slowly applying pressure and stimulation on the penis and stops as soon as the man feels he is about to ejaculate. When he is able to control himself and the climax wanes, the female begins to stimulate him again. This should be applied consistently until such time that the man feels he has more control of his orgasms. By that time, intercourse may be attempted.
Desensitizing Creams
Men can also use desensitizing creams to reduce the sensation in the penis. It is a popular product in Korea and other countries in the Far East that often contains herbs to help men delay ejaculation. These products are applied topically over the penis by using just the recommended amount before a sexual intercourse.
Counseling and Therapy
The couple may attend counseling sessions where they get to discuss problems in the relationship that can be causing premature ejaculation. Open communication is a great help especially with the intervention of a professional. They also get to learn during the counseling sessions the best ways to address the ejaculation problems, from communicating to the different techniques the couple may employ to delay ejaculation.
SSRI Drugs
SSRI drugs or selective serotonin reuptake inhibitors are primarily designed to manage depression; however they are increasingly being used as premature ejaculation treatments. Some examples of SSRI's that's being used for premature ejaculation are fluoxetine and paroxetine. Men who use these drugs report to have observed improvements with their ejaculations although they may need to take them for a week or two before seeing the results.
Conclusion
With the several premature ejaculation treatments available today, men will have more chances of improving their sex lives. For severe cases of premature ejaculation, it is important to seek professional help first before employing any treatment. While counseling and therapies are relatively harmless, men are warned about some drugs that promise cures for premature ejaculation as they can cause side effects.