When it comes to sex positions, you only really need to master the basic. More than that and you might be too caught up in the position you are aiming for and forget to be "in the moment". Here we've compiled a list of the basics or top sex positions for beginners.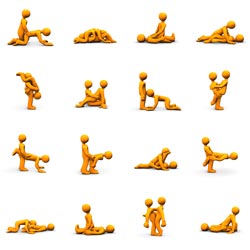 Your Main Mission
The Missionary is arguably the most basic sex position you'll ever need. You don't really need to be a top athlete or acrobat in order to master this position. Whatever your physical condition, you can surely do this. If you think this position is too boring, think again! You can always prop your woman's hips on top of a few fluffy pillows in order to raise the pleasure factor for both parties involved.
The Reverse Cowgirl
If a woman in charge is what turns you on, then the reverse cowgirl is a good position for you to try. For men, this position is the bomb because it gives men the view that they want – call it the money shot, if you want. For women, this is also a winning position as it gives them the chance to control everything. A lot of women have reported many cases of mind-blowing orgasms while enjoying this position so this really is a must-know position.
The Dog
This is one of those positions that really let you take charge. This is the kind of position that women like every now and then. There are different varieties of this position that you could learn once you master it.
The Standing
Now out of the top sex positions for beginners, this is the one that you should master for all those exciting quickies in the near future. This is the "manly-man" kind of position that women tend to be impressed with.
The Lap Dancer
This is the position that lets the woman take center stage. If you just want to literally sit and get your dose of pleasure, now this is the kind of position that would both leave you wanting for more.
Legs on the Shoulder
This position allows maximum penetration. The woman puts her legs on top of your shoulder, and then you enter her this way. This is the porn-meets-romance kind of position due to the eye contact involved (romance) and the penetration (porn) it offers.
The Woman Astride
Our last position on our list of top sex positions for beginners is all about pleasure, pleasure, and absolute pleasure. It's none other than the woman astride position. All you do is lie on your back and hold on to her hips while the woman does whatever satisfies her. This is the kind of position that more sexually forward women like. It's the kind of position that's not too sweat-inducing or too tricky to do that you both end up in a puddle of sweat without achieving an orgasm.