Trans-D Tropin Overview
The product Trans-D Tropin is a topical gel that is to be used by men who want to improve many aspects of their lives in terms of symptoms of ageing. The product has a very lengthy and informative website but is so detailed that it can be confusing for consumers. The site does contain customer testimonials and also celebrity and athlete endorsements. There is a video by the developer of the formula, Dr. Buttar and links to the studies performed on the product.
The cost of Trans-D Tropin is not known as at the time of writing the purchasing section was not available. However, there is a 30-day money back guarantee and all orders are secure.
Trans-D Tropin Product Details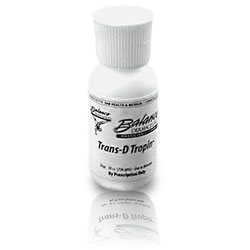 All the ingredients used in Trans-D Tropin are listed on the product site and it appears to consist of several different amino acids. Included in the formula are L-Arginine, L-Histamine and L-Glutamine. The overall purpose of Trans-D Tropin is to slow down the aging process through the manipulation of the growth hormone. The benefits of Trans-D Tropin include better sleeping patterns, an increase in libido and sexual performance, a boost in energy levels and concentration and balance of male sex hormones. The individual ingredients are not explained and amounts of the ingredients are not shown. The directions for applying the gel are fairly complex. A certain amount of drops must be applied to the inside of the forearm and the consumer must 'cycle' the doses. The recommended cycle is 5 days of use followed by 2 days of non-use and this must be done for 2 months, with a gap of 1-2 weeks between treatments.
Good About Trans-D Tropin
All manufacturer contact information is provided
It is applied topically
Trans-D Tropin contains L-Arginine
Customer testimonials are shown
All ingredients are listed
There is a 30-day money back guarantee
Clinical studies are shown
Bad About Trans-D Tropin
The cost of Trans-D Tropin is not known
The product is not easily available
The website is not user-friendly
Trans-D Tropin The Bottom Line
There are some quite over-exaggerated statements made for Trans-D Tropin, including the phrase 'drops of life' used to describe the product. Judging by the amount of satisfied customers and endorsements it does appear that the product has some positive benefits on the user and unlike some brands of anti-aging formulas, there is some evidence from clinical studies to show that it does produce certain results. The major problem with this brand however, is its availability. It seems that it is currently not available to regular consumers and, in addition to this, the actual cost of the product is not known.