Vaquerax Overview
Vaquerax is said to be a natural male enhancement product based on Spanish scientific research. It claims to be the result of over 12 years of development and can create harder, longer lasting erections. It is not clear who manufactures Vaquerax.
Vaquerax Product Details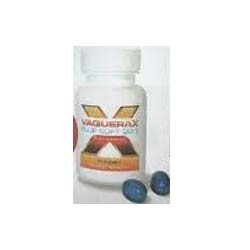 The Vaquerax website is either not functional or does not exist at the time of this review. Thus, information has been sourced from other sites, including the sale page on Amazon. Vaquerax contains 160mg of Saw Palmetto, 100iu of Vitamin E, 15mg of Zinc Oxide, 40mg of Avena Sativa, 50mg of Muira Pauma, 50mg of L-Arginine, 50mg of Tribulus, 25mg of Sea Kelp, Flaxseed Oil, Gelatin, Glycerin, Purified Water, Beeswax, Titanium Dioxide, and FD&C Blue #1. Users are advised to take one capsule a day with water and to take Vaquerax for 15 days without stopping. A bottle of 30 capsules, or a one-month supply, costs $59.95 on Amazon, which is a bit on the expensive end of the spectrum. However, at the time of this review, there was only one bottle left in stock.
Disturbingly, Vaquerax is currently under investigation by the law firms of Statman, Harris & Eyrich, LLC, and Bruce B. Whitman. It seems that they are gathering information in order to form a class action lawsuit against Vaquerax and a few other companies selling male enhancement products. This information, in conjunction with the missing website, casts Vaquerax in a decidedly negative light.
Good About Vaquerax
Might contain ingredients that have shown promise in enhancing male sexual performance
Apparently listed all the ingredients and their amounts when the website was functional, or perhaps on the label
Bad About Vaquerax
Could be the subject of a lawsuit
No official website
Not a lot of information
Vaquerax, The Bottom Line
The lack of a website and information about Vaquerax coupled with the fact that it is under investigation make this a product that should be avoided. With so many options in the natural male enhancement market, consumers should not take chances with products that do not immediately inspire comfort and confidence through their presentation.
Below you'll find the most effective male enhancement products on the market, we determine these products based on 4 key factors : Active ingredients, ability to support sexual stamina, enhance arousal & improved sexual desire, backed by clinical studies. Ultimately, we determined the bottom-line value of each product.