Viadrene Plus Overview
Viadrene Plus markets itself as an herbal alternative to Viagra that starts working within 30 minutes to form firmer erections, support libido, and enhance sensitivity without causing side effects. It is manufactured by a company called NutraFormulations Inc., based in Colorado.
Viadrene Plus Product Details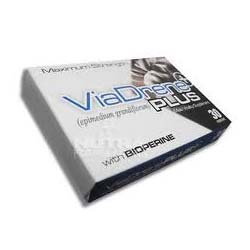 Viadrene Plus claims to improve erections, heighten arousal and sexual energy, support confidence, support erect penis size, create longer lasting erections, and produce thicker semen. The herbal formula contains Ashwagandha, Avenia Sativa, Epimedium Saggitatum, Muira Puama, Shisandra Root, Yohimbe Bark Extract, L-Citrulline, and L-Arginine. Ashwagandha is an aphrodisiac commonly called Indian Ginseng. Avenia Sativa is said to support prostrate function along with supporting libido. Epimedium Saggitatum is said to set off the same chemical process as Viagra without the side effects. Muira Puama has been used in the Amazon for hundreds of years to treat sexual problems. Shisandra Root is said to support fluid production during sex. Yohimbe Bark Extract is found in many other sexual enhancement products for its possible positive results. However, it is important to be aware that Yohimbe Bark Extract may cause side effects. L-Citrulline is an amino acid that is claimed to support Nitric Oxide production, which leads to better erections. L-Arginine may support male hormone production.
The official website for Viadrene Plus contains a great deal of information on their quality control, testing, and manufacturing process. It is stated that the product has been formulated by a doctor and produced by highly trained chemists in an FDA registered facility under Current Good Manufacturing Practices. There is also a lot of information about the underlying causes and physiological aspects of erectile dysfunction. The testimonial section is rather disappointing, however. It merely lists a few one to two word responses, such as "thanks." One box of 30 capsules of Viadrene Plus costs $47.75, with discounts on offer for larger orders. Viadrene Plus comes with a money-back guarantee that the consumer may return empty bottles within 90 days of ordering and they will receive a full refund. However, there are very negative comments about Viadrene Plus on an independent consumer complaint website, most of them are in response to their refund policy.
Good About Viadrene Plus
Contains all natural ingredients, some of which are used in other male enhancement products due to their promising results
Includes explanation of how each ingredient works
Is said to be produced in an FDA-registered facility under cGMP
Full company contact information is included
Bad About Viadrene Plus
Does not list amounts of each substance, which is especially important in the case of Yohimbe to be able to determine its efficacy and possible side effects
Yohimbe Bark Extract can cause a host of different side effects and is not advised for consumers with medical conditions or taking medications
Since Yohimbe is banned in some countries, there are varying formulas of Viadrene Plus, which may be confusing to the consumer
A bit more expensive that other products on the market
Viadrene Plus, The Bottom Line
If everything claimed on the Viadrene Plus website is completely accurate and true, then it is indeed a fantastic product. However, there are a few worrying elements. One is that the formula includes Yohimbe, which is known to have side effects, while claiming to be free of adverse effects. Another is the large amount of customer complaints on an independent website calling Viadrene Plus a scam and saying that they do not honor their 90-day guarantee. Lastly, it is problematic that they do not list the amount of each ingredient, making it difficult to compare Viadrene Plus to other products on the market.