Vigor 25 Overview
The name of this brand of male sexual performance enhancer really sums up exactly what it does – create a strong, vigorous erection within 25 minutes. Details regarding Vigor 25 are limited though; there does not seem to be an official website for the product and there is little information on the sites of retailers who carry the brand.
Vigor 25 is designed to be a natural alternative to erectile dysfunction medications such as Viagra and Cialis and, much like these treatments, should be taken about half an hour before sexual activity, with the effects lasting up to 14 hours. There are no money back guarantees offered for the product and no clinical evidence is provided to show successful results. Additionally, no customer testimonials are shown.
Vigor 25 can be purchased in a number of different package sizes and prices. For example one site sells a pack of 3 capsules for $20.68, while another offers a pack of 10 for $35.99, discounted from its regular price of $63.99.
Vigor 25 Product Details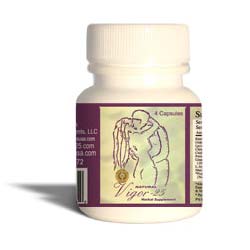 The full ingredient list for Vigor 25 is not shown anywhere, but most retailers do provide details of the main active ingredients. The formula features the herb Rhodiola, sometimes labelled 'Golden Root', which aids in supporting energy and testosterone levels, improving endurance and reviving the libido. The product also contains Lycium, an anti-oxidant 'superfood' which can support circulation, stress-relieving Chinese Yam plus Ginseng and Cnidium Fruit.
No side effects are listed for Vigor 25 but those with heart conditions or high blood pressure should avoid the product.
Good About Vigor 25
Vigor 25 does not require daily dosage
The formula is fast-acting
Vigor 25 can be purchased at discount prices
Bad About Vigor 25
No customer testimonials are shown
No clinical studies are shown
Product details are limited
Ingredient amounts are not provided
There is no money back guarantee available
It is not suitable for all men
Vigor 25 The Bottom Line
There is no reason to purchase a largely unknown product such as Vigor 25 when there are so many other rival products on the market that disclose more information about themselves. And apart from the addition of Rhodiola, the formula does not contain any of the more commonly found sexual enhancement ingredients such as L-Arginine, Tribulus or Horny Goat Weed.
Below you'll find the most effective male enhancement products on the market, we determine these products based on 4 key factors : Active ingredients, ability to support sexual stamina, enhance arousal & improved sexual desire, backed by clinical studies. Ultimately, we determined the bottom-line value of each product.