Viridex XT Overview
Viridex XT is the newest natural testosterone boosting supplement that is introduced in the market by Gaspari Nutrition. It is an intelligently designed, ultra potent myogenic and testosterone enhancing formula for men. It guarantees to optimize the level of testosterone, leading to an increase your athletic performance, improve your lean muscle mass, encourage fat loss, and enhance your endurance.
Manufacturer Information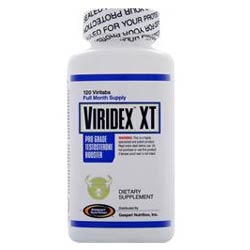 The main manufacturer of Viridex XT is Gaspari Nutrition, Inc. Gaspari is actually a well-respected brand for body builders. This company has a reputation of creating high quality products when it comes to sport nutrition. It continually promises to be the leader in providing innovative and cutting edge sports nutrition products, providing measurable results not just in the gym and in the mirror but most importantly on the playing field.
What Manufacturer/Product Claims?
The manufacturer claims that Viridex XT is one of those handful products in the market that has demonstrated real results to real people. It is highly designed to help in muscle building and in increasing the testosterone levels of the user. In fact, studies have shown that this product is capable of increasing free testosterone level up to 166% in some users. It has been tested in actual human males and not just in a laboratory petri dish or in some fuzzy little animals. Moreover, it has elicited a 19% average drop in cortisol in healthy men. The manufacturer guaranteed their product to be steroid free.
What Are The Ingredients?
Viridex XT is loaded with D-Aspartic Acid (DAA), Calcium D-Saccharate Tetrahydrate and supporting herbs that are known to increase testosterone levels in men. In addition to D-Aspartic Acid, it also contains specialized flax lignans and Sichuan pepper. They also help improve the testosterone levels and increase in libido.
D-Aspartic Acid is an amino acid that is sometimes referred to as DAA. It is an interesting ingredient for it is known to be the main component, the "heavyweight" of the formula, and the "go to" ingredient for several of the newer test booster formulas on the market.
Calcium D-Saccharate Tetrahydrate is an anti-estrogen compound. It basically lowers systemic estrogen levels by inhibiting estrogen's ability to be reactivated in the body, which in turn boosts testosterone levels. It also makes the other ingredients found in Viridex XT more bioavailable, since it boosts absorption and utilization rates of other compounds taken along with it.
How Does Viridex XT Work?
The components of this formula contribute to the enhancement of muscle growth and in increasing the testosterone levels of the users, allowing them to experience a boost in their libido and sexual drive.
Viridex XT Advantages
It increases your testosterone levels which in result helps build more muscles.
It helps increase the body's strength while losing body fat so you will become stronger.
It is fairly inexpensive.
As a bonus, you will experience a boost in your libido and enhanced ability in that particular area.
It is made by a well-respected and a firmly established company.
There were many positive reviews from satisfied customers.
Viridex XT Disadvantages
Some reviews found it to be ineffective.
It may cause headaches or nausea.
Are There Any Side Effects?
There have been no known side effects to those who are taking this supplement so far.
Price of Viridex XT
A full month supply of Viridex XT containing 120 capsules amounts to $35.
Dosage Instructions
As a dietary supplement, you can take two (2) pills in the morning with a full glass of water per day. However, for better results, you may take two additional tablets in the evening also. Due to the exceptional efficacy of this product, do not exceed four tablets per day under any circumstances. It is recommended to take this product no more than six weeks at a time, with atleast a 30 day break in between cycles.
Does It Interact With Other Medications?
This product is only intended to be used by healthy males 21 years of age and above. Also, you should not take this product if you have or are at risk for high or low blood pressure, cardiac disease, stroke, high cholesterol, seizure disorders, diabetes, kidney/liver disease, asthma, migraine headaches, psychiatric disease, HIV or AIDS, have difficulty urinating or have enlargement of the prostate. This product should be used in conjunction with a proper diet and exercise program. And above all, consult with your physician before starting any exercise program or new diet plan.
Final Verdict
Viridex XT is a revolutionary testosterone booster made by a top company in the history of sports nutrition. It is known to effectively increase the level of the testosterone as supported by the testimonials of thousands of users. It has been clinically tested and shown to provide positive results. So, if you are looking for the cutting edge and best testosterone booster, this is a good product to try!
With countless male enhancement supplements available on the market today it seems impossible to find "the right one." Sexual performance declines naturally as men age, which may contribute to feelings of inadequacy or embarrassment. Male enhancement supplements should be based on four key factors: active ingredients, ability to support sexual stamina, enhance arousal, improved* sexual desire and backed by clinical studies.
Below you'll find some of the most effective male enhancement supplements on the market today, in our opinion.
Our Top Male Enhancement Supplements
Ability to Support Harder and Firm Erections
Ability to Support Sexual Stamina and Energy
Ability to Enhance Arousal and Improved Sexual Desire
Overall Quality of Ingredients
Testomax200
Ability to Support Harder and Firm Erections
Ability to Support Sexual Stamina and Energy
Ability to Enhance Arousal and Improved Sexual Desire
Overall Quality of Ingredients
Male Extra
Ability to Support Harder and Firm Erections
Ability to Support Sexual Stamina and Energy
Ability to Enhance Arousal and Improved Sexual Desire
Overall Quality of Ingredients