What is Virility Patch Rx?
Virility Patch Rx is a non-prescription product for males to enhance sexual performance. The active ingredients in Virility Patch Rx facilitate sexual arousal.
This product is a formula with superb natural herbal ingredients that assist elderly men in maintaining youthful vigor regarding their sexual performances.
Erection is a complex event in its right involving the brain, hormones, nerves as well as the blood vessels. By using this product, blood flow to the penis increases making it firm, harder and powerful.
Consumers can purchase a one month supply of this product at a cost of $49.95. They are sold in boxes, and each one contains 10 patches. One patch lasts for 3 days.
Use the product for 3-4 months to see results. The instructional label contains further information. For any purchases go to the website and order your supplements.
The pricing of the supplement from the official website dealing with Virility Patch Rx is in six parts;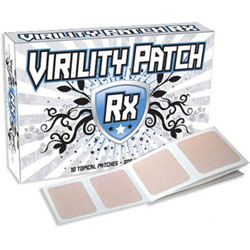 Virility Patch Rx 1 Month Supply costs $49.95
Virility Patch Rx 2 Month Supply costs $85.95
Virility Patch Rx 3 Month Supply costs $120.95
Virility Patch Rx 4 Month Supply costs $150.95
Virility Patch Rx 5 Month Supply costs $180.95
Virility Patch Rx 6 Month Supply costs $199.95
Manufacturer information and claims about Virility Patch Rx
The manufacturer claims that the product does not need to go through the digestive system to start working. The manufacturers also claim that the product's ingredient is a formula of natural ingredients that are safe to use.
How Virility Patch Rx Works
This product is not oral; the case then is that you stick the patch on different places on the skin except the genitals or face or hairy parts every 3 days. A box contains 10 patches enough for a whole month. The patches use advanced physiological technology to feed the formula into the users' bloodstream promptly.
No digestion is required to start working hence; it gets absorbed into the bloodstream. Increased sexual desire should take place without any problem after patching. Once you have achieved your goal, you can start reducing the usage as this will not affect your sexual performance.
What are the Ingredients in Virility Patch Rx?
The ingredients of Virility Patch Rx are as follows;
Ginseng: It is one powerful ingredient that is a source of energy for the body that catapults sexual activity. It is explicitly taken by millions of men to rejuvenate their sexual performance.
Fo-Ti: It is good for the elderly men to rejuvenate sexually and improve their sexual performance and fertility. It is also used to purify the blood.
Gotu Kola: Helps in building mental stamina together with neural health. Another benefit is to purify blood and improve memory.
Saw Palmetto: It strengthens the male reproductive system.
Damiana: This ingredient is said to improve sexual ability, strengthen nervous and hormonal systems. It is also touted for treating impotence and also a sexual rejuvenator.
Menthol: It is a very vital ingredient used to prepare the skin to accept to make the patch work.
What are the Benefits of Virility Patch Rx?
It may improve the penis size to full inches length
Expands the penis up to 25% thicker
It may help to stop Erectile Dysfunction
Help to stop Premature Ejaculation
It may improve Sex Life by increasing orgasm
Makes the erection harder, longer and firmer
What are the Drawbacks of Virility Patch Rx?
Using Virility Patch Rx by some users make them suffer allergies. Therefore, it is better to seek the doctor's advice before embarking on this treatment.
The Dosage instructions
Virility Patch Rx 1 month supply is used for ten servings whereas each patch lasts for 3 days. Use the product within 3-4 months to see good results.
Precautions
Virility Patch Rx is not meant to treat or diagnose penis problems. Consider consulting a doctor if you experience changes in your penis that require medical attention.
Does it interact with other medications?
Do not use the product when you are diabetic or has high blood pressure. Those who have difficulty urinating because of prostate enlargement should also desist from using the formula. People with allergic reactions should not try the product. Those under depression drugs are advised not to use Virility Patch Rx.
Virility Patch Rx Review – The Bottom Line
Virility Patch Rx gives a promise to men having sexual dysfunctions, improved sexual desire, sexual pleasure, and penis size. Since, it is a purely herbal product, it is safe to use.
Based on user reviews a user is likely to see tangible results from one month to at least four months of usage. Customers should, however, seek medical attention and not confuse this product for treatment or diagnosis of penis problems. Doctors would also help in ruling out any possible allergies.