VMaxx Rx Overview
VMaxx Rx is a product touted as being capable of helping men gain firmer, better erections than they previously thought possible. VMaxx Rx was once sold online through a number of third-party online retailers. However, since a federal warning was put out regarding this supplement, it is now much more difficult to locate. VMaxx Rx was sold in packages of one or five pills, for about $5 per pill. At this relatively expensive rate, VMaxx Rx would not be considered to be an affordable male performance supplement.
VMaxx Rx Product Details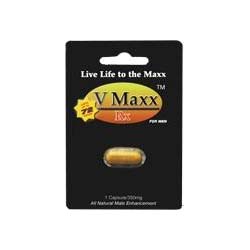 Detailed information about VMaxx Rx is difficult to locate online at the moment, since most retailers of this product no longer carry it. VMaxx Rx's list of ingredients could not be found. However, federal warnings have been issued against VMaxx Rx because official testing revealed that it contains sulfoaildenafil, an analog of a compound only permitted to be used in certain approved prescription drugs. Because of this issue, VMaxx Rx could cause dangerous health problems for consumers who combine the use of it with other prescription dugs that they might be taking; sulfoaildenafil is particularly dangerous for anyone who is taking nitrates, and many common prescriptions for diabetes, high blood pressure, high cholesterol, or heart disease contain nitrates.
Good About VMaxx Rx
VMAxx Rx was sold in individual pill packages, allowing consumers to just try one pill instead of having to commit to purchasing a lot at once.
Bad About VMaxx Rx
VMaxx Rx no longer appears to be sold online.
This was a relatively expensive male performance supplement.
VMaxx Rx contained an ingredient not listed on its official list of ingredients, and the presence of this ingredient has caused a federal warning to be issued against VMaxx Rx.
A list of ingredients could not be found online for this product.
VMaxx Rx The Bottom Line
VMaxx Rx is not an ideal male performance supplement. A full list of ingredients is not featured online, and most third-party retailers of VMaxx Rx no longer sell it. The cost of VMaxx Rx is quite high per pill, and purchases may not be endorsed by a money-back satisfaction guarantee. However, the biggest problem with VMaxx Rx is that it contains a compound that is unmentioned in its list of ingredients. Since this compound may interact dangerously with other prescription drugs, taking VMaxx Rx could actually be very harmful to some individual's health.
Below you'll find the most effective male enhancement products on the market, we determine these products based on 4 key factors : Active ingredients, ability to support sexual stamina, enhance arousal & improved sexual desire, backed by clinical studies. Ultimately, we determined the bottom-line value of each product.