Wodibo Overview
Wodibo is a blend of Chinese herbal extracts designed to support and enhance male sexual function. It is produced in Henan, China, by Aidi Health Food Company Limited and sold online in many countries.
Wodibo Product Details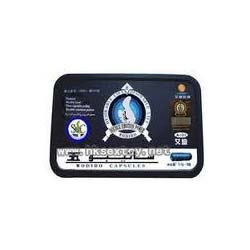 Wodibo is said to be an all-natural combination of Couch Grass Root, Mulberry, Rhizoma Polygonati, Cinnamomum Cassia, and Fennel. Depending on the online vendor, it costs between $12-$25 for a package of eight capsules. Most of the information on the product comes in the form of poorly translated English, which makes it a little difficult to completely ascertain the exact way in which Wodibo works. Purportedly to be of "high fame and advanced technology," Wodibo is said to work immediately without any side effects. In addition to curing erectile dysfunction, Wodibo is claimed to support kidney health, strengthen the spleen, aid pulmonary health, fight weakness, ease anxiety and forgetfulness, support energy, and support immune response. Dosage instructions are to take one pill when needed.
However, Wodibo has been banned in Canada and Denmark for containing Sildenafil and Tadalafil, which are Drug medications for erectile dysfunction. The Danish Medicines Agency discovered significant levels of these Drug-only substances in Wodibo. In fact, it had even more than the highest levels found in authorized medicines. Health Canada does not mince words about the dangers of taking Wodibo without the supervision of a doctor. They state that those with heart disease could experience "serious cardiovascular side-effects such as sudden cardiac death, heart attack, chest pain, abnormal heartbeat, hypertension or hypotension, and stroke." Additionally, those taking any form of nitrate medication could experience dangerously low blood pressure. Strangely, the FDA doesn't seem to mention anything about Wodibo, even though it has banned other unlicensed products containing Sildenafil.
Good About Wodibo
Available from different vendors online
Bad About Wodibo
Difficult to determine exact ingredients and the function of ingredients due to poor translation
Potentially dangerous amounts of Drug-only medications
Potentially dangerous side effects
Wodibo, The Bottom Line
While it is possible that Wodibo does achieve all the great results it claims, it is disturbing that two governmental agencies have banned it from sale or use in their countries. With so many more reputable products on the market, it simply doesn't make sense to gamble with Wodibo.
Below you'll find the most effective male enhancement products on the market, we determine these products based on 4 key factors : Active ingredients, ability to support sexual stamina, enhance arousal & improved sexual desire, backed by clinical studies. Ultimately, we determined the bottom-line value of each product.