X Ripped Overview
This is an exceptional dietary formula that has been designed for bodybuilders to help them achieve lean muscles. Its ingredients have also been mixed exceptionally and are packed with essential amino acids. These amino acids are very important for muscle growth and recovery.
The supplement performs effectively to improve the body's metabolic rate. It also improves protein synthesis in the body. This will enable the user to make the most of their workouts. It is also a great alternative to protein shakes.
Claims and Features – What You Need To Know?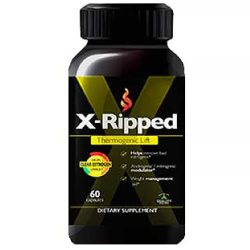 Coyanco is the brand that is behind the manufacturing and development of X-Ripped. The company's main aim was to offer great solutions to health issues that negatively impact the society at large. It did this by providing exceptional supplements that aids in boosting people's health.
Coyanco claims that X-Ripped plays a huge role in stimulating the production of testosterone in the body. When the levels of testosterone are sufficient in the body, lean muscle growth will occur and bodybuilders will automatically attain a body physique that is admirable.
It is also claimed to have wonderful ingredients that increases metabolic rate and also support protein synthesis. It is claimed to deliver amino acids in the body which facilitates muscle growth and recovery.
What are the Ingredients In X Ripped?
The ingredients contained in X Ripped are known for their prowess in building muscle strength. All these ingredients have been scientifically proven to be safe and effective. They include;
Chrysin
This is a flavonoid that naturally originates from a variety of plants and also in honey.
According to a number of laboratory researches, it increases the levels of testosterone in the body therefore improving muscle tone. It is therefore a great body building ingredient.
Diinodolymethane (DIM)
It is extracted from vegetables like broccoli and cabbage. It can also be found naturally in some foods but it more effective when taken in supplement form.
It aids in balancing testosterone levels. It works well to improve muscle growth.
Indole-3-carbinol
This is found in vegetables. It works well alongside DIM.
It works to increase testosterone levels and also deals with hormonal imbalances.
Bioperine
This is a black pepper extract that is used in absorption of quite a number of nutrients. Because of this it is an exceptional nutritional supplement.
It has not been fully researched and so potential dangers have not been established. You therefore need to seek the advice of a health practitioner before using anything containing Bioperine.
Cucumin
Alleviates joint pain and so it is greatly useful for bodybuilders.
It also maintains healthy cells, neutralizes free radicals, allows the body to use its natural methods of detoxification, controls inflammation, and aids in protection against aging.
Vitamin E
Protects the body against harmful toxins.
Acts as an antioxidant.
X Ripped Review – How Does It Work?
Through its ingredients, it works to increase the levels of metabolism in the body. It also works to improve the synthesis of proteins which will later be metabolized to assist in lean muscle growth.
The amino acids it offers facilitates muscle growth and is also important for muscle recovery especially after intense workouts.
What's Good about X Ripped?
May increase muscle strength and growth.
Might enhance better sleep.
Makes the most out of a workout.
Contains ingredients which have been scientifically and clinically proven.
The ingredients are safe to use because they are natural.
Improves well-being and confidence.
Facilitates recovery speed after a workout.
What's Bad about X Ripped?
It is not clear how long it should be taken before you get to see any remarkable improvement.
How To Use X Ripped?
This recommended dosage of this dietary formula is 2 capsules per day. You can also take it as recommended by a licensed medical practitioner. It is not very clear how long it should be taken before you see any remarkable improvements. Take care not to overdose this supplement because it can cause adverse effects.
X Ripped Review – The Bottom Line
X-ripped has a lot of benefits that benefit the body in a great way. The supplement has been formulated with ingredients that are natural and do not pose any side effect if used properly. It supports the development of lean muscle mass and increases the production of testosterone in the body.
The manufacturer has not indicated how long one needs to use the product before seeing remarkable improvements. This should be indicated to at least clear the doubts of customers.
For more information about the product, customers are advised to the product's official website. When choosing a supplement, ensure that it comes from a reputable company and produces effective results.
With countless male enhancement supplements available on the market today it seems impossible to find "the right one." Sexual performance declines naturally as men age, which may contribute to feelings of inadequacy or embarrassment. Male enhancement supplements should be based on four key factors: active ingredients, ability to support sexual stamina, enhance arousal, improved* sexual desire and backed by clinical studies.
Below you'll find some of the most effective male enhancement supplements on the market today, in our opinion.
Our Top Male Enhancement Supplements
Virectin
Ability to Support Harder and Firm Erections
Ability to Support Sexual Stamina and Energy
Ability to Enhance Arousal and Improved Sexual Desire
Overall Quality of Ingredients
VigRX Plus
Ability to Support Harder and Firm Erections
Ability to Support Sexual Stamina and Energy
Ability to Enhance Arousal and Improved Sexual Desire
Overall Quality of Ingredients
Barbarian XL
Ability to Support Harder and Firm Erections
Ability to Support Sexual Stamina and Energy
Ability to Enhance Arousal and Improved Sexual Desire
Overall Quality of Ingredients
Extenze
Ability to Support Harder and Firm Erections
Ability to Support Sexual Stamina and Energy
Ability to Enhance Arousal and Improved Sexual Desire
Overall Quality of Ingredients