Yohimbe Fuel Overview
Yohimbe Fuel is a dietary supplement developed by Twinlab to enhance male sexual function through support blood flow. The formula is based on Yohimbe Bark Extract that has been processed to contain a high level of Yohimbine alkaloids.
Yohimbe Fuel Product Details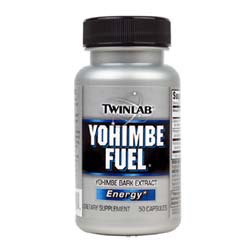 Yohimbe Fuel claims to be a fast-acting, concentrated, and highly potent form of the popular male enhancement ingredient Yohimbe Bark. Each capsule of Yohimbe Fuel contains 40mg of Calcium, 31mg of Phosphorus, 400mg of Yohimbe Bark Extract that has been standardized for 8mg of Yohimbine Alkaloids), Gelatin, Medium Chain Triglycerides, Magnesium Stearate, and Silica. Yohimbe is an evergreen tree found in several African countries. The bark of this tree contains a chemical called Yohimbine, which is the active ingredient in many natural male enhancement supplements and has been used in its pure form in Drug erectile dysfunction medication. Some research has shown promising results for Yohimbine in treating various sexual issues such as low libido, erection issues, and impotence. However, completely conclusive evidence from clinical studies has not yet been found.
There are also many problems associated with Yohimbine. First, the Yohimbe tree may be endangered due to high international demand and the fact that it dies after its bark is harvested and new trees must be planted to compensate. Second, the chemical itself is present in the bark only in small amounts and so it is important to extract it to sufficient potencies. Thus, it can become confusing when different supplements contain varying milligrams of Yohimbe Bark Extract that contains varying levels of Yohimbine, making it tricky to compare products and determine the accurate dosage and intake. Yohimbine also has many possible side effects. Some of these potential influences are positive, such as support fat loss and support for certain depression treatments. However, there are far more negative factors to consider before using products containing Yohimbine. It is banned in some countries because it can be dangerous if used in large amounts, with the line between an effective dose and an excessive dose being very thin. Additionally, it may cause anxiety, panic attacks, dizziness, insomnia, headaches, and could raise blood pressure and heart rate. Possible serious side effects include seizures, support suicidal tendencies in those with depression, and kidney failure.
Twinlab acknowledges these risks in its warning disclaimer, which states that the product should not be used excessively or for extensive periods of time. Consumers that are merely at risk for genital or prostrate inflammation, high blood pressure, liver disease, heart disease, kidney problems, diabetes, seizure disorder, anxiety, depression, or other psychiatric conditions are advised not to use Yohimbe Fuel. Additionally, those taking Drug medications or experiencing any side effects should contact their doctor regarding Yohimbe Fuel.
Twinlab, which has become a leading name in the supplement industry since its inception in 1968, is now owned by a company called ISI Brands, Inc., based in American Fork, Utah. Yohimbe Fuel is offered for sale directly on the Twinlab website and through numerous online vendors and retail stores. Men are advised to start with one capsule a day before working up to the standard two capsule dosage. At $13.50 for 50 capsules, almost two months worth of product, Yohimbe Fuel is fairly affordable.
Good About Yohimbe Fuel
Contains a generous dose of Yohimbe Extract with a stated potency of Yohimbine alkaloids
Yohimbine has shown some promising clinical results for treating a variety of male sexual health issues
Relatively affordable
Produced by a well known, reputable company with a long history in the industry
Bad About Yohimbe Fuel
Uncertainty as to exactly how much Yohimbine each dose contains
Not for long term usage
Yohimbine can have many negative side effects
Potentially dangerous interactions with certain illnesses and medications
Yohimbe Fuel, The Bottom Line
With all the conflicting evidence and reports on Yohimbe Bark and Yohimbe Fuel, it can be difficult to come to a clear conclusion on its efficacy. While Yohimbe Fuel has the possibility to be dangerous to some individuals, it is manufactured by a trusted company and should be safe if used according to the instructions on the label. It may be up for each man to decide if the potential or actual side effects outweigh the potential or actual benefits.
With countless male enhancement supplements available on the market today it seems impossible to find "the right one." Sexual performance declines naturally as men age, which may contribute to feelings of inadequacy or embarrassment. Male enhancement supplements should be based on four key factors: active ingredients, ability to support sexual stamina, enhance arousal, improved* sexual desire and backed by clinical studies.
Below you'll find some of the most effective male enhancement supplements on the market today, in our opinion.
Our Top Male Enhancement Supplements
Ability to Support Harder and Firm Erections
Ability to Support Sexual Stamina and Energy
Ability to Enhance Arousal and Improved Sexual Desire
Overall Quality of Ingredients
Testomax200
Ability to Support Harder and Firm Erections
Ability to Support Sexual Stamina and Energy
Ability to Enhance Arousal and Improved Sexual Desire
Overall Quality of Ingredients
Male Extra
Ability to Support Harder and Firm Erections
Ability to Support Sexual Stamina and Energy
Ability to Enhance Arousal and Improved Sexual Desire
Overall Quality of Ingredients