Zestosterone Overview
Zestosterone is a testosterone-boosting supplement. If one wishes to stay the man he knows he could be (according to the Zestosterone website), then they should take Zestosterone to increase their testosterone. When men are young, they have all the testosterone they need. When they're older, like in their forties and fifties, they start to lose testosterone, which could be naturally regained by taking supplements like Zestosterone to promote healthy aging.
What Does Manufacturer Claims?
The manufacturer claims the following benefits from using Zestosterone: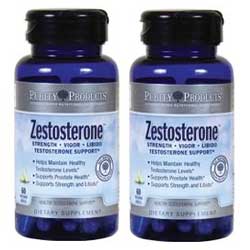 Assists in maintaining healthy T-levels even when in an advanced age and whatnot.
Supports libido, strength, and prostate health all at the same time.
Helps your body in naturally increasing your T-levels rather than injecting a synthetic hormone which can be harmful to you.
Supplements nutrients that aren't usually found in food nowadays.
What Are The Ingredients In Zestosterone?
Zestosterone ingredients include the following:
Calcium Fructoborate: A trace mineral boron found in fruits and vegetables that plays a vital role in the metabolism of steroid hormones and Vitamin D. According to a 2011 study, a week's dosage of boron supplements had male volunteers gain higher testosterone levels.
Vitamin D: Naturally, Vitamin D should go hand-in-hand with Calcium Fructoborate in order to get a testosterone boost. Other Vitamin D benefits include healthy bones, mitigation of flu risk, mitigation of diabetes risk, and cancer prevention.
Beta-Sitosterol: Belongs to the phytosterol family, which promotes prostate health and quality urinary function. Their healthiness also has an impact on your testosterone production.
Zinc: This has always been a mainstay as the "male mineral" when it comes to male enhancement because it promotes prostate health, libido, and male fertility.
Grape Seed Extract: As for Grape Seed Extract, it adds that much-needed circulatory system support that's important in gaining those erections, facilitating better healing, superior stamina, and so forth.
How Does Zestosterone Work?
The combination of testosterone boosters (Calcium Fructoborate and Vitamin D) work to increase your libido, stamina, sharpness of mind, and fitness of the body. All the other ingredients assist in ensuring maximum absorption and benefits from Zestosterone's active ingredients, like Grape Seed Extract's blood flow improvement, Zinc's male fertility enhancement, and Beta-Sisterol's prostate and urinary health maintenance.
Advantages Of Zestosterone
Thanks to its Calcium Fructoborate active ingredient, you can get to wind back the clock and get a sharp mind, abundant energy, vigorous libido, virility, and a "lean and mean" body that many guys in their twenties and thirties take for granted.
It's mostly marketed to people who have low testosterone, which are older guys. If you wish to undergo healthy aging, then this is the booster for you, although it does have benefits for body builders and people with ED problems.
Disadvantages Of Zestosterone
Unlike other male enhancement pills in the market that make use of blood circulation enhancers like L-Citruline and L-Arginine Nitrate, aphrodisiacs like Avena Sativa and Tongkat Ali, or outright testosterone boosters like Tribulus Terrestris, Zestosterone promotes natural testosterone production with Calcium Fructoborate as an active ingredient, which according to customer reviews may not work for you. At all.
Are There Any Side effects Of Zestosterone?
An overdose or sudden increase of testosterone when you don't need to increase it can lead to:
Headache
Vomiting
Nausea
Acne
Hair loss
Oily skin
Increased or decreased sexual interest
Skin color changes
If you suffer from allergic reactions to the pill (which includes hives, redness, swelling, and difficulty in breathing), you should consult your healthcare professional right away.
Price Of Zestosterone
On Amazon.com, the price of the product is$54.95with free shipping.
Dosage Instructions
Zestosterone can be taken in a daily dose of two capsules. A bottle typically contains 60 pills for a one month supply.
Final Verdict
It's highly recommended, according to customer reviews, to older men who already have depleted T-levels. Not so much for people who don't have such a problem. Bodybuilders who are young and have healthy T-levels won't get much out of this. Erectile dysfunction sufferers who have psychological issues as root causes for ED won't get much from the supplement either. The best way to gauge the value of the mostly unknown product is to try it out for yourself then return it if it truly doesn't work.
With countless male enhancement supplements available on the market today it seems impossible to find "the right one." Sexual performance declines naturally as men age, which may contribute to feelings of inadequacy or embarrassment. Male enhancement supplements should be based on four key factors: active ingredients, ability to support sexual stamina, enhance arousal, improved* sexual desire and backed by clinical studies.
Below you'll find some of the most effective male enhancement supplements on the market today, in our opinion.
Our Top Male Enhancement Supplements
Ability to Support Harder and Firm Erections
Ability to Support Sexual Stamina and Energy
Ability to Enhance Arousal and Improved Sexual Desire
Overall Quality of Ingredients
Testomax200
Ability to Support Harder and Firm Erections
Ability to Support Sexual Stamina and Energy
Ability to Enhance Arousal and Improved Sexual Desire
Overall Quality of Ingredients
Male Extra
Ability to Support Harder and Firm Erections
Ability to Support Sexual Stamina and Energy
Ability to Enhance Arousal and Improved Sexual Desire
Overall Quality of Ingredients