What is Zhou Horny Goat Weed?
This horny goat weed supplement from Zhou Nutrition is designed to help enhance the sexual health and performance of users. It is formulated with natural ingredients which according to the company behind its manufacture will not harm your health in any way. This supplement will work for both men and women who wish to take their sexual health and performance a notch higher.
Interestingly, the main ingredient which has been used in the supplement is the one by which it has been named. The supplement is designed to be taken on a daily basis for its benefits to be achieved. We take a look at all the aspects of the supplement to help you make an informed before buying it.
Zhou Horny Goat Weed Claims & Features – What You Need To Know?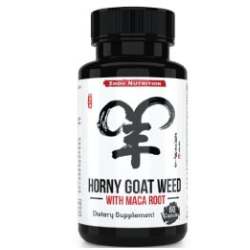 This supplement is manufactured by Zhou Nutrition a company that is registered in the US. The company is involved in the manufacture of various other quality supplements that meet consumer expectation based on independent reviews posted online. Now, their horny goat weed formulation is claimed to be one of the best sexual enhancement supplements that men should opt for.
It is however surprising to note that even though the supplement is featured on the official website page of its manufacturer you can't purchase it directly there.
If you need to buy it, you will be directed to Amazon via its official website page. Unlike many other sexual performance support supplements which usually target just one gender, it is targeted at both genders.
It contains a complex blend of natural herbal extracts all of which have been scientifically tested and proven effective. Some of the features ingredients in the formulation include; horny goat weed for which it is named, Maca root, Tribulus Terrestris, Tongkat Ali among some other ingredients which have been added to the formulation.
What are the Ingredients in Zhou Horny Goat Weed?
Maca root – The roots of the Maca root plant has been used for ages as medication to various ailments. Here in this particular supplement, it has been used to boost energy levels and also to enhance sexual function.
Horny goat weed – This particular ingredient is most commonly used in sexual enhancement supplements because it is believed to have sexual stimulating properties. Here it has been used to raise the libido and heighten sex drive.
Tribulus Terrestris – This natural ingredient is most commonly used in testosterone boosters but it also has got various other health uses. Here in this supplement, it has been used to increase energy and physical performance.
Tongkat Ali – This is yet another health beneficial plant that you will find used in various health supplements for its supposed health benefits. Here it has been used to offer energy and stamina.
Saw Palmetto – A commonly used natural ingredient in various prostate support supplements. Here it has been used to help increase sexual desire and a strong libido.
Muira Puama root – This plant is often used in certain traditional societies to treat sexual dysfunction as it has got proven benefits to improve sexual desire and general sexual function.
L-Arginine – This is an essential amino acid that is most commonly used to increase the production of nitric oxide so that blood circulation in the body can be improved.
Other ingredients used in the supplement include; Panax Ginseng and cayenne pepper powder.
What are the Benefits of Zhou Horny Goat Weed?
It is formulated with all natural ingredients which are safe and healthy.
It may help to boost the sexual health and performance of the user.
It can be used by both men and women.
It may help to boost blood circulation in the body.
It is vegan safe.
What are the Drawbacks of Zhou Horny Goat Weed?
How should you take the supplement?
It is suggested that you take two capsules per day.
Zhou Horny Goat Weed Review – The Bottom Line
Zhou Nutrition Horny Goat Weed is a sexual enhancement supplement that is produced by a company based in the American state of Georgia. It claims that it can be used by both men and women to help make their bedroom matters excellent.
Indeed it is a combination of herbal extracts which are proven by science to enhance sexual health and performance. It is however unfortunate that users will not be able to order the supplement directly from its official website.
With countless male enhancement supplements available on the market today it seems impossible to find "the right one." Sexual performance declines naturally as men age, which may contribute to feelings of inadequacy or embarrassment. Male enhancement supplements should be based on four key factors: active ingredients, ability to support sexual stamina, enhance arousal, improved* sexual desire and backed by clinical studies.
Below you'll find some of the most effective male enhancement supplements on the market today, in our opinion.
Our Top Male Enhancement Supplements
Virectin
Ability to Support Harder and Firm Erections
Ability to Support Sexual Stamina and Energy
Ability to Enhance Arousal and Improved Sexual Desire
Overall Quality of Ingredients
Testomax200
Ability to Support Harder and Firm Erections
Ability to Support Sexual Stamina and Energy
Ability to Enhance Arousal and Improved Sexual Desire
Overall Quality of Ingredients
Male Extra
Ability to Support Harder and Firm Erections
Ability to Support Sexual Stamina and Energy
Ability to Enhance Arousal and Improved Sexual Desire
Overall Quality of Ingredients
Extenze
Ability to Support Harder and Firm Erections
Ability to Support Sexual Stamina and Energy
Ability to Enhance Arousal and Improved Sexual Desire
Overall Quality of Ingredients