Zytenz Overview
Zytenz is described by the manufacturer, Nanotokin, as the 'secret to a better sex life'. Available only on the internet, the Zytenz information website is basically one page that gives a brief outline of how the product works, plus several customer testimonials and FAQ's. The tone of the site is over-exaggerated which does detract from the professionalism of the product and while there is a diagram to illustrate the results of Zytenz, overall information is limited.
Zytenz comes with a 60-day money back guarantee, although there is also mention of a 'lifetime' guarantee, and can be purchased at a cost of $39.95 per bottle. It can also be purchased in multiple bottles at discounted prices.
Zytenz Product Description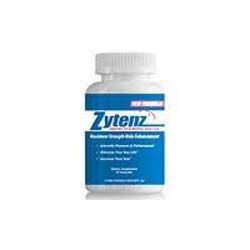 The only facts given regarding the Zytenz formula state that it is a proprietary blend of 12 natural extracts. Because the formula helps support the male erection by supporting blood flow to the penile chambers (the Corpora Cavernosa) it likely contains an amino acid such as L-Arginine, an ingredient often used for this purpose. Additionally, Zytenz helps support stamina and creates powerful orgasms indicating that it uses ingredients such as Muira Puama, Tribulus, Maca root and Horny Goat Weed, an aphrodisiac.
The dosage information for Zytenz is not shown, but it is likely to require daily dosage, having a cumulative effect in the system over time.
Good About Zytenz
Zytenz has a money back guarantee
It has a 99% success rate
The ordering page is secure
Discounts are offered on multiple purchases
Customer success stories are shown
Bad About Zytenz
No ingredients are listed
The guarantee is confusing
Clinical testing is not published
Free samples are not offered
Manufacturer information is limited
Zytenz the Bottom Line
It is impossible to judge Zytenz properly when the manufacturer supplies such limited information regarding the formula and even simply from a safety point of view, the consumer should be aware of the contents of the product. While it is appreciated that Zytenz has a good money back guarantee and is relatively affordable, it would not be a recommended brand of male enhancement product.