Affirm XL Overview
Affirm XL is a product that is designed for men who want to improve their sexual performance in a number of ways. In addition to supporting vitality and stamina, the product also has the ability to act as an aphrodisiac and support testosterone production.
The Affirm XL brand is only sold from the company website which, while reasonably informative, does not actually state the cost of the product (to discover the price, the consumer must complete the order form which obviously discloses all their information to the company.) There are several customer testimonials included on the website and a short FAQ section. The overall image of the brand is somewhat diminished by overtly sexual images included on the website which is unfortunate as it appears to be manufactured by a reputable company.
All orders of Affirm XL have a 30 day money back guarantee and there is an auto-shipping program which the consumer is enrolled in when they order the product.
Affirm XL Product Details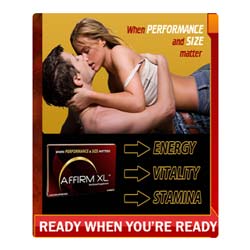 Affirm XL can be used as a daily nutritional supplement or simply just when required before sexual activity. All the ingredients are listed for the formula which consists of all-natural substances that should not cause unwanted side effects. The key ingredients used are Ginseng (for which there are clinical tests cited), Maca powder, Tribulus and Royal Jelly. Lactose is added as a protein, Wild Oats is an amino acid that helps improve flexibility, Magnesium supports the metabolism which in turn helps support blood flow. The Affirm XL product is also said to lower cholesterol levels and decrease blood pressure, although there is no evidence to show this is the case. While the product is suitable for all men, it is recommended that consumers check with their G.P. first.
Affirm XL The Good
Affirm XL contains Tribulus
All ingredients are listed
Customer testimonials are shown
There is a 30-day money back guarantee
The ingredients are explained in detail
Women can also use the product
Affirm XL The Bad
No clinical studies are shown for the formula
The cost of Affirm XL is unknown
The formula does not contain L-Arginine
Ingredient amounts are not shown
The Bottom Line
It would be beneficial if the Affirm XL manufacturer disclosed more information regarding the ordering process including the cost of the product and how secure the online process is. Apart from these downsides, Affirm XL appears to be a standard male enhancement product that, providing the price is reasonable, would be worth trying at least once.
Below you'll find the most effective male enhancement products on the market, we determine these products based on 4 key factors : Active ingredients, ability to support sexual stamina, enhance arousal & improved sexual desire, backed by clinical studies. Ultimately, we determined the bottom-line value of each product.