Andro 400 Overview
Andro 400 is a dietary supplement categorized as a testosterone booster. It is formulated to naturally increase the body's testosterone levels. It is an all-natural herbal supplement and is not a drug. It doesn't involve the intake or injection of synthetic hormones.
This supplement was developed for men who are suffering from low testosterone. Having low levels of the hormone causes decreased muscle mass, lesser strength and energy levels, lower sex drive and other negative effects on a man's health. The manufacturer of the testosterone booster is not stated on the product's website.
How Does Andro 400 Work?
Andro 400 works in treating the symptoms of low testosterone like the ones previously mentioned. The testosterone booster contains a special herbal extract that stimulates specific hormones in the body which results in the increase of natural testosterone production. With higher testosterone levels, there are several benefits that the product offers.
One of the benefits is increasing sex drive which is closely linked to testosterone. Increased testosterone levels also helps prevent the storage of body fat which is proven through several clinical studies. The product also helps increase energy levels since the key ingredient helps improve metabolic rate and enhances the production of adenosine triphosphate.
Andro 400 Product Details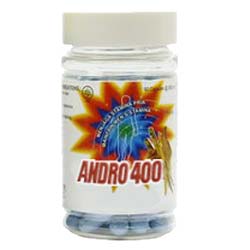 The primary and only ingredient in Andro 400 is a popular herb that originated from Malaysia and Indonesia. The herb is called Eurycomalongifolia which is popularly called tongkatali or longjack. This herb is clinically proven to increase testosterone levels. It works by expanding the production of luteinizing hormone by the pituitary gland. Higher levels of this hormone signal the body to produce testosterone. The herb has been used for hundreds of years in Asian medicine as a sexual enhancer.
Good About Andro 400
The primary ingredient of Andro 400 (Eurycomalongifolia) is clinically proven to be effective.
The primary ingredient has been used for hundreds of years in Asian medicine.
The product helps improve sexual performance, boost energy levels, build muscle mass and reduce body fat.
There is a lot of positive customer feedback online.
Free shipping is offered on the product's website.
Discounts and special offers are available on the product's website.
It is made in the USA.
It comes with a 90-day money-back guarantee.
Bad About Andro 400
It only contains one ingredient. Most testosterone boosters also contain this ingredient along with other active ingredients for increasing testosterone levels.
The manufacturer of Andro 400 is not stated on the product's website.
There is some negative feedback online saying it took some time to work.
The product itself is not clinically tested for effectiveness or safety.
Some studies have shown that too much intake of the product's primary ingredient can cause sleeping disorders or issues related to the kidneys, liver or prostate.
Andro 400 The Bottom Line
Upon initial inspection, Andro 400 seems to be a promising product for increasing testosterone level in the body. However, it only contains one ingredient and for the price this is not acceptable. You can purchase Eurycomalongifolia supplements from reputable brands at a much lower cost. Also, there are many better products that contain a blend of natural ingredients for faster and more significant results. You just need to research meticulously to find the best testosterone boosters which are both safe and effective.