What is Botanic Choice Pygeum Bark?
For a man over 50, prostate function needs to be monitored very closely. The reason behind close scrutiny is poor prostate function is normally manifest for men of ages above 50. As a man ages, poor production of testosterone causes the prostate gland to enlarge.
An enlarged prostate causes several challenges to men. The main challenge is that the enlarged prostate places undue pressure on the bladder. This in effect results to a man having numerous bathroom breaks as well as incomplete emptying of the bladder.
The other main challenge is that men with an enlarged prostate tend to have an increased risk of urinary tract infections and in some cases the enlarged prostate causes prostate cancer. To avert this, use of supplements is recommended.
Natural based supplements are the most ideal products to use as these can be used and users rest assured that no side effects will result. One ideal supplement that can be used is Botanic Choice Pygeum Bark.
About Botanic Choice Pygeum Bark
This is a product formulated from an ingredient that has shown great benefits for men with enlarged prostates.
It helps men get better prostate function as well as boosts the quality of life for the men of advanced ages.
This product is produced by Botanic Choice Essentials, a manufacturer that has been in the business for several decades. It is distributed by Indiana Botanic Gardens Inc.
Claims and Features – What You Need To Know
The main claims that the product manufacturer makes is that this product helps boost prostate health in men. It prevents any enlargement of the prostate and in effect helps elevate urinary function in men.
The manufacturer also claims that this product is ideal in supporting the health of the prostate by nourishing it with the nutrients it requires to deliver well.
What Are The Ingredients In Botanic Choice Pygeum Bark?
This is a special product as it relies largely on a single ingredient to help in boosting the function of the prostate. A product reliant on a single ingredient and claims to give good results must be using a very potent ingredient and this is just the case.
The ingredient used to achieve the claimed benefits mentioned is Pygeum African Bark extract.
This is an ingredient that has been widely used in most African societies and which has been shown to help boost men's prostate function.
This ingredient comes at a dosage of 500mg and has been shown to have various benefits. Among them is that the product helps boost the strength in the walls of the bladder. It also helps prevent further prostate enlargement and help[s promote the production of testosterone in the body.
Other ingredients used are microcrystalline cellulose, magnesium stearate as well as a gelatin capsule.
What are the Benefits of Botanic Choice Pygeum Bark?
The main benefits of making use of this product include:
It prevents further enlargement of the prostate
It enhances the strength of the bladder wall
It has been linked with fewer cases of Urinary tract infections UTI's
It comes with a money back guarantee
What are the Drawbacks of Botanic Choice Pygeum Bark?
The drawbacks of making use of this ingredient include the following:
The list of ingredients seems scant and this may make the product to be ineffective to some extent
How Should You Take Botanic Choice Pygeum Bark?
The manufacturer recommends that users should take one capsule two times a day after meals. This ought to give men a boost in the prostate function desired.
With daily intake, results should be felt within the first three weeks of using the product.
Botanic Choice Pygeum Bark Review – The Bottom Line
Prostate function in men is often ignored by a lot of men. To ensure one has the best prostate function, it is recommended that users get to choose the ideal product well.
Botanic Choice Pygeum Bark is a product that can help men get good function of their prostate and improve their quality of lives. Information on this piece should shed some light on this product before you decide on purchasing it or no.
Prostate health is of great concern for men today. Preventative measures may reduce the risk of developing prostate cancer and improve overall prostate health and function. A quality, premium prostate supplement may shrink the prostate, minimize frequent urination, promote sexual function and contain quality ingredients.
Below you'll find some of the most effective prostate supplements on the market today, in our opinion.
Our Top Prostate Products
Prostara
Ability to Shrink Enlarged Prostate
Ability to Eliminate Frequent All-Night Urinations & Weak Flow
Ability to Restore Normal Sexual Function
Prostate Plus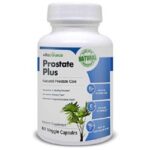 Ability to Shrink Enlarged Prostate
Ability to Eliminate Frequent All-Night Urinations & Weak Flow
Ability to Restore Normal Sexual Function
Prostacet
Ability to Shrink Enlarged Prostate
Ability to Eliminate Frequent All-Night Urinations & Weak Flow
Ability to Restore Normal Sexual Function
Prost8 Plus

Ability to Shrink Enlarged Prostate
Ability to Eliminate Frequent All-Night Urinations & Weak Flow
Ability to Restore Normal Sexual Function