Erousa Overview
Erousa was a male enhancement supplement that promised to support penis size, stimulate arousal, and cause men to last longer in bed. It is no longer in production or available for purchase after an FDA crackdown. Erousa's manufacturer, Atlas Operations, Inc., conducted a voluntary recall in 2009.
Erousa Product Details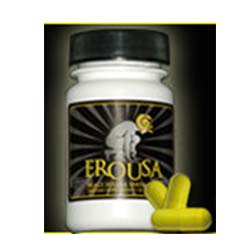 It is very difficult to find product information on Erousa due to its recall. The website has been disabled and it is not available for purchase from any online retailers. However, the product's Facebook page, dated from 2009, is still accessible. According to the information there, Erousa was designed to support penis size, improve libido, enhance energy, and support sexual performance. The all-natural formula was backed by a claim that a single pill would produce such beneficial results that the consumer would repeatedly order it. No further details, such as price, ingredients, proof of efficacy, were available on the page.
Erousa made the FDA hit list for containing a substance called Sulfoaildenafil, which is chemically identical to Sildenafil, commonly found in Viagra. Not only was Sulfoaildenafil not listed on the product label, but it also may interact with several Drug Drugs that contain nitrates and could lower blood pressure to a harmful extent. Drug medications containing nitrates are particularly common and used by people with diabetes, high blood pressure, high cholesterol, or heart disease.
Good About Erousa
Bad About Erousa
Not available for purchase, very little information still exists, discontinued
recalled per the request of the FDA
Erousa, The Bottom Line
While it is possible that Erousa may have worked as it claimed, it was determined by the FDA that it also contained an undeclared substance that had the potential to cause serious harm to users who were unaware of its complete ingredients. Thus, it was recalled, further production was halted, and it is currently not available, or recommended, for purchase.