Vaserex Overview
Vaserex is a male enhancement supplement that claims to achieve rapid results in improving sexual performance. It is made by a company called APS Nutrition.
Vaserex Product Details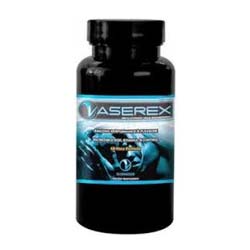 Vaserex is purported to help users achieve stronger erections and heightened sex drives. Vaserex contains Horny Goat Weed, Yohimbe Bark Extract with 8mg of alkaloids, L-Arginine, Eurycoma Longifolia, Cridium Monnier Extract, Xanthoparmelia Scarbrosa, G-protein, Magnesium Stearate, and Gelatin. Many of these ingredients are used in other male enhancement products because of their rumored aphrodisiacal qualities. Since Yohimbe Bark Extract might cause side effects, there is a long list of warnings associated with Vaserex. Consumers are advised not to take Vaserex if they have any medical condition or a family history of high blood pressure, asthma, diabetes, liver, kidney or thyroid disease, arrhythmia, angina, heart disease or disorders, headache disorders, nervous conditions, anxiety, depression or any other psychiatric illness, seizures, strokes, or vascular problem. Additionally, people under 20 years of age are advised not to take Vaserex and all users are told to consult with their doctor prior to use. Vaserex is not to be used for long periods of time. Dosage instructions are one to two capsules within an hour of intercourse. Users should not take more than two capsules during any 48 hour time period and should drink extra water while using Vaserex. The official product website advertises that a bottle of Vaserex containing 12 capsules sells for $29.99 on Amazon. However, the product is not currently for sale on Amazon and they state, "We currently don't know when or if this item will be back in stock."
Good About Vaserex
Contains some popular purported aphrodisiacs
Lists all the ingredients
Bad About Vaserex
Comes with many warnings
Can cause side effects
Not appropriate for a large group of men
Not available for sale at this time
Vaserex, The Bottom Line
It is unclear why Vaserex is not available for sale at the moment, as it is not listed as one of the FDA targeted male enhancement products. Perhaps it was ineffective or unpopular. Either way, there are far more products of this type that seem to be safer and more appropriate for a wider range of men.
Below you'll find the most effective male enhancement products on the market, we determine these products based on 4 key factors : Active ingredients, ability to support sexual stamina, enhance arousal & improved sexual desire, backed by clinical studies. Ultimately, we determined the bottom-line value of each product.