ViSwiss Overview
ViSwiss is the name of a brand of male sexual enhancement supplement that is manufactured by Nathan's Naturals. The ViSwiss Oil website is very informative and contains an excellent mount of customer testimonials, FAQ's and manufacturer details. The product is designed to aid men both in the short term and long term, by supporting the power of their erection and helping erectile dysfunction, and by generally supporting their levels of testosterone and improving the libido.
ViSwiss is available to purchase from the site and the ordering process is secure and private. As with most products of this type, it is more economical to purchase multiple bottles. One bottle of ViSwiss costs $59.95, whereas 10 bottles are offered for the price of 5, at $295.75. All purchases have a 30-day money back guarantee.
ViSwiss Product Details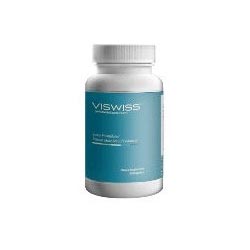 The full list of ingredients is shown for ViSwiss, as are individual amounts contained in the formula. Although it is claimed to have undergone several years of clinical testing, there is no evidence of this. However, the formula does contain many beneficial ingredients including L-Arginine, Tribulus, Yohimbe, Maca, Epimedium, Saw Palmetto, Muira Puama, Ginseng and Niacin. Together the formula helps support the blood flow to the penile chambers which results in an erection that is harder and more long-lasting. It should be taken daily to maintain results, but can also be taken immediately before sexual activity.
Good About ViSwiss
The ViSwiss website is very informative
The product label and ingredients are shown
Customer testimonials are provided
There is a 30-day money back guarantee
No harmful side effects have been reported
The ordering process is secure
Discounts are given on larger orders
Bad About ViSwiss
The clinical study results are not shown
ViSwiss is expensive
ViSwiss should not be used by those with caffeine sensitivities
No free samples are available
ViSwiss The Bottom Line
The manufacturer of ViSwiss certainly makes a huge effort in providing their prospective customer information about the brand. The one concern with ViSwiss is that while it is claimed to be safe for use by those with diabetes or cardiovascular conditions, it does contain Yohimbe, an ingredient that has been known to cause problems in these areas. It would be wise to consult with a doctor first for advice.