What Is Ball Refill?
There are various all-natural herbal supplements available in the market today that claim to facilitate better sperm production, and Ball Refill is one of them. Like it says on its product label, Ball Refill is an extreme semen volumizer that aids you in achieving "mega orgasms".
We reviewed the product and found out that it's herbal formulation is made of highly potent ingredients, whose combination is engineered to support your libido function and sexual desire.
Ball Refill is manufactured by a company called Vigor Labs. Other products they manufacture include Gut Cut, Chainsaw, and Wrecking Balls, all available through their official website.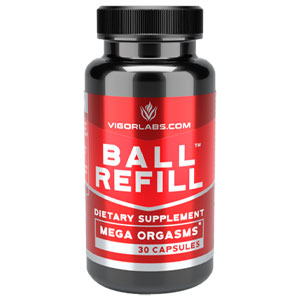 Editor's Rating
Brand Highlights
Ball Refill supports climax maximization and natural semen production
Supports prostate health
Potent formula supports blood flow
Results you can feel
Once a day formulation
Made in the USA
Buy on WalmartBuy on Amazon*All the prices mentioned on their websites are subject to change.
Specs
Brand

Vigor Labs

Type

Capsule

Benefits

Intense sperm volumizer that provides extreme orgasms

Ingredients

Maca, Horny Goat Weed Extract, Panax Ginseng, Yohimbe Extract, Sarsaparilla, Tribulus terrestris, Saw Palmetto Extract, Ginkgo Biloba Extract, Long Jack Extract, Flower Pollen Extract, and Chrysin.

Cost

$26.99

Dosage

Take 1 capsule everyday.
Pros and Cons of Ball Refill
Pros
Ball Refill consists high-quality all-natural ingredients.
Can see good results as early as 30-45 minutes after taking the product. Also, they become more desirable after only one week of regular use.
Shipping package of this product is discreet.
Cons
It is not recommendable to take this product more than once a day.
Ball Refill may cause erections that last for more than four hours.
Though the website says its product has gone through rigorous safety testing. There are no clinical studies available on the website to prove it.
As per Ball Refill reviews, the ingredients are on the list, but not elaborately explained.
How Does Ball Refill Rate?
Overall Rating: 3.5
| Key Points | Rating |
| --- | --- |
| Manufacturer | 3.4 |
| Safety | 3.6 |
| Customer Reviews | 3.7 |
| Money-Back Guarantee | 3.5 |
---
What Are the Ball Refill Ingredients?
Ball Refill Ingredients has a potent to improve overall sexual health which includes:
Maca
Maca is an Andean root vegetable. It has been utilized for its potential benefits as a natural aphrodisiac, which is said to boost sexual function, energy levels, and mood.[1]
Horny Goat Weed Extract
For millennium, Horny Goat Weed Extract has been utilized in traditional Chinese medicine. It is often used to improve sexual health and libido. It may also aid in the improvement of erectile function and the rise in testosterone levels.[2]
It can cause potential side effects such as increased heart rate, blood pressure changes, and allergic reactions. Individuals with cardiovascular issues or those taking certain medications should use it with caution and seek medical advice.
Verdict: We disapprove this ingredient.
Panax Ginseng
Panax Ginseng which is also known as Asian Ginseng is a popular adaptogenic herb. It has been used for its potential to boost energy, reduce stress, improve cognitive function, and enhance sexual performance.[3]
"According to Dr. James Anderson, a renowned expert in herbal medicine, Panax Ginseng holds significant potential in promoting male health. Clinical studies have demonstrated its positive effects on male sexual function, including improved erectile function, increased libido, and enhanced overall sexual performance. Dr. Anderson suggests that incorporating Panax Ginseng into a comprehensive male health regimen may help men optimize their sexual well-being and vitality."
Yohimbe Extract
Yohimbe Extract is derived from the bark of the African Yohimbe tree. It is commonly used as a natural aphrodisiac and has been studied for its potential to improve erectile function and enhance libido.[4]
Sarsaparilla
Sarsaparilla is a tropical vine traditionally used for its potential to boost libido and improve sexual function. As documented in our review of Bluoxyn, it is also believed to have anti-inflammatory properties and may support overall health.[5]
Tribulus
Tribulus terrestris is a plant commonly used in traditional medicine. It is often used to enhance athletic performance, increase libido, and support reproductive health in both men and women.[6]
"Tribulus terrestris can be beneficial for male health. Research has indicated that this herb may support male reproductive function by promoting healthy testosterone levels, enhancing libido, and improving erectile function. Dr. Hayes believes that incorporating Tribulus terrestris into a well-rounded approach to male wellness can provide potential benefits for men seeking to optimize their sexual vitality and overall health." – Dr. Benjamin Hayes
Saw Palmetto Extract
Saw Palmetto Extract is a plant extract commonly used to support prostate health by reducing the symptoms of benign prostatic hyperplasia (BPH) and promoting urinary tract health.[7]
Saw Palmetto Extract is generally well-tolerated, but it may cause mild side effects like stomach discomfort or headache in some individuals.
Verdict: We disapprove this ingredient.
Ginkgo Biloba Extract
Ginkgo Biloba Extract is derived from the Ginkgo Biloba tree. It is known for improving cognitive function, boosting memory, enhancing blood circulation, and supporting overall brain health.[8]
Long Jack Extract
Long Jack also known as Tongkat Ali, is a flowering plant native to Southeast Asia. It is commonly used to enhance libido, support testosterone levels, improve athletic performance, and promote overall vitality.[9]
Flower Pollen Extract
Flower Pollen Extract supports prostate health, improves urinary function, and boosts immune system function.[10]
Chrysin
Chrysin is a naturally occurring compound found in honey, propolis, and certain plants. It is often used for its potential to increase testosterone levels, support muscle growth, and act as an antioxidant.[11]
Chrysin is generally well-tolerated when used in recommended amounts. However, there is limited research on its long-term effects and potential interactions.
Verdict: We disapprove this ingredient.
The product page indicates that Ball Refill works well with Vigor Lab's Chainsaw, a sexual stimulant that improves erection quality, also available for the same price.
FAQ's
Q.What is the dosage of Ball Refill?
We want to emphasize that the recommended dosage for Ball Refill capsules is one per day. We suggest you to take it approximately 30 to 45 minutes before engaging in sexual activity. It's important to remember that you should take the capsules regularly, every day, even on days when you do not plan to have sex. This consistent daily intake is essential for optimal results.
Q.Is Ball Refill suitable for men of all ages?
We suggest that Ball Refill is only meant for consumption by persons above the age of 18.
Q.Can women use Ball Refill to improve sexual performance?
We need to understand that the purpose of Ball Refill Vigor Labs is to help men enhance their sexual performance and improve the quality of their sperm. However, if we are women seeking to boost our libido and intensify orgasms, we may find more benefits from using supplements specifically designed for female enhancement. It's important for us to consider our individual needs and preferences when choosing the right supplements for our sexual well-being.
Q.Does Ball Refill have money back guarantee?
We dug up the entire official website and found out that Ball Refill has a 30-day return policy when you purchase from the official website. Though no returns have ever been made.
Q.How to contact manufacturer?
If we didn't answer any questions in this Ball Refill reviews, you can contact the manufacturer using the following methods:
Phone: 888-698-6603
Email: info@vigorlabs.com
You can call them on weekdays from 10:00 am – 6:00 pm US ET or email them at any time using the email provided above.
How We Researched & Rated?
Here is our score, based on scientific evidence, of how likely Ball Refill will be effective for its claimed benefits:
Improve Sexual Performance*

3.5/

5

Support Better Orgasms*

3.3/

5

Increase Sexual Desire*

3.3/

5

Increase Sperm Volume*

3.1/

5
We used the insights from our research and testing to assign a star rating from one to five (five being the best; one being the worst) to this product.
Bottom Line
There may not be a lot of information available on the Ball Refill official website. But any guy who's on a pursuit to find the right brand of sex pills. One who already knows about the most common ingredients and what they do to achieve the results he desires. He might find Ball Refill worth trying.
After reading multiple Ball Refill reviews we found out that, with its affordable price and its claim that no one ever opts for returning the product due to dissatisfaction. When in doubt, read other customer testimonials written online and consult with a physician before using the product.
With countless male enhancement supplements available on the market today it seems impossible to find "the right one." Sexual performance declines naturally as men age, which may contribute to feelings of inadequacy or embarrassment. Male enhancement supplements should be based on four key factors: active ingredients, ability to support sexual stamina, enhance arousal, improved* sexual desire and backed by clinical studies.
Below you'll find some of the most effective male enhancement supplements on the market today, in our opinion.
Our Top Male Enhancement Supplements
Bottom Line
Performer 8's herbal complex works in 8 powerful ways to help men revitalize their sexual stamina, strength, and vitality— no prescription necessary. Shop Performer 8 Pills Dietary Supplement for Men (1 Pack) online at best prices on their official website.
Check Price
Bottom Line
VigRX Plus Male Virility Supplement is great for men that want to enhance their erection size and performance. VigRX will help you experience bigger, harder and longer lasting erections, an increased sex drive, more powerful and intense orgasms and less waiting between erections.
Check Price
Bottom Line
Cilexin is made in the US within an FDA registered facility that strictly adheres to Good Manufacturing Practice (GMP) guidelines. Ingredients are high-quality domestic and imported. Each bottle of Cilexin includes 60 tablets. This is equivalent to a 1-month supply when used as directed.
Check Price
Bottom Line
The power of ExtenZe formulated with increased testosterone support for men, extenze with testosterone boost is designed to restore and revitalize your manhood.
Check Price
Bottom Line
Male Extra aims to give you bigger, harder erections as well as improving your libido and sexual performance.
Check Price
11 Sources
We review published medical research in respected scientific journals to arrive at our conclusions about a product or health topic. This ensures the highest standard of scientific accuracy.
1. Gonzales, G. F., Córdova, A., Vega, K., Chung, A., Villena, A., & Góñez, C. (2002). Effect of Lepidium meyenii (maca) on sexual desire and its absent relationship with serum testosterone levels in adult healthy men. Andrologia, 34(6), 367-372.
2. Shindel, A. W., Xin, Z. C., Lin, G., Fandel, T. M., Huang, Y. C., Banie, L., & Lue, T. F. (2010). Erectogenic and neurotrophic effects of icariin, a purified extract of horny goat weed (Epimedium spp.) in vitro and in vivo. The Journal of Sexual Medicine, 7(4 Pt 1), 1518-1528.
3. Kim, H. G., Cho, J. H., Yoo, S. R., Lee, J. S., Han, J. M., Lee, N. H., Ahn, Y. C., Son, C. G., & Yoon, M. (2013). Antifatigue effects of Panax ginseng C.A. Meyer: A randomized, double-blind, placebo-controlled trial. PLoS One, 8(4), e61271.
4. Ernst, E., & Pittler, M. H. (1998). Yohimbine for erectile dysfunction: A systematic review and meta-analysis of randomized clinical trials. The Journal of Urology, 159(2), 433-436.
5. Saeidnia, S., Gohari, A. R., & Manayi, A. (2011). Sarsasapogenin, a new natural 5?-reductase inhibitor in Lepidium meyenii. Journal of Chemical and Pharmaceutical Research, 3(1), 345-348.
6. Neychev, V., & Mitev, V. (2005). Pro-sexual and androgen-enhancing effects of Tribulus terrestris L.: Fact or fiction? Journal of Ethnopharmacology, 101(1-3), 211-214.
7. Bent, S., Kane, C., Shinohara, K., et al. (2006). Saw palmetto for benign prostatic hyperplasia. New England Journal of Medicine, 354(6), 557-566.
8. Mahadevan, S., & Park, Y. (2008). Multifaceted therapeutic benefits of Ginkgo biloba L.: Chemistry, efficacy, safety, and uses. Journal of Food Science, 73(1), R14-R19.
9. Ismail, S. B., Wan Mohammad, W. M., George, A., Nik Hussain, N. H., Musthapa Kamal, Z. M., & Liske, E. (2012). Randomized clinical trial on the use of PHYSTA freeze-dried water extract of Eurycoma longifolia for the improvement of quality of life and sexual well-being in men. Evidence-Based Complementary and Alternative Medicine, 2012, 429268.
10. Elist, J. J., & Mejia, E. B. (2009). PollexfenTM and pollexmaleTM (CernitinTM pollen extract) in men with lower urinary tract symptoms and benign prostatic hyperplasia: Efficacy in a double-blind, placebo-controlled, parallel study. World Journal of Urology, 27(4), 505-512.
11. Gupta, M., Mahajan, U., Sikka, A., Rani, S., & Iskandar, B. J. (2019). Chrysin: A promising natural compound with diverse pharmacological activities. Journal of Medicinal Chemistry, 62(24), 10809-10828.