Big Jim and the Twins Overview
There are many men who desire a larger penis for a number of reasons. Some believe it will give them more confidence, give their partner more pleasure and overall improve the quality of their sexual activity. Whatever their motivation, there are many products on the market that claim to help including the product named 'Big Jim and the Twins' which is a slang expression for the male genitalia. There is an official website for tis brand which is not overall professional in appearance and gives the product somewhat of a poor image. However, it does include some useful information including testimonials from men and women (the partners of those who have tried the product), FAQ's and ordering information. It is said that Big Jim and the Twins has a full money back guarantee but unfortunately no further details are provided. In addition to this, the actual cost of the product is not clearly shown and the consumer must begin the ordering process to have access to the price, which is $60.00 for a one month supply.
Big Jim and the Twins Product Details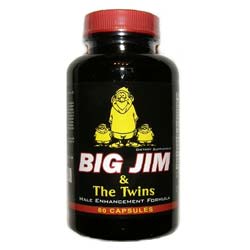 The full ingredient list is shown for Big Jim and the Twins but no ingredients are explained in any detail at all. The information for the formula states that it has the ability to 'unleash the (man's) power' and to this end, provides stimulating substances that help improve the blood flow to the penile chambers. When this happens, the result is a firmer, longer penis and an erection that can be sustained for a longer period of time.
Among some of the better known ingredients in Big Jim and the Twins are Zinc, L-Arginine, ginseng, Niacin, Maca and L-Arginine (particularly important for the vasodilation process). Tribulus Terrestris is another ingredient of note as this helps the body free testosterone in the system, allowing the male to feel more virile while increasing the libido.
Good About Big Jim and the Twins
Big Jim and the Twins contains Tribulus Terrestris and L-Arginine
Male and female customer testimonials are shown
There is a money back guarantee
Bad About Big Jim and the Twins
No scientific proof is provided
Big Jim and the Twins' website is not professional
Details of the money back guarantee are not provided
The price is not clearly shown
Big Jim and the Twins The Bottom Line
The name of this product may deter some consumers straight away as it makes it seem more of a novelty product than one supposed to seriously aid in the erection process. There are a number of other concerns about Big Jim and the Twins too, such as the fact that the manufacturer doesn't clearly disclose the cost and they fail to explain exactly how it works or the amounts of each ingredient contained in the formula. Without this knowledge consumers are unable to judge neither the potency of the formula or if it is worth the cost.