ProLatis Overview
ProLatis is a product that joins the growing number of male enhancement brands on the market. It is presented on a very stylish and sophisticated website that also showcases the ProLatis company's other range of male supplements.
The product aimed specifically to help with the problem of erectile dysfunction is ProLatis 2.0 and the site gives a brief overview of how it works, but also shows a video presentation advertizing the brand. The main benefit of ProLatis 2.0 is to support the blood flow to the genitals by relaxing and dilating the blood vessels in this area. It is fast-acting and only needs to be taken 2 hours before sexual activity. It is not known how long the effect lasts for, but most products of this nature have an effect for up to 2 or 3 days.

ProLatis 2.0 can be bought at the GNC store on online from the manufacturer. One bottle of 60 capsules costs $89.21; customers can receive a discounted trial offer but should be warned that they will be automatically enrolled in the monthly 'home delivery program'. It is not clear how many capsules are in the trial size bottle as one section states it is only 4, and elsewhere it says that the number is 40.
ProLatis Product Details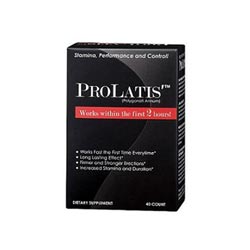 ProLatis 2.0 contains ingredients that are primarily designed to support circulation and create dilation. This is caused by the production of Nitric Oxide which is supported by L-Arginine, an amino acid used in the formula. Other ingredients include Horny Goat weed, Maca, and L-Citrulline. Because they are all mixed into a proprietary blend, no individual amounts are shown.
The ProLatis 2.0 formula is said to have undergone consumer testing, but no results of this are provided. It is known that some of the individual ingredients are successful in clinical trials.
Good About ProLatis
The ProLatis information website is user-friendly
A trial-size bottle is offered
The online transaction is secure

ProLatis

2.0 is fast-acting
All manufacturer contact information is provided
Customer testimonials are shown
All ingredients are listed
Bad About ProLatis
ProLatis 2.0 may cause nasal congestion and headaches
Clinical test results are not provided
ProLatis 2.0 is expensive
The ingredients and formula are not explained fully
The customer is automatically enrolled in the monthly delivery service
ProLatis The Bottom Line
The company behind ProLatis 2.0 certainly has made a good effect to present their product in a well-designed and attractive way, but, of course this does not mean that it will work as well as stated. ProLatis 2.0 is one of the more expensive brands available and consumers should be aware that they may find themselves locked into an auto-billing plan that may be hard to cancel.
Below you'll find the most effective male enhancement products on the market, we determine these products based on 4 key factors : Active ingredients, ability to support sexual stamina, enhance arousal & improved sexual desire, backed by clinical studies. Ultimately, we determined the bottom-line value of each product.