What Is Prostate 2.4?
Prostate 2.4 is a nutritional supplement that is designed to support the overall health of the prostate. One of the most common prostate problems that face men as they get older is something called prostatitis.
Prostatitis is a swelling and inflammation of the prostate which reulst in many uncomfortable symptoms[1] such as an enlarged prostate and a difficulty urinating. Prostate 2.4 is a supplemental product that is said to relieve prostate issues and to keep your prostate healthier.
Obviously, this is a product that is intended for men only but the consumer should also not that this supplement comes in pill form and is to be taken orally. This is an over the counter prostate health supplement and definitely not a prescription drug.
Editor's Rating
Brand Highlights
This is manufactured by Theralogix.
Made with safe and natural ingredients.
Prostate 2.4 is made for men.
Reduces the Urgent Need To Urinate.
Decreases Bathroom Trips Both Day & Night.
Buy on AmazonBuy on Walmart*All the prices mentioned on their websites are subject to change.
Specs
Form:

Capsule

Brand:

Theralogix

Benefits:

promote prostate health, Solve Urination Issue, Promote regular cell growth in the prostate, Reduce blood in urine.

Ingredients:

Vitamin D, Selenium, Vitamin E , Lycopene , Gamma Tocopherol, Soy.

Cost

1 Month Supply For $106.00 only

Dosage

Daily only 2 capsule.
Pros and Cons of Prostate 2.4
Pros
Prostate 2.4 utilizes an all natural formula to promote prostate health.
Prostate 2.4 may assist with urination for users struggling with such problems.
This product was designed to promote regular cell growth in the prostate.
This product was created by urologists and tested for its potency.
Cons
Selenium, an active ingredient in Prostate 2.4, may increase the risk of some prostate problems[3].
The product contains rice flour which may result in some health issues for some users.
We are told that if you are allergic to tomatoes, you should not take Prostate 2.4.
There are some medications that should not be taken with Prostate 2.4.
How Does Prostate 2.4 Rate?
Overall Rating: 3.3
| Key Points | Rating |
| --- | --- |
| Manufacturer | 3.2 |
| Safety | 3.3 |
| Customer Reviews | 3.4 |
| Money-Back Guarantee | 3.3 |
---
Prostate 2.4 Claims & Features – What You Need to Know?
The company behind Prostate 2.4 is one called Theralogix which is a 15 year old company that has rolled out 30 supplemental products in that time. Theralogix was born from a perceived need to provide the public with natural nutrients.
Their products are said to be made through high quality scientific research. The company claims that their product is based on the latest clinical research and that they only use the highest quality ingredients.
The nutrients in Prostate 2.4 are said to all have a purpose and work toward the normal function of the prostate.
How Does Prostate 2.4 Work?
Normal cell growth in the prostate is one of the main functions of this product. Preventing prostatitis is another. The product is said to have been developed by urologists so that it would have the added function of keeping the urinary tract healthy.
This has a direct effect on the health of the bladder as well. If you are experiencing an inability to freely urinate, this product may work for that as well.
What Are the Ingredients in Prostate 2.4?
The ingredients are well-researched, tested, and certified by recognized bodies and all are natuaral. The include a mixture of vitamins and minerals as well as some ingredients that may have anti-inflammatory properties.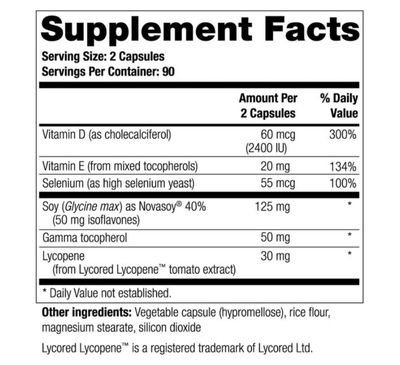 Vitamin D
Vitamin D is said to have a direct benefit for people suffering from an enlarged prostate and other more serious prostate conditions[2].
Selenium
Selenium is a naturally occurring mineral that may be rich in vitamin E.
Vitamin E
Vitamin E may relieve some of the pain caused by an enlarged prostate[4].
Lycopene
This phytonutrient may prove to be useful in the fight against serious prostate problems[5].
Gamma Tocopherol
This ingredient acts as an anti-inflammatory for relief of benign prostate hyperplasia[6].
Soy
Soy may also be helpful to protect the prostate from more serious diseases and issues[7].
FAQ's
Q: How to Use Prostate 2.4?
The directions for Prostate 2.4 state that you should take 2 capsules a day. You can take both at once or seperate them but they should be taken with a meal.
Q: How Much Does Prostate 2.4 Cost?
If you have a PRC number given to you by a physician, a bottle of Prostate 2.4 will cost $90.00. The retail cost for Prostate 2.4 without a PRC is 106.00.
Q: What Is Prostate 2.4's Return Policy?
For a full refund you must contact the return hotline provided and return the product unopened within thirty days. Returns made after 30 days will receive only store credit.
Q:What Are the Side Effects of Prostate 2.4?
There are no expected side effects from Prostate 2.4. For best absorption, it is recommended to take the capsules with meals. For example, take one capsule in the morning with breakfast and one capsule in the evening with dinner.
Q: Is Prostate 2.4 Safe to Use?
As long as you heed all the warnings and are aware of the ingredients and any medications you may be on, taking this product as directed should be safe.
How We Researched & Rated?
Here is our score, based on scientific evidence, of how likely ProstaQuil will be effective for its claimed benefits:
Increase Natural Testosterone*

3.5/

5

Long-lasting Erections*

3.6/

5

Stronger and Bigger Erections*

3.3/

5

Increase Sperm Volume*

3.2/

5
We used the insights from our research and testing to assign a star rating from one to five (five being the best; one being the worst) to this product.
Bottom Line
This prostate health supplement comes with a unique set of advantages and drawbacks. What is good about this product is that it may be able to promote regular prostate function, it is comprised of natural ingredients, and it is free of dyes and gluten.
The customer should also be aware that Prostate 2.4 may cause some allergic interactions due to the presence of soy and tomatoes in the product. The selenium in the product may also cause a greater risk for serious prostate issues and you should not take this product if you are already taking certain medications.
And while the product does offer a 30 day return period, the bottle must be unopened to qualify for a refund, so it means if you used the product and it won't work for you then you will not get you money return.
It would be good for the consumer to look for other good prostate supplements.
Prostate health is of great concern for men today. Preventative measures may reduce the risk of developing prostate cancer and improve overall prostate health and function. A quality, premium prostate supplement may shrink the prostate, minimize frequent urination, promote sexual function and contain quality ingredients.
Below you'll find some of the most effective prostate supplements on the market today, in our opinion.
Our Top Prostate Products
Bottom Line
Prostate Plus is a prostate health supplement that contains important ingredients that support prostate function and health. Many users attempted a few other products, but this one is truly effective.
Check Price
Bottom Line
Prostate MD is a dietary supplement for men who have an enlarged prostate and experience urinary tract symptoms like frequent urination. Many users claim that they try this for two months to see expected changes.
Check Price
Bottom Line
Prostate 911 uses patented and clinically proven ingredients chosen for their specific function in the urinary tract and prostate health. Furthermore, many users claim that it is both safe and efficient for them.
Check Price
7 Sources
We review published medical research in respected scientific journals to arrive at our conclusions about a product or health topic. This ensures the highest standard of scientific accuracy.