What Are Prostate Health Supplements and Pills?
Prostate supplements for men are organic products that support the health of the prostate as a whole. Prostate pills also aim to reduce swelling in prostate glands and decrease the urinary tract symptoms associated with Benign prostatic hyperplasia(BPH), also called prostate gland enlargement.
An enlarged prostate gland can cause frequent or nighttime urination, leaking, or blocked urination.
When it comes to maintaining optimal health, men often turn to multivitamins as a convenient & effective solution. Finding the Best Multivitamins for Men is crucial in ensuring they meet their nutritional needs.
Prostate health supplements include the best variety of vitamins and natural ingredients like Saw palmetto, Pygeum, Beta-sitosterol, Pumpkin seed oil, Stinging nettle, probiotics, etc which also support general prostate and urinary tract health, as well as overall wellness and immunity.
Why You Should Trust Us?
The overall well-being and safety of Performance Insider's readers are of the utmost importance to us. Our editorial team prioritizes supplements that have undergone independent third-party testing to ensure your security when consuming dietary supplements. To guarantee that the items we promote are of the best caliber, we have spoken with nutritionists and dieticians. This aids us in producing reviews for our readers that are real and truthful.
Each product in this article:
It complies with Food and Drug Administration (FDA) criteria for labeling and permissible health claims.
It is produced at facilities that follow the FDA-established good manufacturing practices (cGMPs).
It is created by a medically reputable company that adheres to the highest ethical, legal, and industry standards.
It is produced by an organization that offers neutral metrics for trust, such as having its supplements validated by a reputable third-party lab.
List of Best Prostate Health Supplements
1. VitaPost Prostate Plus
VitaPost Prostate Plus is one of the best prostate medications packed with premium Prostate Plus ingredients like vitamins, plant sterols, antioxidants, and other substances known to reduce swelling in the prostate and relieve symptoms like frequent and night-time urination.
Pygeum is rich in anti-inflammatory chemicals and the best prostate vitamin. According to Timothy Wilt, MD, MPH, "Pygeum is helpful for urinary symptoms like residual peak urine flow, urine volume, and nocturia." It is beneficial in lowering BPH-related urinary symptoms in males, according to various studies.
Antioxidants and prostate vitamins are also present, which are beneficial to immune function and general health. Finally, it is one of the top prostate supplements that promote the general health of the prostate and urinary tract. Prostate Plus is one of the best prostate health supplements available right now, and it's also competitively priced, in the opinion of our experts. The reviews for Prostate Plus were raving about this product.
Manufacturer: VitaPost
Ingredients: Tomato Powder, Gaviola, Vitamin E, Pygeum, Saw Palmetto, Cat's Claw, Nettle, Green Tea, Pumpkin Seed, Quercetin, Parsley, Reishi, Zinc, Selenium, Buchu, Juniper, Burdock
Price: $28.95
Pros
This supplement helps strengthen the immune system.
Prostate Plus Health Complex helps support a healthy prostate.
The product helps decrease urinary tract symptoms.
Cons
Vita Post Prostate Plus contains soy, which some users can't consume.
High demand sometimes leads to low stock.
2. Prostate 911
This is the best plant-based prostate formula called Prostate 911 makes the promise that it would improve urinary tract health and lessen BPH symptoms. The components are completely natural and have been shown through research to improve prostate health.
It contains Oil-Free Hydroethanolic Pumpkin Seed Extract which is rich in Magnesium, Potassium, Calcium, Sodium, Selenium, and Iron. "Oil-free hydroethanolic pumpkin seed extract reduces symptoms of BPH and improved quality of life" stated Martin Leibbrand.
An enlarged prostate can be effectively reduced in size using this supplement. Additionally, it raises testosterone levels, which boosts sex efficiency. Additionally, it elicits desire, enabling sexual activity among persons of all ages. To get in-detail knowledge about this product, you can read Prostate 911 reviews.
Manufacturer: Phytage Labs
Ingredients: Stinging Nettle Leaf, Saw Palmetto, Pygeum Africanum Bark, Vitamins (B6 and E)
Price: Each bottle is $69.95.
Pros
The increase in testosterone results in better sexual performance. For instance, it improves mood and results in longer, harder erections. Additionally, it arouses desire, allowing people of any age to partake in sexual activities.
It defends the urinary system against a number of diseases and gets rid of toxins that harm penile health.
It enhances sleep quality by preventing midnight urination..
It enhances blood circulation around the penis.
Cons
Taking more than two to three capsules per day may induce nausea, vomiting, gastrointestinal disorders (constipation or diarrhea), mood fluctuations, and discomfort.
3. VigRX Incontinix
VigRX Incontinix by Leading Edge Health strengthens the muscles of the sphincter, bladder, and pelvic wall which decrease the frequency of bathroom trips during the day and night and improves overall bladder health which makes it the best over-the-counter prostate supplement.
The manufacturer of Incontinix by Leading Edge Health is a well-reputed brand in a GMP-certified and FDA-registered facility that produces quality supplements that lower PSA levels. VigRX Incontinix has received recommendations from a number of urologists across the globe as it is free from additives or other contaminants. Dr. Lauren Schulz, M.D. Board-Certified Urologist stated that "Clinical studies show that Incontinix can significantly relieve urgency and overactive bladder in men. I'm thrilled to recommend it to my patients". Here is the in-detail VigRX Incontinix reviews, give this a read.
Manufacturer: Leading Edge Health
Ingredients: Cratevox (Crataeva nurvala), Lindera Aggregate, and Horsetail
Price: $49.99
Pros
Alleviates common incontinence symptoms.
Decreases the urge to urinate.
Strengthen the bladder, the bladder wall, and pelvic wall muscle.
Cons
Inconsistent use may delay the results.
High popularity and demand can sometimes lead to low stock.
4. 1MD ProstateMD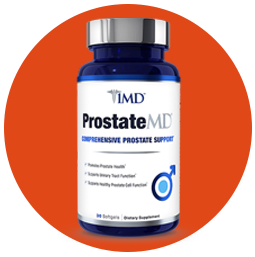 This is one of the best and leading supplements for BPH. What is so effective about 1MD Prostate MD is not only the rich collection of prostate health ingredients but the generous dosages that should really support prostate and urinary tract health as well as prostate cell function.
Sang Yeoup Lee, a professor at Pusan National University Yangsan Hospital and director of the Department of Medical Education at PNUSOM, stated that "Pumpkin seed oil can block the action of 5-alpha reductase, which is an enzyme that converts testosterone into dihydrotestosterone (DHT), which may have antiandrogenic effects, that helps to balance hormone levels."
In addition to enhancing overall health and immunity, this supplement should successfully lessen problems related to the urinary system. Our specialists believe that this supplement, which is created by a team of doctors in the best doses, is a very potent all-natural prostate supplement. Here is the in-detail 1MD Prostate MD reviews, go through it.
Manufacturer: 1MD
Ingredients: Pumpkin Seed Oil, Pygeum Bark, Lutein, Boron, Copper, Safflower Seed Oil, Stinging Nettle Leaf, Lycopene, Pine Bark Extract, Sunflower Seed Lecithin, Saw Palmetto
Price: $49.99 (one-time purchase, 1 bottle); $42.99 (subscription, 1 bottle)
Pros
It contains clinically studied ingredients.
The product is free of wheat, peanuts, dairy, and shellfish.
The ProstateMD reviews were very positive.
Cons
It contains corn oil, which some users can't consume.
This supplement is not suitable for vegetarians.
5. VigRx Prostate Support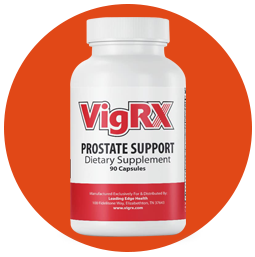 VigRX Prostate Support is one of the best PSA lowering supplement that promotes the prostate gland's long-term health. The majority of men will experience some form of prostate enlargement as they age, with benign prostate enlargement being the most frequent concern, according to the official website for the supplement.
When this occurs, the pressure on the urethra from the gland causes a variety of uncomfortable symptoms, including frequent urination, failure to completely empty the bladder, "dribbling" in between bathroom visits, and many others. Additionally, a lot of men discover that it has a detrimental impact on their sexual function, thus lowering their quality of life.
The maker of VigRX Prostate Support claims that the supplement promotes the health and functionality of the prostate.
Manufacturer: Leading Edge Health
Ingredients: Pygeum, Saw Palmetto, Stinging Nettle, Beta-Sitosterol
Price: 1 Month Supply $49.95; 2 month supply $79.95; 3 months supply $109.95
Pros
Assists the body in controlling the user's prostate size.
This product comes with a very liberal money-back guarantee.
Increases the health of the user's prostate, and sexual function and also causes harder erections.
Cons
The disadvantages of VigRx Prostate Support are essentially nonexistent because there have been no reports of side effects or health hazards related to this product.
6. Life Extension PalmettoGuard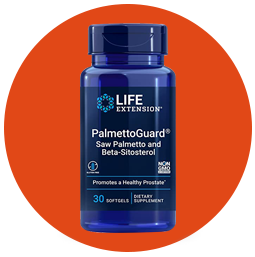 Life Extension's PalmettoGuard Saw Palmetto with Beta-Sitosterol – 30 Softgels supports men's prostate health and reduces discomfort. To improve prostate well-being and ward off diseases, this dietary supplement contains the goodness of rosemary leaf extract, saw palmetto fruit extract, boron, and beta-sitosterol.
Men's symptoms of an enlarged prostate may be lessened by this supplement's ingredients Serona Repens or Saw Palmetto fruit extract, which may also help combat prostate infections. It might stimulate sexual drive, promote relaxation, regularise urine flow, and boost immunity. According to reports, men's prostate supplements contain saw palmetto that benefits elderly men by preserving the health of their prostate and other male health issues.
As per life extension reviews, it contains anti-inflammatory and antioxidant characteristics, rosemary extract may be able to reduce swelling and protect your body from free radical damage. Additionally, it could encourage urination, improve prostate health, and aid liver cleansing. Many life extension stores exist because they are part of a popular franchise so you may not need it to buy online.
Manufacturer: Life Extension
Ingredients: Saw Palmetto CO2 extract (fruit), Beta-Sitosterol (From Pine) 90mg, Boron (as Albion® organic glycine) 3mg, Rosemary Extract (Leaf) 400mcg, Pumpkin seed oil' gelatin' glycerin' sunflower lecithin' purified water' caramel color.
Price: $15
Pros
This supplement reduces discomfort.
Ingredients used are Effective for improving Prostate health.
The product helps reduce the size of enlarged prostate.
Cons
Life Extension PalmettoGuard comes with large capsules which are hard to swallow.
Users complain that when the product is delivered saw palmetto capsules are melted inside the bottle.
The package is not Moisture protected.
---
7. Havasu Nutrition Saw Palmetto
Havasu Nutrition is a best saw palmetto supplement, it features the best complex nutrients like anti-oxidants and vitamins to help support the prostate and decrease BPH levels.
It contains Saw Palmetto that helps to improve testosterone levels and reduce inflammation. Gerald Louis Andriole Jr, M.D., Professor of Urology states that "Saw Palmetto is often used to treat symptoms of an enlarged prostate (benign prostatic hypertrophy or BPH) and urinary tract."
The most effective component of the natural, herbal plant, saw palmetto, is included in Havasu Nutrition Saw Palmetto prostate supplement. This natural supplement is frequently used to enhance prostate health, regulate hormone levels, reduce prostatitis, and stop hair loss in both sexes. We also consume whole berry fruit to help maintain the health of the urinary tract (UT).
Manufacturer: Havasu Nutrition
Ingredients: Saw Palmetto powder(Fruit), Saw Palmetto extract(Fruit), 45% fatty acids, vegetable magnesium stearate
Price: $22.09
Pros
Havasu Nutrition Saw Palmetto reduces frequent urination.
Supports prostate health.
DTH blocker to prevent hair loss.
Non-GMO Ingredients.
Cons
Takes a very long time for visible results.
Very few ingredients are used.
---
8. NOW Beta-Sitosterol Plant Sterols
CardioAid®-S, NOW Beta-Sitosterol Plant Sterols Beta-Sitosterol, Campesterol, and Stigmasterol are all combined to make Plant Sterol Esters.
Plant sterols are substances generated from plants that share structural similarities with cholesterol and hence serve to reduce the amount of cholesterol that is absorbed via the digestive tract.
A diet low in saturated fat and cholesterol, along with foods having at least 0.65 grams of plant sterol esters per serving, may lower the risk of heart disease. These foods should be consumed twice daily with meals for a daily total consumption of at least 1.3 grams.
Manufacturer: Now
Ingredients: CardioAid®-S Plant Sterol Esters (400 mg Beta-Sitosterol, plus Campesterol and Stigmasterol) Natural Fish Oil Concentrate
Price: $24.99
Pros
NOW Beta-Sitosterol Plant Sterols supports Healthy Cholesterol Levels already within the normal range.
Consuming this product reduces the risk of heart disease.
Cons
Fishy Taste after consuming.
Results are not usually visible in time.
---
9. Pure Encapsulations ProstaFlo
Pure Encapsulations ProstaFlo contains rye, maize and timothy. It has a 20 to 1 ratio of water-soluble extracts to fat-soluble extracts, each with its own set of benefits.
These ideal prostate pills contain the best fat-solubles, which aid in the healthy production of leukotriene and prostaglandin, which are fatty acid derivatives that may improve cellular health. The water-soluble components, on the other hand, may act together to support the urethra, specifically by assisting in the preservation of good smooth muscle function. As a result, your urethra may function more efficiently, allowing you to urinate more comfortably and conveniently.
Manufacturer: Pure Encapsulations
Ingredients: Flower pollen extract (Secale cereale L.)
Price: $89.85
Pros
Egg Free, Gluten Free, Non-GMO.
ProstaFlo asserts that by lessening prostate issues, better urination will result..
It may reduce discomfort during intercourse.
Cons
Pure Encapsulations ProstaFlo may take months before it will start working..
The manufacturer doesn't mention any money-back guarantees.
---
10. ProstaStream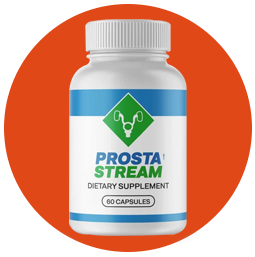 ProstaStream is a dietary supplement that keeps the prostate gland healthy and stops it from enlarging. This pills are made specifically for males over 50 with prostate problems. At this age, the prostate glands begin to mature. An enlarged prostate can cause incontinence, pain in the urinary system, and a decline in sexual arousal.
ProstaStream contains mushroom that enhances brain function by easing stress and regulating blood sugar. "Mushroom has a lot of potential health benefits like supporting immune system and has anti-inflammatory properties." stated by Giuseppe Venturella, who is a full time professor of Forestry Botany and Mycology.
By preserving the prostate gland's health, Prosta Stream aids in the prevention of all of these symptoms. Since ProstaStream is a nutritional supplement, it should be used along with a balanced diet and regular exercise.
Manufacturer: Ideal performance
Ingredients: Vitamin E, Saw Palmetto, Graviola Leaf, Mushroom Blend, Tomato Fruit Powder, Pygeum Africanum Bark, Natural Green Tea
Price: Starts at $69
Pros
Prostastream reduces inflammation in the prostate gland.
Helps with urination issues and enlarged prostate.
The product helps decrease urinary tract symptoms.
There are very few Prostastream complaints.
Cons
Mostly unavailable on eCommerce sites like Amazon & Walmart.
Active ingredients may interact with other medications.
---
11. VitalFlow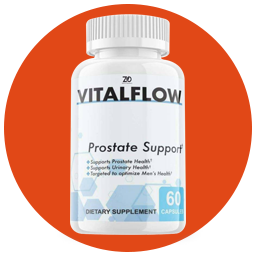 Men are always at risk of developing an enlarged prostate as they age. Having BPH, or benign prostatic hyperplasia, which is another name for prostate enlargement, can result in a number of painful symptoms.
VitalFlow contains nettle root extract that has anti-inflammatory properties that reduces inflammation and improves vitality and overall libido. Basil D Roufogalis stated, "Nettle root may help to reduce BPH symptoms and decreases levels of sex hormone binding globulin (SHBG)."
A restricted urine flow from the bladder increased pain and discomfort in this location, anxiety, and insomnia are a few of the usual symptoms. Prostate gland enlargement could potentially result in issues with the bladder, kidneys, or urinary system if left untreated.
The issue with an enlarged prostate is that it puts pressure on the bladder and urethra, which affects urination and the removal of waste products from the body. Vitalflow is one of the best prostate medicine made entirely of natural substances and works naturally to attack the disease's underlying cause and reverse its consequences.
Manufacturer: VitalFlow
Ingredients: Saw palmetto berry, Japanese mushroom trio, Cat's claw, Tomato fruit powder, Pygeum africanum bark, Nettle root
Price: Starts at $69
Pros
It eliminates DHT which causes the prostate to enlarge.
These prostate capsules purify the blood by flushing out toxins.
Reduces the risks of developing diseases like diabetes, obesity, and heart disease.
Cons
The price is quite costly.
The manufacturer doesn't guarantee results.
---
12. Super Beta Prostate
Super Beta Prostate is a dietary supplement marketed as a natural solution to improve prostate health and alleviate symptoms of an enlarged prostate. The main active ingredient in Super Beta Prostate is beta-sitosterol, a plant-based compound that has been shown to reduce urinary symptoms related to prostate enlargement.
It contains beta-sitosterol that has shown to improve urinary symptoms associated with an enlarged prostate, such as frequency, urgency, and difficulty in urination. "Beta-sitosterol has been used for years to reduce the symptoms of an enlarged prostate. It is an effective and safe alternative to prescription medications." – Dr. David Brownstein, MD.
By enhancing the male urinary system, the product helps men make fewer frequent toilet breaks and avoidable stops while driving. It is designed to help you hold pee for a long time, preventing numerous nighttime awakenings. Additionally, this prostate dietary supplement promotes the prostate's healthy operation during sexual activity.
Manufacturer: New Vitality Store
Ingredients: Beta-Sitesterol, Trace elements Vitamin D and Calcium.
Price: $17.45
Pros
An obvious decline in bathroom visits can be experienced by patients.
Super Beta Prostate helps in decreasing the prostate size back to normal.
There is a little chance of back pooling of urine due to enhancement in bladder contractile function.
There would be a definite decline in post-urination dribbling and burning micturition.
Cons
Research studies have shown that Super Beta Prostate affects the re-absorption of certain vitamins from the GIT tract, so it is always recommendable to always take multivitamins along with it.
Price varies from vendor to vendor.
It can cause side effects.
---
13. Fluxactive Complete
Fluxactive Complete is an organic dietary supplement that promises to support prostate, reproductive, and bladder health. It may shrink the prostate for a reduction in urinary tract problems including overnight urination or leaks. It also offers general health benefits and also support improved brain health, decreased stress levels, lower cholesterol, and a stronger immune system.
Fluxactive Complete consists of Cayenne which is rich in capsaicin, which has been shown to have anti-cancer properties and may help reduce the risk of prostate cancer. "Cayenne pepper is a rich source of capsaicin, a compound that has been shown to have anti-cancer properties and may help to reduce the risk of prostate cancer." – Dr. David Samadi, Urologic Oncologist
As per Fluxactive Complete reviews, it is high in nutrients and antioxidants like polyphenols, which can nourish, heal, and repair the body by killing harmful free radicals and decreasing oxidative stress. This may also strengthen the immune system and promote overall improved health.
Manufacturer: Fluxactive
Ingredients: Chinese Ginseng, Cayenne, Vitamin EInosine, Damiana, Saw Palmetto, Ginkgo Biloba, Oat Straw, Vitamin B3, Muira Puama, Tribulus, Hawthorn, Catuaba, and Epimedium Sagittatum.
Price: $79.00
Pros
Fluxactive Complete may promote a healthy prostate.
It could help strengthen the immune system.
This supplement may decrease anxiety and stress levels.
It could decrease prostate swelling and lessen symptoms like frequent urination.
It balances prostate health metabolism.
Cons
There are side effects associated with this product.
---
14. Urinozinc Prostate Plus
Urinozinc Prostate Plus contains potent ingredients that are of the highest quality and what differentiates this prostate supplement is the combination of ingredients making for a meaningful active compound to reduce symptoms of an enlarged prostate, to reduce swelling and to provide needed nourishment into the body.
As per Urinozinc Prostate Plus reviews, it works in a natural way to support prostate health and promote healthy urinary function, and it is recommended to be taken as directed by the manufacturer. However, it is important to note that dietary supplements are not regulated by the FDA, so it is always a good idea to consult with a healthcare professional before starting any new supplement regimen.
Manufacturer: DSE Healthcare Solutions, LLC.
Ingredients: Saw Palmetto, and Beta Sitosterol.
Price: $19.95
Pros
Urinozinc Prostate Plus is reasonably priced.
Different stores offer different discounts offering opportunities to compare shops.
Patented formula developed by doctors.
There are a few Urinozinc Prostate Plus side effects.
Urinozinc Prostate Plus ingredients are highly potent.
Free of gluten, sugar, sodium, and starch.
No preservatives, no artificial color.
Online tool to access one's prostate health.
Cons
Urinozinc Prostate Plus does not contain selenium, a helpful ingredient for the prostate.
The website is too sparse.
---
How Do Prostate Supplements Work?
Supplements for prostate health are very high in ingredients that reduce inflammation, such as plant sterols. When there's swelling in the prostate gland, it can press up against the urethra and lead to difficulty urinating. An article in Reviews in Urology discussed the role of inflammation in benign prostatic hyperplasia [1].
The anti-inflammatory agents decrease the size of the prostate, so the pressure is reduced. The symptoms should then alleviate. These supplements are high anti antioxidants, which kill damaging free radicals and decrease oxidative stress. This allows for the repair of damage in the prostate, and it also supports a robust immune system.
In addition, prostate supplements often include vitamins and minerals which support both prostate and overall health and anti-microbial that destroy damaging bacteria. Some may also include ingredients that could reduce the risk of developing prostate cancer. An article in the Indian Journal of Urology explored the role of antioxidants in the prevention of prostate cancer [2].
What Are the Ingredients in Prostate Health Supplements?
Some of the best prostate supplement ingredients include:
Saw Palmetto
This extract comes from the fruit of the American Dwarf Palm Tree. It contains fatty acids and plant sterols which are high in anti-inflammatory agents and can reduce prostate swelling. This can ease urinary tract symptoms like frequent urination [3]. An article in American Family Physician discussed the use of Saw Palmetto for prostate disorders.
Pygeum
This is the bark from a tree that has potent medicinal properties, including anti-microbial and anti-inflammatory benefits. There's evidence that it is very effective at decreasing prostate swelling and diminishing symptoms (4). A review in Cochrane Database Systems Review concluded that Pygeum may be a useful treatment for reducing the symptoms of benign prostatic hyperplasia [5].
Beta-Sitosterol
The beta-sitosterol benefits for the prostate are immense. This is a plant sterol that may greatly reduce inflammation in the urinary tract and prostate, lessening symptoms like nighttime urination and poor urine flow. In addition, it may have anti-cancer properties (6). A study in the British Journal of Urology concluded that this plant sterol is an effective treatment for benign prostatic hyperplasia [7].
Pumpkin Seed Oil
Likely due to its anti-inflammatory benefits, there is evidence to show that pumpkin seed can decrease the symptoms of BPH. In addition, it may play a role in blocking testosterone-induced prostate growth (8). An article in Fitoterapia discussed the benefits of pumpkin seed extract for inhibiting cell growth in the development of cancer and benign prostatic hyperplasia [9].
Stinging Nettle
Taken from the Urtica Dioica plant, this plant is high in sterols, fatty acids, and antioxidants. It can help repair prostate damage and reduce swelling in the prostate to decrease urinary tract symptoms. A study in the Journal of Herbal Pharmacotherapy concluded that stinging nettle was effective in the treatment of BPH [10].
What Are the Benefits of Prostate Supplements?
These supplements help decrease swelling in the prostate.
They help to decrease urinary tract symptoms.
Prostate supplements help strengthen the immune system.
They help to support the urinary tract system as a whole.
Supplements for prostate health often include many vitamins and minerals.
How To Choose the Best Prostate Health Supplement?
The market is full of numerous different prostate health supplement brands, which can be overwhelming if you don't know what to look for. How do you choose the best rated prostate supplement? We've compiled a quick guide to the different features you should pay attention to:
Ingredients
Make sure some or all of the ingredients we described in this article like saw palmetto, pygeum, pumpkin seed oil, etc are in the supplement. However, there are other effective ones as well, so it's a good idea to do your research. Read up about each ingredient and look to see if there are any scientific studies showing its efficacy.
Safety
It's very important to make sure there are no artificial or chemical additives in prostate supplements. Choose a brand that includes 100% organic ingredients that are healthy for your body. In addition, make sure the manufacturer produces the products in an ideally FDA-approved facility using GMP guidelines.
Guarantee
When you buy a prostate health product, you want to make sure that you can get your money back if it doesn't work for you. That means you need time to try it out first, and a company that trusts its products will give you enough time to do that. Ideally, look for at least a 60-day money-back guarantee.
Manufacturer
It's always best to go with a reputable manufacturer, known for making quality, effective health supplements. If you can't find any information about a company, it's a sign you should avoid the product.
Reviews
Customer reviews are a great resource when you're looking for a prostate supplement. They'll give you a good idea of what percentage of users find the product to be effective, and what are the advantages and disadvantages of the product.
Price
Look at a number of supplements to get an idea of the price range and compare features and ingredients to see if a supplement seems to be worth the cost. Remember that just because a prostate product is expensive doesn't necessarily mean it's better.
Frequently Asked Questions (FAQs)
What are the best common ingredients to shrink the prostate?
The best-studied, most commonly used ingredients to treat BPH are Beta-sitosterol, Pygeum, Rye grass, Saw palmetto, etc.
Are prostate supplements worth taking?
Evidence that supports the effectiveness of supplements for prostate health is weak. However, limited studies suggest that some ingredients might help reduce some of the uncomfortable symptoms associated with prostate health issues.
How Long Does it Take for Prostate Supplements to Work?
It may take 4 to 6 weeks for saw palmetto to show any noticeable effects. For BPH, studies have used a daily intake of 320 milligrams of saw palmetto split into two doses. We suggest you get advice from your doctor.
What can you take over the counter for enlarged prostate?
Nonsteroidal anti-inflammatory drugs (NSAIDs) are medications that help lower inflammation and can be taken over the counter like Saw Palmetto, Pygeum, Rye Grass Pollen, South African Star Grass, Red Clover, Stinging Nettle, and Pumpkin Seed Oil.
What is the fastest way to cure an enlarged prostate?
The fastest way is to begin taking prescription drugs for an enlarged prostate. One class of medication is an alpha-blocker. These medications, such as Flomax, Rapaflo, and Cardura, work by relaxing the affected muscles around the prostate to encourage urine flow.
How can I naturally strengthen my prostate?
To strengthen Prostate Health naturally maintain a healthy weight. Obesity is linked to several prostate health issues, including prostate cancer[11][12]. Eat more vegetables, Reduce consumption of red meat, know your risk and get tested, exercise regularly, hydrate daily, Manage stress and stop smoking.
Can an enlarged prostate go back to normal?
BPH supplements tends to cure most of the patients while some of them see a significant reduction in symptoms[13]. If medicine does not work, or your prostate is too large, surgery will often remove enough of the prostate to provide you with relief. Nutrtion also palys a part in reducing the size of prostate like health vitamins, and antioxidants.
What is the latest treatment for enlarged prostate in 2023?
Entadfi is expected to be available in 2023. The Food and Drug Administration (FDA) has approved Entadfi (finasteride and tadalafil) and consumption of fruit and vegetables[14] for the treatment of the signs and symptoms of benign prostatic hyperplasia (BPH) in men with an enlarged prostate for up to 26 weeks.
What is the root cause of enlarged prostate?
The cause of prostate enlargement is unknown, but it is believed to be linked to hormonal changes as a man ages. The balance of hormones in your body changes as you get older and this may cause your prostate gland to grow. Some studies have shown that consuming Vitamin D can balance the hormone levels[15].
What are the symptoms of a weak prostate?
The common symptoms of prostate problems are frequent urges to urinate. Need to get up many times during the night to urinate. Blood in urine or semen. Pain or burning urination. Painful ejaculation. Frequent pain or stiffness in the lower back, hips, pelvic or rectal area, or upper thighs. Dribbling of urine.
What are the 5 warning signs of prostate problems?
A painful or burning sensation during urination or ejaculation, Frequent urination, particularly at night, Difficulty stopping or starting urination, sudden erectile dysfunction, Blood in urine or semen, etc
Conclusion
As men get older, the chances of developing benign prostatic hyperplasia(BPH) or prostate cancer increase. These are major health risks in men and as such, it's essential that you get checked regularly and follow a proper course of treatment.
With prostate care supplement, many men are opting to take a natural alternatives either with or without prostate meds to reduce the symptoms associated with prostate enlargement and possibly decrease the risk of prostate cancer.
There's reason to believe that a good prostate health supplement can be very effective at supporting prostate and urinary tract health. The best products are also rich in antioxidants which help repair the prostate[16] and support general health and immunity. Along with it, there are also natural methods to support prostate health like improving your diet, decreasing weight, and getting regular screenings.
In this article, we have highlighted excellent prostate supplements which we recommend highly. Remember when you are searching for a supplement, it's important to do your research and consider factors like the ingredients, price, guarantee, manufacturer, and safety. Your prostate health is very important, and you deserve the best.