Reading Time:
11
minutes
A quick look at the best prostate health supplements
Best overall prostate health supplement: VitaPost Prostate Plus
Best in budget prostate support supplement: 1MD ProstateMD
What Are Prostate Health Supplements and Pills?
These are organic products for men which support the health of the prostate as a whole. They also aim to reduce swelling in the gland and decrease the urinary tract symptoms associated with benign prostatic hyperplasia, or an enlarged prostate.
These include issues like frequent or night time urination, leaking, or blocked urination. Prostate supplements include natural ingredients which also support general prostate and urinary tract health, as well as overall wellness and immunity.
Should I Take Prostate Supplements?
If you are a man who suffers from issues related to prostate enlargement, supplements could be a good option for you. Naturally this is something that requires the approval of a physician, especially if you are taking other prostate medication. However, many men who prefer a natural option have gotten great benefits from these products.
How Do I Know If I Need a Prostate Health Supplement?
It will be very clear, as you will begin experiencing symptoms indicating that there's enlargement in your prostate gland. You could start running to the bathroom more frequently or getting up often to urinate in the night.
Some men have a weak urine stream, leakage, or even experience difficulty urinating at all. Naturally these are signs that you should seek medical care and taking the best prostate health supplement you can find may also be an excellent solution for you.
How Do Prostate Supplements Work?
Supplements for prostate health are very high in ingredients which reduce inflammation, such as plant sterols. When there's swelling in the prostate gland, it can press up against the urethra and lead to difficulty urinating. An article in Reviews in Urology discussed the role of inflammation in benign prostatic hyperplasia [1].
The anti-inflammatory agents decrease the size of the prostate, so the pressure is reduced. The symptoms should then alleviate. These supplements are high anti antioxidants, which kill damaging free radicals and decrease oxidative stress. This allows for repair of damage in the prostate, and it also supports a strong immune system.
In addition, prostate supplements often include vitamins and minerals which support both prostate and overall health, and anti-microbials which destroy damaging bacteria. Some may also include ingredients which could reduce the risk of developing prostate cancer. An article in the Indian Journal of Urology explored the role of antioxidants in the prevention of prostate cancer [2].
What Are the Typical Ingredients in Prostate Health Supplements?
Some of the best prostate supplement ingredients include:
Saw Palmetto – This extract comes from the fruit of the American Dwarf Palm Tree. It contains fatty acids and plant sterols which are high in anti-inflammatory agents and can reduce prostate swelling. This can ease urinary tract symptoms like frequent urination [3]. An article in American Family Physician discussed the use of Saw Palmetto for prostate disorders.
Pygeum – This is bark from a tree which has potent medicinal properties, including anti-microbial and anti-inflammatory benefits. There's evidence that it is very effective at decreasing prostate swelling and diminishing symptoms (4). A review in Cochrane Database Systems Review concluded that Pygeum may be a useful treatment for reducing the symptoms of benign prostatic hyperplasia [5].
Beta-Sitosterol – The beta sitosterol benefits for the prostate are immense. This is a plant sterol which may greatly reduce inflammation in the urinary tract and prostate, lessening symptoms like night time urination and poor urine flow. In addition, it may have anti-cancer properties (6). A study in the British Journal of Urology concluded that this plant sterol is an effective treatment for benign prostatic hyperplasia [7].
Pumpkin Seed Oil – Likely due to its anti-inflammatory benefits, there is evidence to show that pumpkin seed can decrease the symptoms of BPH. In addition, it may play a role in blocking testosterone-induced prostate growth (8). An article in Fitoterapia discussed the benefits of pumpkin seed extract for inhibiting cell growth in the development of cancer and benign prostatic hyperplasia [9].
Stinging Nettle – Taken from the Urtica Dioica plant, this plant is high in sterols, fatty acids, and antioxidants. It can help repair prostate damage and reduce swelling in the prostate to decrease urinary tract symptoms. A study in the Journal of Herbal Pharmacotherapy concluded that stinging nettle was effective in the treatment of BPH [10].
What Are the Benefits of Prostate Supplements?
These supplements help decrease swelling in the prostate.
They help to decrease urinary tract symptoms.
Prostate supplements help strengthen the immune system.
They help to support the urinary tract system as a whole.
Supplements for prostate health often include many vitamins and minerals.
What is the Best and Safest Prostate Supplement?
Our team of medical experts carried out an exhaustive reviews of a number of the prostate health supplements on the market, narrowing it down to the top 2 prostate brands that they highly recommend. Here are their choices:
VitaPost Prostate Plus
This is a healthy supplement full of Prostate Plus ingredients like nutrients, plant sterols, antioxidants, and other substances known to reduce swelling in the prostate and alleviate symptoms like frequent and night time urination.
It also contains antioxidants for general health benefits and immune system strengthening. Finally, it supports general urinary tract and prostate health. According to our experts, Prostate Plus is one of the best prostate health supplements on the market today, and it's also reasonably priced. The Prostate Plus reviews raved about this brand.
Manufacturer: VitaPost
Ingredients: Tomato Powder, Gaviola, Vitamin E, Pygeum, Saw Palmetto, Cat's Claw, Nettle, Green Tea, Pumpkin Seed, Quercetin, Parsley, Reishi, Zinc, Selenium, Buchu, Juniper, Burdock
Price: $28.95
Pros
This supplement helps strengthen the immune system.
Prostate Plus Health Complex helps support a healthy prostate.
The product helps decrease urinary tract symptoms.
Cons
Vita Post Prostate Plus contains soy, which some users can't consume.
High demand sometimes leads to low stock.
---
1MD ProstateMD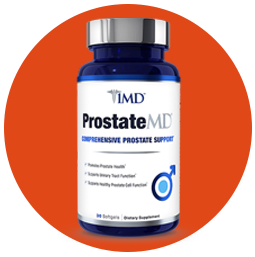 What is so effective about 1MD ProstateMD is not only the rich collection of prostate health ingredients but the generous dosages which should really support prostate and urinary tract health as well as prostate cell function.
This supplement should effectively reduce urinary tract symptoms, as well as promoting general health and immunity. A team of doctors designs this supplement in optimal doses, and according to our experts it's a very high-level prostate supplement.
Manufacturer: 1MD
Ingredients: Pumpkin Seed Oil, Pygeum Bark, Lutein, Boron, Copper, Safflower Seed Oil, Stinging Nettle Leaf, Lycopene, Pine Bark Extract, Sunflower Seed Lecithin, Saw Palmetto
Price: $49.99 (one-time purchase, 1 bottle); $42.99 (subscription, 1 bottle)
Pros
It contains clinically studied ingredients.
The product is free wheat, peanuts, dairy, and shellfish.
The ProstateMD reviews were very positive.
Cons
It contains corn oil, which some users can't consume.
This supplement is not suitable for vegetarians.
---
How Do I Choose a Prostate Health Supplement?
The market is full of numerous different prostate support supplement brands, which can be overwhelming if you don't know what to look for. How do you choose the best prostate supplement? We've complied a quick guide to the different features you should pay attention to:
Ingredients – Make sure some or all of the ingredients we described in this article are in the supplement. However, there are other effective ones as well, so it's a good idea to do your research. Read up about each ingredients and look to see if there are any scientific studies showing its efficacy.
Safety – It's very important to make sure there are no artificial or chemical additives in the supplement. Choose a brand that includes 100% organic ingredients that are healthy for your body. In addition, make sure the manufacturer produces the products in an ideally FDA-approved facility using GMP guidelines.
Guarantee – When you buy a product, you want to make sure that you can get your money back if it doesn't work for you. That means you need to time to try it out first, and a company that trusts its products will give you enough time to do that. Ideally look for at least a 60-day money back guarantee.
Manufacturer – It's always best to go with a reputable manufacturer, known for making quality, effective supplements. If you can't find any information about a company, it's a sign you should avoid the product.
Reviews – Customer reviews are a great resource when you're looking for a supplement. They'll give you a good idea of what percentage of users find the product to be effective, and what are the advantages and disadvantages of the product.
Price – Look at a number of supplements to get an idea of the price range and compare features and ingredients to see if a supplement seems to be worth the cost. Remember that just because a product is expensive doesn't necessarily mean it's better.
How Do I Support Prostate Health Naturally?
Whether you currently have a healthy prostate or not, taking care of this gland is essential for every man. Along with your health care and a supplement, you should also consider making some lifestyle changes which can help alleviate symptoms and keep your prostate healthy. Here are some of the best methods that our experts have come up with:
Follow a Healthy Diet – It's always important to take in nutritious foods, for your overall health and to support a strong immune system. In particular, if you have prostate issues you should consume foods with anti-inflammatory agents.
Examples include fatty fish, green leafy vegetables, olive oil, tomatoes, berries, and nuts such as walnuts and almonds. Many of these foods also contains antioxidants, which support a strong immune system and help repair damage to the prostate.
Dr. Otis Brawley, Chief Medical Officer for the American Cancer Society said, "Men with diets high in tomato products seem to have a lower rate of prostate cancer. This was especially true of tomato products cooked in olive oil such as tomato sauces (11)."
Get Regular Medical Checks – Starting sometime after 45, you should begin getting regular prostate checks at least once a year, even if you have no symptoms. If you have prostate cancer, this will help you catch it early when you have a good chance of successful treatment. Physicians recommend that men with a family history begin getting screenings at 45, and other men at the age of 50.
Keep Your Weight Down – There is an association between obesity and prostate diseases like cancer and BPH (12). The additional weight can put added pressure on the prostate gland, exacerbating urinary tract symptoms. If you're overweight and have prostate issues, losing the extra pounds is one of the best things you can do for yourself.
Get Out in the Sun – Vitamin D can help reduce urinary tract symptoms, and you get a lot of this nutrient from the sun. In addition, the sun can help boost your mood, which is good for your overall health and immunity. Dr. Brawley also explained, "There is growing interest in Vitamin D as a possible correlate with prostate cancer prevention (11)."
Lower Your Stress – Stress doesn't have a direct impact on prostate health, but it does weaken the immune system. This puts you at higher risk for developing prostate and other health issues. Although it's not an easy task, there are methods which could help you feel less stressed and anxious.There's evidence to support the benefits of yoga, massage, and mindlessness meditation. You may also consider taking time off from your job, working less hours, or speaking to a therapist about your concerns.
Exercise – Carrying out a regular exercise routine is good for your immune system, and it can help you keep your weight down. In addition, Kegel exercises can help strengthen your pelvic floor muscles, which helps to control urination. This involves tightening and releasing the muscle a number of times, on a daily basis.
Frequently Asked Questions (FAQs)
Q: Do Prostate Supplements Help?
A: According to an article in Reviews in Urology, there's a tremendous amount of interest in using prostate nutraceuticals in benign prostatic hyperplasia and other prostate diseases. Apparently, they do show a lot of treatment potential [13].
It's also evident when looking at prostate supplement reviews for some of the top brands on the market that these products help many men reduce urinary tract symptoms and elevate prostate health. Naturally, this also leads to a boost in quality of life.
Q: Where Can I Buy a Prostate Supplement?
A: Generally speaking, prostate pills are available from many online retailers and numerous offline stores. In terms of a specific brand, it varies based on the product, so you will have to do a little research.
Q: How Long Does it Take for Prostate Supplements to Work?
A: It really depends on the person and the supplement. Some men have claimed to have rapid benefits with prostate supplements, but in most cases it should take a few weeks to build up in your system before it starts to have a potent effect.
Q: Are Prostate Supplements Safe?
A: Most of the best prostate supplements are safe, but of course you have to check the ingredients to make sure there are no potentially harmful additives. You could have some mild side effects, but most of the better brands will be fairly free of potential symptoms. Of course, make sure that the manufacturer follows safe production practices.
Q: What Vitamins Help With Prostate Health?
A: In addition to some potent organic ingredients, minerals, and other substances, there are a couple vitamins for prostate health which can provide benefits. These include:
Vitamin C – Vitamin C is a potent antioxidant which call eliminate free radicals in the prostate and lower oxidative stress. This promotes healing in the body and in the prostate and elevates immune functioning. A study in in the American Journal of Clinical Nutrition found that Vitamin C was effective in reducing prostate enlargement symptoms [14].
Vitamin E – This is also a very potent antioxidant which can repair damage to the prostate and support the immune system. It can also help reduce inflammation, helping to ease symptoms.
Vitamin D – There's some evidence that Vitamin D can inhibit the production of benign prostatic hyperplasia cells and may reduce the associated urinary tract symptoms (15). A study in Clinical Nutrition showed that this vitamin lowered PSA and reduced prostate volume [16].
Q: Do Prostate Health Supplements and Pills Have Side Effects?
A: Some of them may, but it depends on the ingredients and the quality of the formula. Check that there are no artificial additives, and that the brand has quality ingredients. In most cases for prostate health supplements the side effects would only be mild if there are any at all.
Q: Can Prostate Supplements Lower PSA?
A: There's no guarantee that these supplements can lower PSA levels in men, but in fact, some research indicates that this is possible (17). Certainly prostate supplements could be a helpful complimentary treatment for prostate cancer and lowering PSA levels.
Q: What Age to Take Prostate Supplements?
A: There is no specific age range for taking prostate vitamins; they are meant for men who have prostate enlargement issues. However, the prevalence of benign prostatic hyperplasia tends to increase greatly for men after the age of 40. By the age of 90, the prevalence spans from 8-60% (18).
Q: Are Prostate Supplements and Pills Healthy?
A: The best prostate supplement brands are very healthy. They usually contain vitamins and minerals that support overall health, as well as antioxidants that promote healing all over the body and strengthen the immune system. The huge anti-inflammatory benefits in these supplements may have other benefits in the body, such as decreasing joint and muscle pain and swelling.
Conclusion
As men get older, the chances of developing benign prostatic hyperplasia or prostate cancer increase. These are major health risks in men and as such, its essential that you get checked regularly and follow a proper course of treatment.
Along with medical care, many men are opting to take a natural prostate health supplement either with or without prostate meds to reduce the symptoms associated with prostate enlargement and possibly decrease the risk of prostate cancer.
There's reason to believe that a good prostate health supplement can be very effective at supporting prostate and urinary tract health. The best products are also rich in antioxidants which help repair the prostate and support general health and immunity. Along with it, there are also natural methods to support prostate health like improving your diet, decreasing weight, and getting regular screenings.
In this article, we have highlighted excellent prostate supplements which we recommend highly. Remember when you are searching for a supplement, it's important to do your research and consider factors like the ingredients, price, guarantee, manufacturer, and safety. Your prostate health is very important, and you deserve the best.