Sexpearience Overview
Sexpearience is an all-natural supplement designed to enhance sexual drive, pleasure, and performance in both men and women. It seems to be manufactured by a company called Libido Edge Labs, LLC, based in Ohio. Another company, Maximum Nutrients, is printed on the label and offers it for sale online as well.
Sexpearience Product Details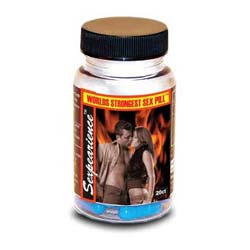 Sexpearience contains Epimedium, Cnidium Monnier, Yohimbine Extract, L-Arginine, G-protein, Ginseng, Green Tea Extract, Dextrine, Gelatin, and Rice Flour. Epimedium, also known as Horny Goat Weed, is in many natural male enhancement formulations due to its use as a Chinese aphrodisiac for thousands of years. Some think that it works to stimulate Nitric Oxide production, and thus trigger harder erections. Cnidium Monnier is said to work in a similar manner to Horny Goat Weed. Yohimbine Extract comes from the bark of an African tree and is used in many sexual potency products. While scientific studies have shown that it has some promise as a dilator, it also has a lot of potential side effects. L-Arginine is an amino acid that is said to support Nitric Oxide production. G-protein is said to support dopamine levels to create more sensation and relaxation during sex. Ginseng has been used as an aphrodisiac around the world for centuries.
Sexpearience runs about $29.95 for a bottle of 20 capsules. It is not clear if these pills need to be taken continuously to build up to good results, or if they are designed to be taken only when needed before engaging in intercourse. Sexpearience is available for purchase directly from Libido Edge Labs and through other vendors online. When purchased from the official website, Sexpearience comes with a 60-day money back guarantee.
Good About Sexpearience
Full ingredient list
Complete company contact information
60-day money back guarantee
All natural formulation
Can be used by both men and women
Bad About Sexpearience
Ingredient amounts not listed
Contains Yohimbe, which may cause side effects in some and should not be taken by people with medical conditions or taking medication
Unclear how it is to be used and whether the effects are long lasting or designed to be immediate
Sexpearience, The Bottom Line
While Sexpearience does have some commonly used herbal extracts that have shown promise to be effective in helping treat male sexual issues, it is not clear how much of each substance is included in the formula. That makes it difficult to completely analyze the efficacy of Sexpearience and compare it with the other products of its kind. Additionally, this is problematic in the case of Yohimbe, which may cause side effects and can be dangerous in high amounts.
Below you'll find the most effective male enhancement products on the market, we determine these products based on 4 key factors : Active ingredients, ability to support sexual stamina, enhance arousal & improved sexual desire, backed by clinical studies. Ultimately, we determined the bottom-line value of each product.