What Is Testoprime Instant Energy?
Instant Energy by TestoPrime is a fully organic powder drink mix that provides an almost immediate improvement in energy, mood, cognitive focus, and alertness.
It also aims to decrease stress and anxiety and provides needed nutrients and antioxidants for health and immunity benefits. The product is free of sugar, soy, and gluten, and is safe.
Features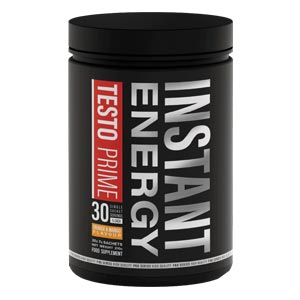 Editor's Rating
Brand Highlights
Instant Energy is free of sugar, soy, gluten, GMOs, and additives.
The ingredients are 100% organically sourced.
It's suitable for people who follow a vegetarian or vegan diet.
They offer a lifetime money-back guarantee.
Official Website*All the prices mentioned on their websites are subject to change.
About Performance Insiders
At Performance Insiders, our mission is to offer current product reviews on well-known and popular brands in the realms of health and wellness, vitamins and supplements, and other areas. Our writing team includes a diverse collection of experts from fields like journalism, nutrition, and fitness.
All of our articles go through a strict editorial process that involves writing, editing, fact-checking, and a final medical review by professional and board-certified physicians, RDNs, dermatologists, or other relevant health experts.
Quick Facts and Specs
Form:

Orange-Mango Drink Powder

Type:

Energy Drink Supplement

Brand:

TestoPrime USA by Wolfson Brands (UK) Limited

Contact:

TestoPrime USA
Address: PO Box 29215, Phoenix, Arizona, 85038, United States
Email:support@testoprime.com
Phone: +1 929 2424275

Ingredients:

L-Taurine, L-Theanine, L-Tyrosine, Caffeine Anhydrous, Vitamin C, Ashwagandha, L-Choline Bitartrate, B Vitamin Blend

Cost

One Time Purchase – $44.99
Subscription – $35.99

Dosage

One packet with 8-12 ounces of water daily
The Evidence Score
Here is our score, based on scientific evidence, of how likely TestoPrime Instant Energy will be effective for its claimed benefits:
| Benefit | Rating |
| --- | --- |
| Boosts Energy Levels | 5 |
| Provides Mental Focus and Alertness | 4.6 |
| Improves Mood | 4.5 |
| Decreases Stress | 4.8 |
Pros and Cons of TestoPrime Instant Energy
Pros
TestoPrime Instant Energy can sharpen attention span and alertness.
The product can provide added energy.
Instant Energy can improve mood.
It can decrease stress and anxiety levels.
It's rich in healthy nutrients and antioxidants.
Cons
There is only one flavor choice, orange mango.
The results may vary from one customer to another.
You can only buy this item online.
How Does TestoPrime Instant Energy Work?
The ingredients in TestoPrime Instant Energy contain some natural stimulants such as caffeine, which may provide more energy quickly as well as sharpen mental focus and enhance exercise endurance.
A review article in Frontiers in Sports and Active Living discussed the connection between caffeine and exercise performance, and the related research. [1].
Caffeine also speeds up the metabolism, causing the body to enter a state called thermogenesis where it burns fat rapidly possibly leading to weight loss.
Although there is caffeine in this product, there are also ingredients that counteract its negative potential side effects, like jitters or irritability. Instant Energy has amino acids and other botanicals which synthesize the release of brain chemicals like dopamine, serotonin, GABA, and acetylcholine.
These may improve mood, decrease stress and anxiety, and enhance cognitive functions like memory and learning. An article in the Journal of Psychopharmacology discussed the link between serotonin and brain function [2].
This formula is full of healthy nutrients which support general health, and antioxidants which support stronger immune functioning.
Ingredients In TestoPrime Instant Energy
Some of the primary active Testoprime Ingredients include:
Choline Bitartrate
Choline is involved in muscle control and may help improve muscle function and reduce muscle fatigue. Choline bitartrate may also help improve athletic performance. Choline may help reduce inflammation and improve heart health. Choline bitartrate may also help lower blood pressure and cholesterol levels. We documented in our Winsol Review article another health supplement containing this ingredient.
Choline bitartrate is generally considered safe when taken in recommended doses. However, high doses of choline bitartrate may cause side effects such as nausea, diarrhea, and vomiting. It is important to speak with a healthcare professional before taking any dietary supplements.
Vitamin C
As we documented in our review of UMZU Redwood Review. Vitamin C is a crucial nutrient that plays a vital role in maintaining good health. This powerful antioxidant is known for its numerous health benefits, including its ability to provide instant energy. If you are looking for a natural way to boost your energy levels and feel more alert and awake, vitamin C could be the answer you have been looking for.
L-Tyrosine
This is an amino acid in the body that increases levels of some of the key brain neurotransmitters such as epinephrine, dopamine, and norepinephrine. It may improve mood, possibly decreasing anxiety and depression.
An article in the Journal of Psychiatry and Neuroscience discussed the possible impact of l-tyrosine in lowering stress [3].
L-Tyrosine also plays a role in improving communication between nerve cells. It may raise energy levels by helping your body to use it more efficiently.
B Vitamin Blend
B Vitamins are a class of 8 nutrients that play an important role in the synthesis of red blood cells, enhancing cell metabolism, regulating nerve function, and developing DNA.
An article in Nutrients discussed the role of B Vitamins in the brain in terms of dose, efficacy, and mechanisms [4].
Ashwagandha
According to study this plant is an adaptogen, meaning it has the ability to naturally decrease stress levels in the body. It raises levels of key brain neurotransmitters including GABA, serotonin, and dopamine.
A 60-day randomized, double-blind, placebo-controlled study in medicine confirmed the stress-relieving benefits of ashwagandha [5]. This may offer benefits in improving mood, as well as boosting aspects of brain health like memory and attention.
A randomized, double-blind, placebo-controlled study on healthy stressed adults in Evidence-Based Complementary and Alternative Medicine concluded that one capsule of ashwagandha, once a day for 90 days improved memory, focus, sleep, well-being, and lowered stress [6].
How Does TestoPrime Rate?
Overall Rating: 4.6
| Feature | Rating |
| --- | --- |
| Manufacturer | 4.5 |
| Safety | 4.5 |
| Customer Reviews | 4.5 |
| Money-Back Guarantee | 5 |
TestoPrime Instant Energy FAQs
Q. How Much Does It Cost?
The presence of TestoPrime on the GNC website led us to conclude that it is "Not Available" at GNC no matter the country or location. You can purchase TestoPrime Instant Energy on the official website, either by making a one-time purchase or subscribing to the monthly service for a savings of 20%. The manufacturer pays for the shipping on all orders. This is the TestoPrime price list:
One Time Purchase – $44.99
Subscription – $35.99
Q.Where to Buy Testoprime?
The presence of TestoPrime on the GNC website led us to conclude that it is "Not Available" at GNC no matter the country or location. You can purchase TestoPrime Instant Energy on the official website, either by making a one-time purchase or subscribing to the monthly service for a savings of 20%. The manufacturer pays for the shipping on all orders
Q.How Do You Take It?
The recommended dosage is one packet of the product daily mixed with 8-12 ounces of water. Stir the mixture and drink down immediately. Drinking it in the morning gives you the best daily benefits. Do not consume more than 1 packet a day under any circumstances.
Q.What is the Return Policy?
This manufacturer has a lifetime money back guarantee on their products. You may contact them at any time to request a refund, but you must try the product for at least 30 days first.
Q.Does It Work?
This product should work well for many users, as it contains natural ingredients which do provide the promised benefits according to the research. Many of the review postings of TestoPrime confirmed that it did work as expected.
Q.What Sets It Apart From the Competition?
This is a good blend of ingredients that have science backing their efficacy, and the prices are lower than formulas of similar quality.
Q.What Do Customers Think of Testonine?
There is currently no mention of customer reviews or feedback found on the Internet. This could also be as a result of the supplement being relatively new to the market.
Q.What is Testonine Return Policy?
The Testonine website offers a 100-day no questions asked money back guarantee on purchases of any package besides the one-month supply.
What Do The Reviews Say?
Most of the TestoPrime review posts for Instant Energy were quite good, although not every user got the results they wanted. However, most comments were positive, and many people did notice an increase in energy and an enhancement in mood. Here are some of the customer comments:
Works Well
Drink it every single morning and the boost it provides is amazing. More energy, better concentration at work, and less general stress. Also lost a few pounds! Love it!
– Adam G.
Great Boost!
Have a full time job plus doing a second degree, and really needed something daily that helped increase energy and brain power naturally. TestoPrime Instant Energy does a great job! Love the flavor too!
– Janice
Basically Like It
It's good, like the taste, although some days wish there was a different flavor to try. It does provide energy and some improvement in mood.
– Gavin F.
How We Researched & Rated
Here is our score, based on scientific evidence, of how likely TestoPrime will be effective for its claimed benefits:
Increase Natural Testosterone*

4.5/

5

Long-lasting Erections*

4.6/

5

Stronger and Bigger Erections*

4.3/

5

Increase Sperm Volume*

4.2/

5
We used the insights from our research and testing to assign a star rating from one to five (five being the best; one being the worst) to this product.
Bottom Line
Instant Energy is an all-natural orange mango-flavored powder drink that offers a daily and fast enhancement in energy levels, mood, calmness, and cognitive focus, and alertness. Full of rich nutrients, it may also improve general health and immunity. The cost is below average for the market, and quite reasonable.
The reviews for TestoPrime Instant Energy varied somewhat, but overall the impression was that most customers liked the product and got many of the expected benefits. The flavor was popular, although some users wished for more choice. There was no mention of side effects.
This product is completely safe, composed of 100% organic ingredients, and free of chemical or synthetic additives, sugar, GMOs, or common allergens like soy and gluten. It's a good option for anyone who wants a daily boost in health and energy.
Where To Find It?
**This is a subjective assessment based on the strength of the available information and our estimation of efficacy.
*Result may vary. If you have a serious medical condition, or have a history of heart conditions we suggest consulting with a physician before using any supplement. The information contained in this website is provided for general informational purpose only. It is not intended to diagnose, treat, cure or prevent any disease and should not be relied upon as a medical advice. Always consult your doctor before using any supplements.
Disclosure of Material Connection: Some of the links in the post above are "associate sales links." This means if you can click on the link and purchase an item, we will receive a commission. Regardless, we only recommend products or services which we use personally and/or believe will add value to our readers. We are disclosing this in accordance with the Federal Trade Commission's 16 CFR, Part 255: "Guides Concerning the Use of Endorsements and Testimonials."