What is UMZU Redwood?
UMZU Redwood is a nitric oxide booster that comes in capsule form. It contains natural ingredients like garlic, vitamin C, horse chestnut extract, and Isoleucyl-Prolyl-Proline, Valyl-Prolyl-Proline.
The supplement helps improve blood circulation in the body, boost the immune system, improve mood, and enhance general well-being. Increased blood flow in the body help increase stamina and enhance bedroom performance and endurance.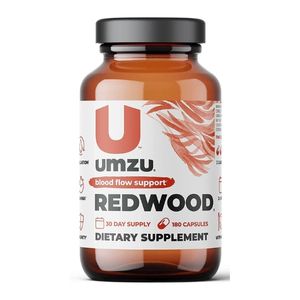 Editor's Rating
Brand Highlights
The brand name is UMZU.
Product is manufactured in the U.S. inside cGMP facilities.
The product improve Circulation, Immunity, & Stamina.
Buy on WalmartBuy on Amazon*All the prices mentioned on their websites are subject to change.
Specs
Form:

Capsule

Brand:

UMZU

Contact:

help@umzu.com

Ingredients:

Vitamin C, Garlic Root Powder, Horse Chestnut Seed Extract, Casein Hydrolysate.

Gurantee

60-day money-back guarantee

Dosage

3 capsules two times a day
Pros and Cons of Redwood UMZU
Pros
Redwood supports a healthy immune system
May improve blood flow and circulation into the body
The supplement increases stamina and improves bedroom performance
Redwood may regulate blood pressure levels
Helps improve mood and overall well-being
Cons
The supplement is relatively highly-priced
Redwood is not vegan or dairy free as it contains gelatin and casein
Individual results may vary since people are unique
How Does UMZU Redwood Rate?
Overall Rating: 3.6
| Feature | Rating |
| --- | --- |
| Manufacturer | 3.6 |
| Safety | 3.6 |
| Customer Reviews | 3.5 |
| Money-Back Guarantee | 3.6 |
Who Manufactures Redwood UMZU?
UMZU is the brand that manufactures this nutritional supplement. The brand was founded years ago, and it contains clinically-researched, high-quality ingredients to manufacture its products.
The brand also has an official website where you can listen to and read information about its products. The product facts help you make the right decision about the supplement that will help improve your hormonal and overall health. UMZU health products help restore order and balance to your body.
How Does UMZU Redwood Work?
The Redwood supplement contains a blend of powerful minerals and vitamins, naturally sourced from around the world. UMZU Redwood benefits make it appear like a 'magical pill.' The product effects are simple.
The product ingredients help boost the production of nitric oxide, which in turn increases blood circulation into the body. Increased blood flow also helps boost energy levels and stamina, leading to enhanced bedroom performance.
Redwood UMZU supports blood flow that helps to support a healthy immune system, improve mood, support healthy blood pressure, improve vein health, and support warmer hands and feet.
What Are the UMZU Redwood Ingredients?
The following are some of UMZU Redwood ingredients;
Vitamin C
Nitric oxide is a molecule naturally produced by the body. It helps support many body functions and allows nutrients, oxygen, and blood to travel to all body parts. There are many ways to improve the levels of nitric oxide in the body. Research studies support that vitamin C (l-ascorbic acid) increases the synthesis of nitric oxide in endothelial cells.
A publication in the National Library of Medicine supports that Ascorbic acid increases the bioavailability of nitric oxide in the endothelial cells and helps reduce the signs of endothelial dysfunction in patients[1].
Garlic Root Powder
Garlic cloves are known to contain few calories and have numerous health benefits for the body
Supplements containing garlic powder help fight sicknesses like the common cold and this helps boost the immune system.
Hypertension or high blood pressure can cause heart disease and stroke. Garlic helps reduce and maintain healthy blood pressure levels.
According to the Antioxidants journal, garlic compounds help the effects of diseases such as cancer, high blood pressure, cardiovascular diseases, diabetes, and metabolic disorders[2].
Horse Chestnut Seed Extract
Chestnut is a tree found in Balkan Peninsula. Chestnut seed extract has been studied for its health benefits in the body.
Chestnut seed extract may reduce the symptoms of chronic venous insufficiency caused by poor blood flow to the veins.
Chestnut helps increase blood flow and circulation to the veins in the legs and may help reduce any swelling associated with varicose veins.
According to a publication in the LiverTox journal, chestnut extract is used to treat complications of venous insufficiency such as ankle swelling, hemorrhoids, varicose veins, and leg cramps[3].
Casein Hydrolysate
Casein is an animal protein that contains essential amino acids. The amino acids help boost muscle growth and promote muscle recovery while you sleep.
Casein also has antibacterial effects, helps support a healthy immune system, and may lower high blood pressure.
The Food Science and Nutrition journal supports that casein supplementation has anti-inflammatory effects and helps improve immune functions[4].
Pine Bark Extract
Many cultures have been using pine bark extract as a supplement because of its medicinal properties.
Pine bark extract help reduce inflammation, promote heart health, supports a healthy immune system, and improves venous function.
Pine bark also helps improve mental cognition, prevent bone loss, and improve erectile functions.
According to Research in Pharmaceutical sciences, pine bark extract reduces the effects of degenerative and chronic diseases[5].
How is UMZU Redwood Unique from the Competition?
There are many dietary supplements on the market today that claim to help boost blood circulation in the body.
However, according to UMZU Redwood supplement nitric oxide booster & circulatory support reviews, you may notice results as early as two weeks of use. There are no side effects of UMZU Redwood as it contains natural ingredients that are backed by scientific research.
Redwood UMZU and Testro x contain ingredients that help boost energy levels, promote muscle strength, increase stamina, and improve bedroom performance.
What Customer Have to Say About UMZU Redwood
There are numerous UMZU Redwood supplement reviews on the official website, and most of them are generally positive. Customers claim that the product is free of fillers and contains all-natural ingredients.
Most people started noticing results two to three weeks after use. The product helped boost their energy levels, improve sleep, and improve blood flow in the body.
Umzu Redwood's customer service number is available on the official website. You can contact them if you have any inquiries about the product.
FAQ's
Q.Does UMZU Redwood work?
UMZU Redwood is a nitric oxide booster that claims to improve blood flow and cardiovascular health. Its effectiveness may vary from person to person, and it's always recommended to consult a healthcare professional before taking any new supplement.
Q: Where Can I Find UMZU Redwood for Sale?
You can purchase your Redwood supplement from UMZU's official website or other approved online retailers. The prices will vary depending on the retailer.
Q: Are there any UMZU Redwood side effects?
Redwood contains milk and gelatin that may cause allergic reactions in some individuals. The supplement may cause stomach upset when taken on an empty stomach.
Q: How much does this supplement cost?
A one-time purchase on the official website costs $33.96. You can subscribe to the official website and purchase the product at $33.96, getting 15% off your order. UMZU Redwood Amazon price is $49.95
Q: Is it safe to use?
Yes, Redwood by UMZU is a safe product to use as it contains natural and clinically researched ingredients.
Q: Does UMZU Redwood Work?
According to reviews, the product delivers visible results when you take it consistently.
Q: Is UMZU Redwood Legit?
UMZU Redwood supplement is legitimate. The product has an official website where you can get all the facts and information on the product and its manufacturer.
Q: When do I take UMZU Redwood?
The makers of Redwood recommend that you take three capsules two times a day, in the morning and evening. Take the pills with a meal to avoid stomach upset.
Q: What does UMZU Redwood do?
Redwood is a nitric oxide booster that helps to boost blood circulation into the body.
How to Contact Manufacturer?
If we didn't answer any questions in this UMZU Redwood Review, you can contact the manufacturer using the following methods:
Phone: 720-550-4207
Email: help@umzu.com
The above number is for texting only and will not connect you with an agent if you call it. They offer callbacks instead of taking inbound calls. They offer callbacks Monday-Friday between 9a-12p EST, 12p-3p EST, and 3p-6p EST.
How We Researched & Rated?
Here is our score, based on scientific evidence, of how likely Redwood UMZU will be effective for its claimed benefits:
Increase Natural Testosterone*

3.5/

5

Long-lasting Erections*

3.6/

5

Stronger and Bigger Erections*

3.3/

5

Increase Sperm Volume*

3.2/

5
We used the insights from our research and testing to assign a star rating from one to five (five being the best; one being the worst) to this product.
Bottom Line
As per Redwood UMZU review, it offers numerous health benefits to the body. You can try the supplement and enjoy its benefits. If the product does not meet your requirements, you can return it within 60 days of purchase and get your money back.
With countless male enhancement supplements available on the market today it seems impossible to find "the right one." Sexual performance declines naturally as men age, which may contribute to feelings of inadequacy or embarrassment. Male enhancement supplements should be based on four key factors: active ingredients, ability to support sexual stamina, enhance arousal, improved* sexual desire and backed by clinical studies.
Below you'll find some of the most effective male enhancement supplements on the market today, in our opinion.
Our Top Male Enhancement Supplements
Bottom Line
Performer 8's herbal complex works in 8 powerful ways to help men revitalize their sexual stamina, strength, and vitality— no prescription necessary. Shop Performer 8 Pills Dietary Supplement for Men (1 Pack) online at best prices on their official website.
Check Price
Bottom Line
VigRX Plus Male Virility Supplement is great for men that want to enhance their erection size and performance. VigRX will help you experience bigger, harder and longer lasting erections, an increased sex drive, more powerful and intense orgasms and less waiting between erections.
Check Price
Bottom Line
Cilexin is made in the US within an FDA registered facility that strictly adheres to Good Manufacturing Practice (GMP) guidelines. Ingredients are high-quality domestic and imported. Each bottle of Cilexin includes 60 tablets. This is equivalent to a 1-month supply when used as directed.
Check Price
Bottom Line
The power of ExtenZe formulated with increased testosterone support for men, extenze with testosterone boost is designed to restore and revitalize your manhood.
Check Price
Bottom Line
Male Extra aims to give you bigger, harder erections as well as improving your libido and sexual performance.
Check Price
5 sources
We review published medical research in respected scientific journals to arrive at our conclusions about a product or health topic. This ensures the highest standard of scientific accuracy.