Vydox Overview
The product Vydox is described as an 'orange pill' (obviously in reference to Viagra's blue pill) which the manufacturer claims is the world's # 1 male enhancement solution. While no proof of this is shown, the official website for the product is very professional in appearance and has a very 'medical' image. The product is endorsed by a well-known sportsman and there are also many customer testimonials provided for the brand. Despite the fact that there are no clinical studies to shown the results of taking Vydox, many of the individual ingredients used in the formula have been tested and these results are shown on the website.
Vydox is an expensive product in comparison to comparable products and costs $84.99 for a one month supply. It is more affordable for consumers to purchase multiple packets at one time and all purchases have a 60-day money back guarantee. The ordering process is secure and the product is shipped discreetly.
Vydox Product Details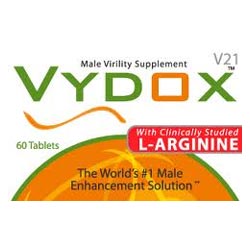 There are a number of very beneficial ingredients used in the Vydox formula which are explained in good detail. The key ingredient is L-Arginine, a popular male enhancement ingredient that is essential for increasing the amount of Nitric Oxide produced. This is responsible for boosting the blood flow to the penile chamber and producing a firm and longer lasting erection. While erect, the penis is said to be larger which can increase the user's confidence in their sexual performance. Other key ingredients are the aphrodisiacs Horny Goat Weed and Yohimbe, energizing Ginseng, Muira Puama for improving overall blood circulation and Saw Palmetto which, among other benefits, helps prostate health. Also in the blend is Bioperine, an extract of black pepper that allows the fast and efficient absorption of the whole formula.
Vydox is to be taken every day as it builds up in concentration and strength over time. The manufacturer recommends that consumers take it for a period of 30-60 days and that it is taken continuously to maintain results.
Good About Vydox
Key ingredients are listed and explained in detail.
The formula includes L-Arginine.
There is a 60-day money back guarantee.
Vydox has professional endorsements.
Customer testimonials are shown.
The ordering process is secure.
Bad About Vydox
The formula does not include Tribulus Terrestris.
Vydox is expensive.
Full clinical test results are not shown.
Vydox is only available online.
Vydox The Bottom Line
Vydox is impressive in a number of ways, including the fact that it is presented in such a professional manner and contains many beneficial, tested ingredients. However, for a product that is so costly, the manufacturer should provide their customers with full clinical results rather than just studies for individual ingredients. Unlike many products of this type Vydox is endorsed by well-known figures and certainly has many satisfied customers. Overall it would be a recommended brand and if the consumer found it beneficial it would be worth spending the extra money.