Ego Magic Overview
The product Ego Magic is a male sexual performance enhancer that is available via the internet. The brand does not have an 'official' website but there is information available on the site of the retailer that carries the brand, The Herbal Shop. A brief explanation of what the product does is provided as is information about the store's returns and ordering policies. All their products have a 40-day money back guarantee and they sell Ego Magic at a cost of $22.95 per bottle.
The main purpose of Ego Magic is to enhance the size of the erect penis and it is appreciated that unlike some brands of sexual enhancer, the manufacturer points out that it will not actually cause permanent penis growth. However, it does state that as well as creating a firmer and longer-lasting erection, Ego Magic can also help delay ejaculation and also support prostate health.
Ego Magic Product Details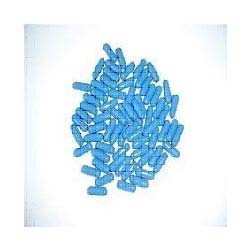 All the active ingredients that are contained in Ego Magic are listed on the website as are the amounts of each, which is beneficial as it makes the consumer able to judge its potency. The Ego Magic formula contains all the ingredients that are essential in increasing the blood flow to the penis when aroused such as L-Arginine, Epimedium and Yohimbe. Additionally it uses Tribulus Terrestris to produce and free Testosterone in the body. Testosterone improves many areas of male virility and can even increase sperm volume. Other ingredients in the blend are Damiana, Ginkgo Biloba and Ginseng, which is beneficial in decreasing sexual fatigue.
While the actual dosage instructions for Ego Magic are not shown, it is thought that it needs to be taken daily for the best results.
Good About Ego Magic
All ingredient amounts are shown.
Ego Magic contains Tribulus Terrestris and L-Arginine.
There is a 40-day money back guarantee.
Ego Magic helps support Prostate health.
The product information is detailed.
Bad About Ego Magic
No scientific testing is cited.
There are no customer testimonials.
Ego Magic has no official website.
No free samples are provided.
Ego Magic The Bottom Line
Although there are no results that show how well Ego Magic performed in clinical trials, it is much appreciated that all the ingredient amounts are disclosed rather than being hidden in a proprietary blend. It would be helpful to know more about the manufacturer and to see customer testimonials, but overall Ego Magic appears to be a reasonably reputable brand that can be safely used by the majority of men.
Below you'll find the most effective male enhancement products on the market, we determine these products based on 4 key factors : Active ingredients, ability to support sexual stamina, enhance arousal & improved sexual desire, backed by clinical studies. Ultimately, we determined the bottom-line value of each product.