Wenick Overview
Wenick is a supplement from China that is claimed to help men boost their stamina, increase their libido, and maximize their penile tissue size. Wenick can be purchased online for around $25-30 per bottle, and these pills are promised to work within a mere 10 minutes of being initially ingested. The claimed benefits of Wenick seem to vary a bit, depending on the particular retailer. For instance, while most retailers of Wenick focus on the product's ability to increase sexual performance in men, others promise that it can help to intensify sexual desire in women (even though the man is the one actually consuming it).
Wenick Product Details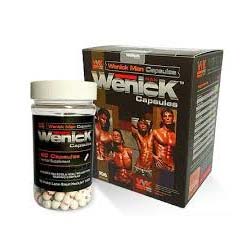 Wenick's formula is based on natural, herbal ingredients. Such ingredients include androstenedione, Rhodiola rosea, macuna pruriens, l-arginine, yohimbe bark 15:1 extract, guarana extract, Tribulus terrestris, saw palmetto, ginseng blend, avena sativa, muira puama, yohimbe bark, Epimedium saggitalum, Polypodium vulgare, niacin, maca, and L-taurine.
Most of the ingredients in Wenick are traditionally believed to function as aphrodisiacs, although clinical studies to prove these claimed benefits have not really been conducted yet. However, Wenick is still claimed to help men gain confidence in the bedroom by working to effectively increase the flow of blood to their penile tissues; this in turn should correlate to improved penis girth and length. This male sexual performance enhancement supplement is also promoted as being an excellent way to get firmer erections quickly. User reviews for Wenick are scarce online, and purchases do not appear to be backed by a money-back satisfaction guarantee policy.
Good About Wenick
A list of ingredients (complete with exact concentrations of compounds) can be easily located online.
This product can be conveniently purchased through many online retailers.
Some of the ingredients in Wenick are well-known for their traditionally accepted aphrodisiac properties.
Bad About Wenick
Clinical studies do not appear to have ever been conducted on Wenick.
Purchases of Wenick might not be endorsed by a money-back satisfaction guarantee.
There are not many user reviews of this product.
Wenick The Bottom Line
This product promises to be the answer to every man's sexual performance woes, but little clinical evidence is provided to support its claimed benefits. While Wenick's ingredients are fairly typical for a product of its type, the lack of a satisfaction guarantee for purchases of Wenick causes this supplement to be less appealing than many of its competitors.
Below you'll find the most effective male enhancement products on the market, we determine these products based on 4 key factors : Active ingredients, ability to support sexual stamina, enhance arousal & improved sexual desire, backed by clinical studies. Ultimately, we determined the bottom-line value of each product.