Avanafil Overview
Avanafil is a Drug for erectile dysfunction (ED) developed by Vivus Inc. that is currently undergoing clinical testing. Like Viagra, it is a selective phosphodiesterase type 5 (PDE5) inhibitor, and works by supporting blood flow to the penis to help men achieve an erection. Data collected thus far has shown that Avanafil significantly improved erectile function in study participants.
Since Avanafil is not yet on the market, information regarding prices and satisfaction guarantees is not available at this time.
Avanafil Product Details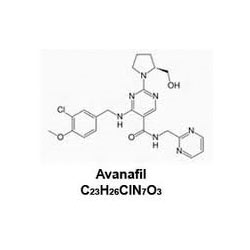 Like similar Drugs, Avanafil is taken orally prior to sexual intercourse. Studies show Avanafil works in as little as 15 minutes. This is much faster than Viagra, which usually takes about 30 minutes to deliver its effects.
Good About Avanafil
Avanafil works in much the same way as Viagra
Clinical trials have shown that Avanafil is effective
Avanafil can work within just 15 minutes
Avanafil may be suitable for men taking heart medications
Bad About Avanafil
It will likely be some time before Avanafil is released onto the market
Avanafil is formulated with chemical rather than natural ingredients
Headaches, back pain, and nasal congestion were side effects reported by study participants
No information is available about how much the Drug will cost
Avanafil The Bottom Line
The release of Avanafil onto the market is likely still years away. Initial results show it works faster than Viagra, wears off faster, and is associated with fewer side effects. These benefits may make Avanafil a preferred treatment option for men with erectile dysfunction in the not too distant future.