Neo40 Overview
Neo40 is a product designed to be taken daily by men over the age of 40. It is said that after this age levels of Nitric Oxide decrease in the body, making the individual more susceptible to cardiovascular health problems. By supporting the N.O., not only can cardiovascular health improve but it also benefits energy levels, sexual performance, Blood pressure and overall well-being. The Neo40 product is manufactured by Neogenis Labs, and presented on a thorough and professionally designed website. There is information about the company, contact details, clinical study data and secure ordering form.
Neo40 should be taken daily at a dose of one to two lozenges per day and they are to be dissolved on the tongue rather than swallowed. A one month supply of Neo40 costs $59.95 and savings are offered on larger quantities.
Neo40 Product Description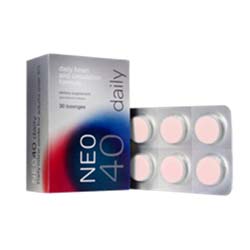 The contents of the Neo40 lozenges are not shown on the product website, but it is known that the substance L-Arginine can greatly support the availability of N.O. in the body. Illustrations on the site show how Nitric Oxide works by dilating the blood vessels in the body, easing pressure and allowing for a greater flow of blood which, in terms of sexual performance helps the user achieve a faster, firmer and more sustainable erection.
Good About Neo40
The Neo40 website is informative and detailed
Full company contact details are provided
Clinical study data is shown
Neo40 has a 30 day money back guarantee
Neo40 is a dissolvable lozenge
Neo40 has several heart health benefits
Bad About Neo40
Neo40 is expensive
No ingredient list is shown
There are no customer testimonials
Neo40 the Bottom Line
Because Neo40 is not specifically for the treatment of sexual dysfunction, it cannot be recommended for this purpose although as a supplement for cardiovascular health it appears to be an excellent, though expensive product. However, men experiencing or suspect cardiovascular problems would be advised to consult with their doctor before taking this or any similar product.