What Is Prosta-Sentials?
Prosta-Sentials is marketed as a reliable dietary supplement that offers support for the prostate. It combines the effects of nutrients in many compounds synergistically to improve prostate health.
The ingredients used in this supplement have all been researched and proven to be effective in supporting the health of the prostate. It has some best multivitamins for men
Prosta-Sentials originally retailed at $56.40 on its official website. Currently, it can be found at discounted prices.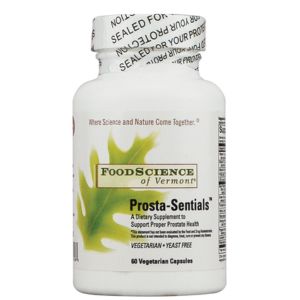 Editor's Rating
Brand Highlights
This is manufactured by Food Science of Vermont.
Made with safe and natural ingredients.
Prosta-Sentials is made for men.
Reduces the Urgent Need To Urinate.
Decreases Bathroom Trips Both Day & Night.
Buy on AmazonBuy on Walmart*All the prices mentioned on their websites are subject to change.
Specs
Form:

Capsule

Brand:

Food Science of Vermont

Benefits:

Improve urinary tract symptoms, Reduce frequent and/or urgent urination, Reduce pain during urination & bladder infection, and Boost the sexual performance.

Ingredients:

Saw Palmetto Extract, Zinc, Pumpkin Seed, Pygeum Bark, Stinging nettles, Vitamin C, Vitamin E, Vitamin B6, Folate, Green Tea Extract, Lycopene, Resveratrol, Vegetable cellulose, R-Alpha Lipoic Acid, Beta-sitosterol complex, Vegetarian leucine and Microcrystalline cellulose..

Cost

Pack of 1 Supply For $56.40 only

Dosage

Daily only 2 capsules.
Pros and Cons of Prosta-Sentials
Pros
It may help with urinary issues associated with BPH.
It might support prostate health.
It contains all natural and herbal ingredients.
Its ingredients have all been clinically proven to be effective.
Cons
It may interfere with multivitamins.
How Does Prosta-Sentials Rate?
Overall Rating: 3.4
| Key Points | Rating |
| --- | --- |
| Manufacturer | 3.3 |
| Safety | 3.4 |
| Customer Reviews | 3.5 |
| Money-Back Guarantee | 3.4 |
---
Prosta-Sentials Claims & Features – What You Need To Know?
Food Science of Vermont which is a very well established company is the manufacturer of Prosta-Sentials. This company is known for producing high quality herbal supplements, digestive enzymes, essential fatty acids and joint supplements.
Food Science prides itself in using pure, highest quality and most natural ingredients and nutrients that exist in the formulas of its products.
They claim to conduct thorough research in the development of all their formulas in order to produce the most potent and effective supplements.
They have set up an official website that contains the Prosta-Sentials profile with all the vital information about the product.
The company claims that Prosta-Sentials has the ability to keep the prostate gland healthy and safe from all prostate disorders.
It also claims to be able to relieve the symptoms of enlarged prostate and help ease nighttime urination problems.
How Does Prosta-Sentials Work?
Prosta-Sentials employs the use of ingredients that have gone through research and proven to be effective in ensuring optimal prostate health and function.
It has all the essential vitamins and antioxidants that provide the best environment for the prostate to thrive in the main ingredient in this product is Saw Palmetto which is known for its positive effects on the prostate.
It inhibits the conversion of testosterone into DHT which is what triggers enlarged prostate or BPH. The ingredients also combine to provide relief over urinary problems that are associated with BPH.
These ingredients support prostate health by reducing inflammation, inhibiting the conversion of testosterone to DHT, improving urinary flow, and providing antioxidant support.
What Are the Ingredients in Prosta-Sentials?
The ingredients that are used in the formula of Prosta-Sentials dietary supplement include;
Saw Palmetto Extract
– This is popularly used in genitourinary tract health as it has anti-inflammatory properties that help in the prevention and treatment of BPH[1].
Zinc
– The deficiency of this mineral in the prostate leads to prostate problems making its inclusion in this supplement beneficial to the overall health and function of the prostate[2].
Pumpkin Seed
– The health benefits of pumpkin seed range from its ability to treat bladder irritation, intestinal worms, kidney infections to treating urinary issues triggered by BPH[3].
Pygeum Bark
– This helps in the regulation of urinary flow as well as relieves other symptoms of enlarged prostate[4].
Stinging nettles
– This is known to help with symptoms of urinary diseases and enlarged prostate[5].
Other ingredients in the Prosta-Sentials formula include;
Vitamin C, Vitamin E, Vitamin B6, Folate, Green Tea Extract, Lycopene, Resveratrol, Vegetable cellulose, R-Alpha Lipoic Acid, Beta-sitosterol complex, vegetarian leucine and microcrystalline cellulose.
See also – Pumpkin Seed Complex Review
FAQ's
Q: How to Use Prosta-Sentials?
it is recommended that you take only two capsules twice a day with meals.
Check the product label for additional dosage instructions or take as per your doctor's recommendation.
Q: How Much Does Prosta-Sentials Cost?
The price of 1 bottle pack will cost $56.40 when purchased from its official website.
Q: What Is Prosta-Sentials Return Policy?
It comes with a 10-days money-back guarantee and return policy. The money refund policy on the product's purchase is however mentioned in official website.
Q: Is Prosta-Sentials Safe to Use?
The supplement is reported to be safe to use with other medications due to the nature of its ingredients. For assurance though, you should consult your doctor before use.
Q: What Are the Precautions While Using this Pill?
This supplement is formulated for males only and as such is not applicable to women. Store it away from the reach of children. It is not applicable for use by persons under 18 years of age.
Q: Does It Interact with Other Medications?
No interaction is listed for Prosta-Sentials supplement. It is however recommended that you consult with your doctor before taking this or any other health supplement if you are currently under medication or suffering from serious health conditions.
Q: What Are Some Other Similar Products to Prosta-Sentials?
How We Researched & Rated?
Here is our score, based on scientific evidence, of how likely Prosta-Sentials will be effective for its claimed benefits:
Reduce urination frequency*

3.3/

5

Strengthening Urine System*

3.2/

5

Reduction in Leaking of Urine*

3.3/

5

Improvement in BPH ( Benign Prostatic Hyperplasia)*

3.2/

5
We used the insights from our research and testing to assign a star rating from one to five (five being the best; one being the worst) to this product.
Bottom Line
Prosta-Sentials is a very effective supplement that comes from a reputable company making it one of the best options for prostate health. Prostate issues catch up with men as they grow older.
If you have experienced signs of BPH or have had talks about the symptoms then you have an idea just how uncomfortable it can be.
Prosta-Sentials offers you the instant relief that you need and enables you to enjoy a good quality of life without the worries of prostate disorders that about 90% of men over the age of 60 go through.
This has caused a worldwide inline towards the use of supplements making it difficult to determine the products that truly deliver.
Prosta-Sentials makes your work easier and comes at a very affordable price and with absolutely no side effect. The effects of Prosta-Sentials are experienced after just a few weeks of taking the supplement religiously as per the reviews of its users.
Prostate health is of great concern for men today. Preventative measures may reduce the risk of developing prostate cancer and improve overall prostate health and function. A quality, premium prostate supplement may shrink the prostate, minimize frequent urination, promote sexual function and contain quality ingredients.
Below you'll find some of the most effective prostate supplements on the market today, in our opinion.
Our Top Prostate Products
Bottom Line
Prostate Plus is a prostate health supplement that contains important ingredients that support prostate function and health. Many users attempted a few other products, but this one is truly effective.
Check Price
Bottom Line
Prostate MD is a dietary supplement for men who have an enlarged prostate and experience urinary tract symptoms like frequent urination. Many users claim that they try this for two months to see expected changes.
Check Price
Bottom Line
Prostate 911 uses patented and clinically proven ingredients chosen for their specific function in the urinary tract and prostate health. Furthermore, many users claim that it is both safe and efficient for them.
Check Price
5 Sources
We review published medical research in respected scientific journals to arrive at our conclusions about a product or health topic. This ensures the highest standard of scientific accuracy.