If you have erectile dysfunction, you may be wondering how to have sex with ED. While things may not be the same for you and your partner, there are still things that you can do in order to have a successful and enjoyable sexual experience. First, see your doctor. While it may be embarrassing to have that kind of conversation with your doctor, it's too important to ignore. You need to find out what's causing your ED, so that you know the best treatment options. You can also find out what to expect, so that you're still able to please your partner.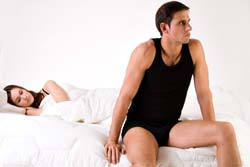 Take the information you get from your doctor, and be open and honest with your partner about your condition. Talk over treatments that you may want to try, and discuss how you can make your sexual encounters pleasurable for both of you. Many men are given medications for their erectile dysfunction. If you're healthy enough for sexual activity, you can take those medications if your doctor recommends them. When you're considering how to have sex with ED, prescription medications might be the answer. However, they aren't for everyone and you also have other choices.
If you can't take medications for ED or you want to try other options, there are devices you can use. You can also consider herbs and supplements. Be sure to read the directions carefully and only take the recommended dose. If you experience side effects, you may want to stop taking the herb or supplement. Some of them also don't work well with other medications, so get clearance from your doctor if you take medications or have a medical condition other than ED. How and where you have sex, as well as how often, can also affect your performance.
In addition, some men are so worried about how to have sex with ED that they actually make their erectile dysfunction worse. Being nervous or worried about performance is not only a mood killer, but may also make getting and maintaining an erection highly difficult. If you don't want to struggle with your emotions as well as your physical concerns, you have to let go of the worries about performance. If you've talked to your partner, she understands the issue. She's not going to blame you or herself, so don't spend your time being concerned. Spend your time being in love and enjoying the level of intimacy that you're capable of having.