Valentine's day is more or less the most romantic night of the year. Make your loved one feel special and close to you. This guide will attempt to inspire you with some ideas, in order to spend a nice and intense night with your beautiful partner.
#1 Idea
Buy her a nice dinner in a nice restaurant or much better prepare one for her. Going for the second option will make you star in her eyes.
Since you are spending Valentine's with her, it means she is special for you. And since she will be with you that night, it means she wants to be with you.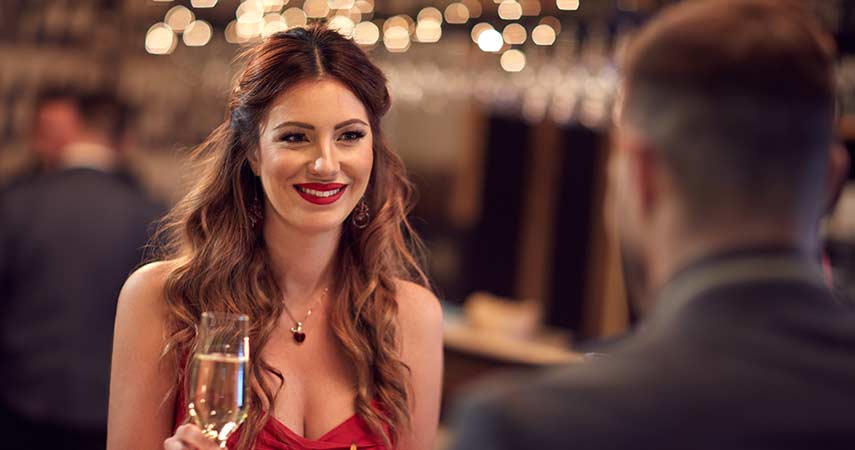 Show that you know her well, by preparing her favorite meal and dessert or buying the wine she loves. Also dress well for the night.
---
#2 Idea
The important key is the atmosphere. If you wisely selected to prepare a meal for her make sure that you will clean everything after the preparation.
Light some scented candles or Indian incense sticks will work as well. But do not limit in the dinner area. Remember to prepare the after dinner area and of course the bedroom.
Some lounge chill-out music that blends with the atmosphere will be that extra touch. But remember, TV is strictly forbidden.
---
#3 Idea
During the night keep a pleasant conversation with her, an interesting one. Do not distract her with boring conversations about your football team or your PlayStation gaming experiences.
Always fill her glass with wine and keep eye contact all the time. This is important, and you have to maintain it for the rest of the night.
---
#4 Idea
Moving to the after dinner area, keep the bottle of wine with her and make her feel comfortable on the couch. Sit next to her and start preparing her for what is going to happen next.
Start teasing her, by slowly touching her in the legs, then move slowly to her back.
From this moment you are slowly building an emotional, intimate environment. Pull back for a bit and then start again.
As I said before keep eye contact with her all the time. Eye contact not only means that you are taking her seriously, but will make her feel safe and trust you.
Keep touching her softly and then move closer to kiss her. Kissing her slowly and softly will make her surrender. You are dominating here; she want to be dominated by you.
Use the neck area, softly (very softly) bite the lower lip and use your tongue to play around in her mouth. At the same time do not stop touching her slowly as before. Just like her, be into the moment. Soak it in and do not forget to take it slowly, the night is all yours.
---
#5 Idea
Lead her to the bedroom. Do not start ripping yours or her clothes like a maniac. Instead, make her comfortable in bed and keep kissing her. You are continuing what you were doing before. After some time start taking her clothes off. Leave her with underwear and take your top off as well.
Touch her everywhere and run the tip of your fingers and kiss her through her body. Here is what is important here. Do not touch or kiss the at the dug or beaver. It will make her want it more. Do not follow her; you are the leader.
Make her want it more, but don't give it. No matter how much she will beg, smile at her and continue teasing her.
---
#6 Idea
Eventually get her completely naked and start moving to her bosom. Kiss and touch her around the dug and the same time rub her legs close to her beaver. Touch gently the dug and kiss them.
Run your tongue through her belly and lick the area around her beaver. Bring your fingers and touch her and then penetrate her with them. Move them slowly inside her beaver and touch her clitoris as well. Give her an orgasm with your fingers.
---
#7 Idea
Let her play with your prick, but you should still be in control. You will be both ready to start having sex. Find the positions that you both enjoy switch between them. Do not limit yourselves in the bed.
There are plenty of spaces that you can use for sex. My favorite is standing against a wall. Make the sex soft gently and dominant at the same time. Do not forget eye contact especially in the position that you are face to face.
People usually do not pay attention to the after sex phase. Do not roll to your side. Hold her tight next to you and build an emotional connection. Touch her hair and make her feel special to you.
---
Some Extra Tips You Can Bring
You can have a gift for her in the bed. Lingerie and toys are always winning. You can leave the package in the bedroom and let her open it. If you buy her lingerie, she will wear them.
If it is a toy, you can use it in your foreplay. But make sure you know how it works, you can easily mess things up if you are ignorant, so do your homework.
Sensual lubricants and massage oils will add more pleasure to the experience. So if you have access to them go for it.
Read More: 10 Things Woman Wants From You For The Holidays
---
Conclusion
As you can see the techniques and the physical characteristics is not what matter the most. Build on the emotional part of it will make her feel more intense during sex.
Image Credits
Feature Image: Shutterstock.com
In-Post Image: Shutterstock.com