Winter is around the corner and the festive season has begun. While your friends' Christmas plans are neatly summed up, you are still struggling with ideas. You want to do something special for her, surprise her but there are no distinct plans.
So are you looking out for ideas for a great year-end and a remarkable beginning of the new year with your mistress?
We have the best ideas to boost your relationship and to make a memorable winter with your better half.
---
1. Buy Her A Set Of Nightwear & Intimate Wears
How you always dreamed of her in peach nightwear or hot black lingerie but never got her these! Your woman must be too shy to ask for it but try to read her mind.
By now you must have known her best color and what would make her happy! Why not put these ideas and buy her a set of lingerie?
Working couples often find it hard to keep the desire burning due to stress at the workplace and lack of time.
Well, it does not mean that they don't love each other, but the physical distance can ruin your relationship. A set of lingerie can spice up your love life all over again.
It's a nice way of surprising her and to woo her with your witty gift. Especially, when you know her size without her knowledge! Hit the shopping mall or browse online for the best products and don't forget to customize the gift wrap.
2. Get Her Pets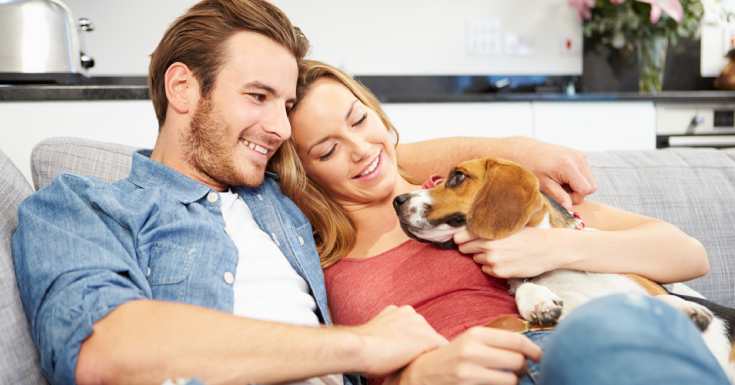 Does your girlfriend go crazy when she spots pets? Probably it is the best time to brighten her dull winter days with a furry ball of love.
Whether she loves a cat or a dog you can go for either, as long as you both are animal lovers and of course, if none of you have an allergy.
Getting a pet is a nice way to begin to learn about responsibilities and commitment. In fact, pets are always good for your company and to improve your health.
American Psychological Association says that they received several messages from pet owners sharing their happiness as pet owners and how their pets helped them survive psychological problems.
You may discuss this with her before taking this step. If you are confident that bringing a pet would not affect both your work schedule and love, then you can go for the rescue puppies and cats. Bring home happiness and spread love.
It will boost your relationship and is an appropriate time for future parents to start their journey.
3. Adore Her With Gifts

Adore your woman with jewelry. Diamond earrings or a dazzling necklace of gold, you will make your woman go crazy with jewelry.
Do a little bit of research on her choice, what type of jewelry she likes, whether it's heavy or lightweight, style, and designs and make a decision.
If she does not find jewelry appalling, you can get her clothes, jackets, foot wares or a wristwatch. Since the cold nights have started to make us shiver, it is never a bad idea to buy a stylish overcoat and boots.
Browse the shops for beautiful accessories, bags, and wallets. A personalized coffee mug with photos or texts is simple but cute and will make her instantly happy. You have no idea how she loves to flaunt your gifts!
If you are good at something, don't let your talent be wasted. Use your expertise and invest your love to draw her something or create a night lamp.
There are several online tutorials that show you to create excellent pieces of arts and crafts. Your artwork will win her heart!
4. A Vacation Trip
Had to cancel your private summer vacation due to work? Don't spoil the winter. Plan a trip and book hotels where you want to take her.
If she loves the snow and enjoys skiing, take her to the mountains. Have a sip of coffee with your mistress while you enjoy the sunrise.
If she likes warm places, comfort her in the southern hemisphere. This winter you can make it all happen. Your winter vacation to New Zealand or Australia will relax you both.
An exotic holiday in a small island, gleaming sand at the beaches, soothing breeze and peaceful nights spent together gazing at the stars by the sea are enough to give her warmth.
A vacation at a quiet mountain covered in thick forest and fresh wind can make you fall in love with each other once again. Researchers[1] claim several benefits of traveling, such as improvement in relationships and strengthening bonds.
5. Gadgets On Cyber Monday

Christmas is not the only occasion when you can to buy gifts. Cyber Monday following Thanksgiving is good for buying gadgets for your loved ones.
The best part is you can avail of huge discounts and special offers when making a purchase of electronic goods. Cyber Monday brings the biggest craze among the tech-savvy couples. Just make sure you don't use your office computer or there can be penalties.
Starting from speakers, mobile phones, laptops and notebooks, there are hundreds of items lying on the stores that are on special discounts.
If you have always thought of buying her an iPhone or a MacBook or a Canon DSLR, this is the best time to grab an affordable yet quality deal.
Just like Cyber Monday, you also have another option- Black Friday. If you are staying in a spacious house or at least with an empty room you can turn it into a theater with a home theater system and a projector. Doesn't it sound like a perfect winter evening sitting on close to her enjoying a movie with popcorns at your home?
6. A Dinner Set
Searching for gift ideas for Thanksgiving? If your wife or girlfriend enjoys spending time in the kitchen trying new dishes, you can try this unusual yet striking gift idea. Buy her a dinner set or crockery with a classic touch or something that ensembles modern style.
Since there will soon be guests pouring in over the holidays and you will be busy hosting dinner parties with family and friends, a dinner set seems to be a perfect match.
Personally speaking, I always love to decorate my kitchen and I never get bored with buying new ceramic dinner sets and even simple salt dispensers.
Cookware, bakeware, coffee maker, a cold press juicer and a set of wine glasses are good options if you already have got a new dinner set. Are both nature lovers? If yes, try for earthen cookware which is natural and healthy. It sounds even better if you make a surprise dinner for your beloved wife in new cookware.
7. Fancy Dinner Date

It's sad to see how we have become so busy in our lives that we often forget to spend time with our partner and things have started to take a U-turn.
It's never too late to go back to your old days and enjoy together just like you used to do in the distant past.
Fancy dinner date after a theater does not sound like a bad idea at all! Hit the restaurant you first met her or where you both had spent a lot of time exploring exquisite wines with lip-smacking cuisines.
If you find that dining out for Christmas will be unpleasant due to overcrowded restaurants, you should not neglect other holidays and celebrations. And this is the best time to try out smaller places. Try something new from the Oriental and European delicacy.
Still not impressed? Here is another idea for you. Turn your table, rearrange the furniture. Now change the table-cloth and put a new one. Decorate it with fresh red roses, now complement it with aromatic candles, and bring out the best dinner set.
Finally, light the candles and switch off the lights. This could be the best romantic candle-light dinner ever you have had!
8. A Photo Album

Time flies on a winged chariot but photos capture the best moments together. Every time you see your picture holding hands of your loved ones you get more passionate and wonder how your love has grown so deep over the years, yet it seems like yesterday!
Spend a few days and conduct private research to pick the best photos. Combine the best shots from your vacation and best time spent together or simply when she was in her best self early in the morning without makeup yet looking strikingly beautiful.
Add those photos which also make you proud of her but never got a chance to show your admiration.
You may create an album on your own or seek professional help. Other than a photo album, you may go for a portrait style single photograph to be hung in the reading room. Additionally, you can also add a nice and small photo frame on the list. Remind her of the best time and see her gleaming out of joy and laughter.
9. Ticket to a Concert or Performances
The month of December is always full of music festivals. If your girl and you enjoy music and want to spend the holidays chilling out, the music festivals should be on your list.
From classical music to trance and electric music festivals, there are plenty. In addition to these, you can take her to jazz or piano or any other instrumental performances at the nearest theater.
Music is the food for souls. Your visit to a music concert with your wife or girlfriend can boost your relationship while it also is cool a winter gift. Studies[1] show that the healing power of music has benefitted many people to overcome psychological and social issues.
If all the tickets to your favorite music concert are booked you can try your luck for drama or theatrical performances. There is nothing classier than taking your mistress dressed up in the best set of clothes and heading to the theater.
10. A Painting or A Piece of Literature

Does your mistress love paintings? It is a nice occasion to gift her favorite painting from her favorite artist.
If you are tight on a budget, then go for excellent quality drawing pencils, color, and a canvas. Probably she needs the paintbrushes and a palette too! Choose your gift among these options or include others if you know.
Additionally, you can do research on her favorite authors and novels and buy her books instead. There is nothing more romantic than you reciting some of the best love poems from the new book. Book reading glasses
Or take her to the art exhibitions and book reading clubs if you really want to make her happy during the holidays. Indulging yourselves in creative art and literature is healthy for your relationship.
---
Read More: Try Simple & Easy 9 Tips To Get An Intimate Relationship
Conclusion
It is not difficult to make your woman happy. It is not expensive gifts or luxury vacation trips that make her happy. Your gift should have a personal touch which shows how much you love her and making her comfortable throughout your relationship.
Add your own ideas and make a plan. Put your best efforts to learn her favorite things and add your own creation to make a surprise gift for your woman. Above all, she needs your love and care. Fancy gifts are of no use if you fail to show your love.
Taking free time out is nearly out of question in current busy lives, but if you can learn to manage your time and keep your personal and work lives separate, things will become easier.
Gain her trust and be an aware partner by learning her needs[3]. She might not always ask for something that she needs, in such cases, get her into a conversation and ask.
Share the household responsibilities and try to spend more time with her. Let this winter holidays bring joys to your lives, new hopes, and love.
Image Credits
Feature Image: Shutterstock.com
In-Post Image: Shutterstock.com